Teachers threaten to go on hunger strike from Aug 5
Patiala, July 17
The Punjab Aided School Teachers and Other Employees Union have threatened to go on a hunger strike from August 5 if the Punjab Government doesn't issue a notification to merge aided schools with government schools by July 31.
CJ to judicial officers: Prioritise cases of aged, differently abled
Chandigarh, July 17
In a first, the newly appointed Chief Justice of the Punjab and Haryana High Court, Justice Sanjay Kishan Kaul, held a video conference with judicial officers of 18 district and sessions courts across Punjab and Chandigarh to lay emphasis on expeditious disposal of old cases.
Anti-incumbency has lost relevance: Sukhbir
Ludhiana, July 17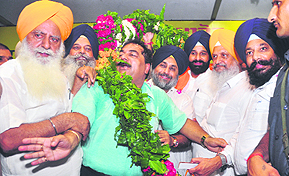 Deputy Chief Minister Sukhbir Singh Badal today played the development card to the hilt during his visit to the city to oversee the progress of various works initiated in the last six years. In the first half of the day, Badal attended a programme organised by the District Akali Jatha Ludhiana (Urban) that felicitated him by honouring him with the epithet "Jetu Jarnail" (the victorious general).
Akali leaders felicitate Deputy Chief Minister Sukhbir Badal in Ludhiana on Wednesday. Tribune photo: Himanshu Mahajan

Protesting state's 'anti-people' policies
Poonam Kangra, general secretary, Punjab Youth Congress, on Wednesday protested against the "anti-people" policies of the SAD-BJP government by pulling a cycle rickshaw in Sangrur.
Akali Dal announces organisational poll
Chandigarh, July 17
The SAD today announced organisational polls to elect various units of the party. In a statement released here today, SAD spokesman Daljit Singh Cheema said the election process for forming the new organisational structure would start from August 1. Cheema said meetings for the election of circle and district-level delegates as well as state delegates would be held in all the districts from August 1-10. He said a general delegate session to elect the party president and other office-bearers would be held on August 30. — TNS


Power purchase
Pak team holds talks with Indian officials
Amritsar, July 17
A three-member delegation from Pakistan today visited the 400 KV power grid at Bala Chak village, near here, and held a meeting with the Power Grid Corporation of India officials, in what is being seen as the neighbouring nation's attempt to explore the feasibility of power purchase.
Jaundice fear grips Phillaur village
Phagwara, July 17
Panic gripped Rurrka-Khurad village in Phillaur sub-division after more than 20 residents fell ill due to jaundice. The locals blame supply of contaminated drinking water for jaundice outbreak. One patient has been referred to Dayanand Medical College, Ludhiana, while the others are being treated in the village.
Old buildings threat to lives of Bassi Pathana residents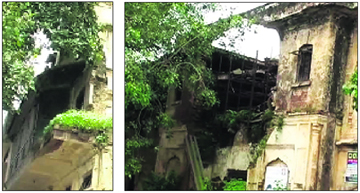 Bassi Pathana, July 17
The authorities concerned have failed to learn a lesson from previous incidents when old and dilapidated buildings have collapsed and led to loss of life and property. There are a number of old buildings in the town that are more than 150 years old.
Some of the old and dilapidated buildings that date back to the Mughal era in Bassi Pathana. Tribune photos

Ropar spent maximum under MGNREGA
Muktsar, July 17
Nine of the total 22 districts in state have so far performed poorly in implementing the Mahatma Gandhi National Rural Employment Guarantee Act (MGNREGA) scheme. The report of the first quarter of the current financial year (2013-14) available on the official site of MGNREGA states that Hoshiarpur, Amritsar, Jalandhar, Barnala, Ferozepur, Ludhiana, Pathanakot, Patiala and Sangrur districts have spent less than 10 per cent of the available funds.
SGPC nod to preservation of historic 'birs'
Amritsar, July 17
The SGPC executive committee gave its approval for the preservation of historic 'birs' of Guru Granth Sahib during its meeting held in Chandigarh today. SGPC chief Avtar Singh Makkar said the 'birs' that bore bullet marks of Operation Bluestar in 1984 and Saka Nankana Sahib in 1921 will be preserved in consultation with conservation experts from Hyderabad and Patiala.
Now, Akalis out to monopolise entertainment industry: Cong
Jalandhar, July 17
The opposition Congress has accused the ruling SAD of allegedly forcing cinema and multiplex owners to screen maximum shows of a Punjabi movie being promoted by a group of channels owned by a top state politician. Fearing "victimisation", film distributors, cinema and multiplex owners though refused to come on record, they alleged "they were being forced to screen as many shows as possible of the film."
Govt staff may get 2-yr service extension
Chandigarh, July 17
There is again a move to give service extension to state government employees after their retirement at the age of 58 years. This time, the proposal, being worked out by the Finance Department, is to give extension by two years.
Actor Jimmy Shergill gets relief in defamation case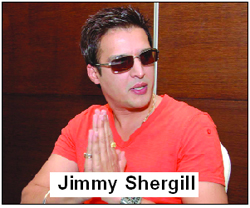 Chandigarh, July 17
Less than a year after Jimmy Shergill and three other actors were summoned by a court in a defamation case, the Punjab and Haryana High Court today not only issued notice of motion on their petition for quashing the order, but also granted them exemption from personal appearance. Arpinder Singh Sidhu, a young advocate practising at Moonak Civil Court, had filed a complaint against Shergill and others accusing them of defaming the lawyers' profession in Punjabi flick "Taur Mittran Di". Acting on his complaint, Moonak Sub-Divisional Judicial Magistrate had issued summons on October 27, 2012, for defamation and other offences.
HC: Retain only officers of integrity post-retirement
Chandigarh, July 17
In nothing short of a stern message to the lower judiciary, the Punjab and Haryana High Court has made it clear that only those judicial officers who are an asset to the institution will be retained in service after the age of 58.
Court: Only state can decide on facilities for Sidhu
Ropar, July 17
The local court today disposed of former PPSC chairman Ravi Sidhu's application while stating that he could approach the state government to seek B category facilities in jail. The court said the state government had the authority to decide on such matters.
HC seeks report on Moga acid attack
Moga, July 17
Taking suo motu cognisance of the news report 'Man throws acid on estranged wife, father-in-law in Moga' published in these columns on July 12, Punjab and Haryana High Court Chief Justice Sanjay Kishan Kaul has called for a status report from SSP Surjit Singh Grewal on the ongoing investigations. A man allegedly threw acid on his wife and her father near Mehna village in Moga on July 11 when they were on their way to appear for court hearings of marital disputes. The victim, Mandeep Kaur, suffered 70 per cent burn injuries on the face, chest and legs. Her father received 30 per cent burns. — TNS
Notorious smuggler held with opium
Bathinda, July 17
The disturbing trend of the involvement of the entire family in drug smuggling has come to the fore with the arrest of a smuggler. Deepak Kumar alias Soni, who hails from Ganganagar, was arrested today with 17.5 kg of opium worth Rs 16 lakh. A police team, led by AIG Ajay Maluja, arrested Deepak and his aide Raj Kumar, who were travelling in an Indica car on the Bathinda-Dabwali road.