Talwandi Sabo plant to start generation in Oct
Bathinda, July 11

Finally, decks have been cleared for the Talwandi Sabo Thermal Plant to begin generation with the Central Electrical Authority (CEA) approving the supply of 1,00,000 tonnes of coal for the plant. A few months ago, construction work at the plant had come to a standstill owing to non-allocation of coal. "The plant's first unit is set to start generating 660 MW of power by October this year.

Padyatra off, says Navjot Kaur
Chandigarh, July 11
As Deputy Chief Minister Sukhbir Singh Badal reaches Amritsar tomorrow to review various development projects, Chief Parliamentary Secretary Dr Navjot Kaur Sidhu has postponed her "padyatra" from Amritsar to Chandigarh to seek funds for her constituency.
Panchayat poll: Tribunal flooded with petitions
Faridkot, July 11
A week after the conclusion of the panchayat poll, the office of the District Election Tribunal (DET) is inundated with petitions from aggrieved contestants.
PPP to contest municipal poll
Chandigarh, July 11
Encouraged with the outcome of the panchayat elections, the People's Party of Punjab (PPP) has decided to contest elections to all municipal committees in the state.
Was kidnapped, thrashed:Official


Punjab farmers to get subsidised maize seed
Chandigarh, July 11
To promote crop diversification programme in Punjab, Chief Minister Parkash Singh Badal today announced to provide maize seed at 75 per cent subsidy to farmers in 12 districts during the next kharif season.
Staff crunch ails health services in Jalalabad
Fazilka, July 11
The health services in Jalalabad, the high-profile assembly constituency of Deputy Chief Minister Sukhbir Singh Badal, are in a pathetic condition.
10-ft breach in Sangrur distributary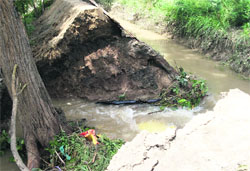 Sangrur/Ropar, July 11
A 10-ft breach today occurred in a canal distributary at Kherri village, 8 km from here. No damage to the standing crops in nearby areas has been reported so far. Irrigation Department executive engineer GS Bahia said he had visited the affected areas and had got the release of water from the overhead canal at Babbanpur stopped.
A breach in the Sangrur distributary at Kherri village near Sangrur on Thursday. No major loss was reported. A Tribune photograph
Flood threat: Dist heads approach Army
Jalandhar, July 11
With the Bhakra Beas Management Board (BBMB) sounding an alert over the rapidly rising water level in the Bhakra (on the Sutlej River) and the Pong (on the Beas) dams, the authorities of Hoshiarpur, Kapurthala and Nawanshahr districts today got in touch with the Army to tackle any flood-like situation.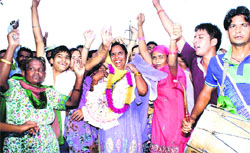 Supporters of a winning candidate celebrate as the results of a panchayat repoll in Bathonian village near Rajpura were announced on Tuesday. Tribune photo: JS Virdi
Students' performance no longer a parameter to evaluate teachers
Chandigarh, July 11
In a surprise move, the Education Department has deleted the column of class performance of students from the annual confidential report (ACR) of schoolteachers, an aspect which was considered vital to a teacher's academic standing.
Couldn't figure what triggered attack on Pannu: DIG
Chandigarh, July 11
Deputy Inspector General (DIG) Khubi Ram today said he had no direct knowledge of the heated exchange of words between pilgrims and bureaucrat Kahan Singh Pannu who was allegedly assaulted by them in Uttarakhand last month.
Honey Singh submits plea seeking quashing of FIR
Nawanshahr, July 11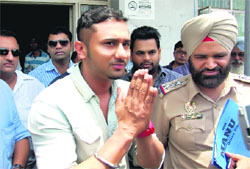 Having remained in controversy for allegedly singing vulgar songs and being booked in a case filed by an NGO, rapper Honey Singh today appeared before the district police seeking an inquiry into the matter and demanding quashing of an FIR registered against him.



Rap singer Honey Singh outside the Nawanshahr SSP's office on Thursday. Tribune photo: Malkiat Singh
Groundwater level dips alarmingly in Sangrur
Sangrur, July 11
Blame it on the deficient rains last year or its overexploitation by farmers, the groundwater level has fallen alarmingly in Sangrur district. Compared to the past 10 years when the annual decline used to be below 1 metre, the water level has depleted by 1.5 metres in the past one year (June 2012-June 2013).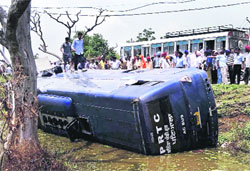 Three killed in road mishaps
Patiala, July 11
Three persons died and one was injured after the car they were traveling in overturned as one of its tyres burst on the Nabha-Sangrur road in the early hours on Thursday. The deceased have been identified as Rajesh Kumar, Harbaljinder and Gurpreet Singh while the injured is Parteek Bangia of Sangrur.
The overturned bus lays on the roadside in Bahadurgarh on Thursday. Tribune photo: JS Virdi



Judge's transfer halts hearing in 600 cases
Moga, July 11
Judicial work in one of the three district and sessions courts at Moga has suffered a severe setback after Additional Sessions Judge Sukhwinder Kaur was transferred to Barnala a few days ago.
Consider inflation for relief to retiring advocates, says HC
Chandigarh, July 11
A petition filed in public interest has resulted in the creation of "modest social security for advocates" in Punjab, Haryana and Chandigarh.


Armyman booked for abetting suicide
Abohar, July 11
The wife of an Army Captain allegedly committed suicide here on Wednesday. Sources said the police had registered an FIR against the officer and his parents on a complaint by the deceased's father.
Man throws acid on estranged wife, father-in-law in Moga
Moga, July 11
Two days after the Supreme Court pulled up the Union
Government and the state governments for failing to formulate a policy to prevent acid attacks on women, a man allegedly threw acid on his young wife and her father near Mehna village in Moga this morning when they were on their way to appear for a court hearing.
Estranged couple Mandeep Kaur and Harinder Singh