Ropar bundh washed away, state govt in limbo
Ropar, July 7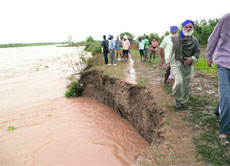 Even as the district has remained prone to floods for the last several years, the authorities have failed to take any concrete steps to protect the lives and properties of the local residents. Several people in Anandpur Sahib lose their crops and property due to floods in the Swan and the Sutlej every year.


The washed away Lodhipur bundh has triggered panic among residents in the area. A Tribune photograph

Introspect before opposing food ordinance: Cong
Chandigarh, July 7
The Punjab Congress today urged Bathinda MP Harsimrat Kaur to introspect before terming the Right to Food Security ordinance as a "vote security ordinance" and accusing the UPA Government of being "anti-poor".
Cong to form block-level panels to fight SAD
Fatehgarh Sahib, July 7
The Congress will constitute committees at the block level for the development of villages and fight against the high-handedness of the Akali Dal in the Fatehgarh Sahib assembly area.
Tota Singh gathers sarpanches for show of strength
Moga, July 7
Senior Akali leader Jathedar Tota Singh displayed his political strength by gathering hundreds of newly elected sarpanches and panches hailing from at least 150 villages of the rural-dominated Dharamkot assembly segment at a gurdwara in Dharamkot for offering prayers.


Hope rekindles for missing BSF sepoy's kin
Faridkot, July 7

Each time Pakistan releases an Indian prisoner, Angrej Kaur's (64) hope for a reunion with her husband, a BSF sepoy missing since 1971, is rekindled. Three days ago, a prisoner of war (PoW) released from a Pakistan jail travelled to her house in Faridkot to inform her that her husband, Surjit Singh, was lodged in Lahore's Kot Lakhpat jail. Her joy knew no bounds.

Lekhu Ram with family members of missing BSF sepoy Surjit Singh in Faridkot on Sunday. Tribune photo

Former DC in a spot for letting off patwari indicted by Vigilance
Chandigarh, July 7
The Punjab Government has initiated action against Ashok Singla, former Fatehgarh Sahib Deputy Commissioner, for giving a clean chit to a 'patwari' who was allegedly caught taking bribe in 2008.
Remove CM's photos from ambulances: Chowdhary
Phagwara, July 7 Union Minister of State for Health and Family Welfare Santosh Chowdhary today asked the Punjab Government to remove photographs of Chief Minister Parkash Singh Badal from ambulances being run with the help of central funds.
Man dies in police custody
Patiala, July 7
A man accused of sexually harassing a minor girl was allegedly found hanging in the bathroom at a local police station. The police is yet to investigate how the officials at the station let the accused commit suicide in police custody.
Revival of silt-hit hydro projects has eased situation, says PSPCL
Patiala, July 7
The Punjab State Power Corporation Limited today said revival of the silt-affected hydro projects in Himachal Pradesh had helped ease the power situation in the state.
Soon, registration of property in minutes
Chandigarh, July 7
The Punjab Revenue Department is gearing up to deliver end-to-end service for registration of property with a 'walk in — walk out' time of 20 to 25 minutes by hiring a private company for the purpose.
Motorboats, towers for watching birds on anvil at Nangal wetland
Ropar, July 7
The eco-tourism at the Nangal wetland and wildlife sanctuary is likely to take a boost in the coming days as the Punjab Heritage and Tourism Board has planned to develop view points, bird watch towers, lawns and introduce motorboats. It will spend Rs 2.25 crore on the project.
Varsity directed to issue provisional roll numbers
Chandigarh, July 7
Acting on a bunch of petitions filed by nearly 350 students for regularising their admissions to Bachelor of Dental Surgery course, the Punjab and Haryana High Court directed the provisional issuance of roll numbers to the students.
200 Mandi Gobindgarh units to switch over to CNG
Patiala, July 7
The Punjab government has successfully evolved a mechanism for the treatment of emissions from pet coke. The Punjab Pollution Control Board (PPCB) had carried out a detailed scientific study on the matter.
Patiala police dragging feet on arresting ASI
Patiala, July 7
The Patiala police is dragging its feet on arresting Assistant Sub Inspector (ASI) Narpinder Singh for allegedly accepting a bribe from a drug smuggler to let him off the hook.
Unemployed teachers burn govt's effigy
Sangrur, July 7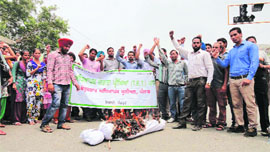 Members of the district unit of the Unemployed Teachers Union, Punjab, today took out a protest march through the city and burnt the effigy of the state government at the Traffic Lights chowk, near the bus stand here. They were led by state general secretary of the union Raghvir Singh Bhawanigarh.

Unemployed teachers burn the state government's effigy in Sangrur on Sunday. A Tribune photograph

Another prisoner dies in Faridkot jail
Faridkot, July 7
Three days after a Moga youth allegedly committed suicide in the Central Jail, Faridkot, another prisoner from the district died at the jail.
Digging up of drains for canals approved
Chandigarh, July 7
The Punjab government has approved the project for digging up drains for Kotla, Sidhwan and Eastern canal branches and the Irrigation Department has initiated work on this project.
Ludhiana doc wins Dental Council poll
Ludhiana July 7
Local dentist Dr Vikas Jindal won the election for membership to the Dental Council of India-2013 with a huge margin at Chandigarh today. Dr Rajesh Sharma, returning officer for the Dental Council of India elections and Registrar, Punjab Dental Council, Chandigarh, declared the result.
Aadhar must for scholarships
Chandigarh, July 7
In a significant decision, the Punjab Government has transferred two schemes related to scholarship management system of minority students (Sikh, Muslim, Christian, Bodhi and Parsi) from manual to online. Disclosing this here today, Scheduled Castes and Backward Classes Welfare Minister Gulzar Singh Ranike said the scholarship amount of 2013-14 session under Post-Matric Scholarship Scheme and Marriage-cum-Means Basis Scholarship Scheme would be transferred only to account numbers that were attached to Aadhar card numbers. The Minister appealed to all eligible students to get their Aadhar cards made. — TNS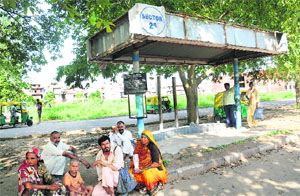 cruel joke

: Commuters sit on the pavement as they wait for the bus at a CTU bus stop in Sector 25. The chairs at the stop had reportedly been stolen around six months ago. Tribune photo: Pradeep Tewari
72 drug peddlers held in 2 months
Fatehgarh Sahib, July 7
The police has arrested 72 drug peddlers, 25 criminals, and recovered a huge quantity of drugs in the last two months. Senior Superintendent of Police (SSP) Gurmeet Singh Chauhan said among the 25 criminals held in May and June, nine were Proclaimed Offenders.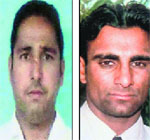 2 dead as rival Akali groups clash in Moga
Moga, July 7
Two youths were brutally done to death in a clash between SAD groups at Saidoke village in Nihalsinghwala late Saturday night. The victims were identified as Jagmohan Singh (36) and his cousin Gurjant Singh (33), both residents of Saidoke village.


Victims Jagmohan Singh (left) and Gurjant Singh

8 employees of toll plaza booked
Hoshiarpur, July 7
The police today booked eight employees of a toll collection centre under Sections 323, 324, 148 and 149 of the IPC on the complaint of a BJP activist. On late Friday night, BJP workers had allegedly vandalised the toll plaza on the Jalandhar-Jammu highway after a scuffle with its staff.