Pannu assault ase
Key accused Panesar in 4-day police remand
Mohali, June 30


The state cyber crime cell today arrested Baba Panesar alias Gurwinder Singh, one of the key accused in the attack on senior IAS officer Kahan Singh Pannu at Gobind Ghat in Uttarakhand. The attackers also uploaded a video clip of the incident on the Internet in a bid to defame him. Kunwar Vijay Pratap Singh , Deputy Inspector-General (DIG), said Baba Panesar, who was produced in a District and Sessions Court here, was sent to a four-day police custody.
Fight for respect to Sikh symbols may suffer: Experts
Amritsar, June 30
Even as the Sikh Gurdwara Parbandhak committee (SGPC) has ordered a probe into the assault on senior IAS officer Kahan Singh Pannu and "violation of Sikh maryada," there is a feeling in Sikh circles that such instances adversely hit the community's fight for upholding the honour of its religious symbols (turban and kirpan) in foreign countries.


Congress leaders told to sink differences
Chandigarh, June 30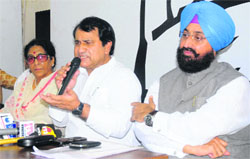 Punjab Congress general secretary Shakeel Ahmed today urged all senior Pradesh Congress leaders to sink their differences and take revenge on the SAD-BJP for the party's "shock defeat" in the last Vidhan Sabha elections.




AICC general secretary Shakeel Ahmed (left) and PPCC president Partap Singh Bajwa at a press conference in Chandigarh on Sunday. Tribune photo: S. Chandan

Bajwa: List of office-bearers in a week
Chandigarh, June 30
Punjab Congress president Partap Singh Bajwa today said the list of new organisation set-up in the state unit would be completed in one week, following which he would start a mass contact programme from July 15.
Bajwa must respond to Capt's charge: BJP
Jalandhar, June 30
Reacting to reports of former Chief Minister Amarinder Singh's letter to Congress president Sonia Gandhi on Gurdaspur MP (now PPCC chief) Partap Singh Bajwa's "links" with terrorists, Punjab BJP president Kamal Sharma said the state government should take cognisance of the matter which was a serious one.
Money power gets prominence as youth take to rural politics
Faridkot, June 30
With the rise of young leaders in rural politics, there is an increasing trend of use of money to influence voters in the forthcoming panchayat elections. In some villagers which are witnessing a tough fight, candidates are holding feasts for villagers, besides offering money to the voters.
Clear stance on uniform civil code: Tewari to SAD
Ludhiana, June 30
Union Minister of State for Information and Broadcasting Manish Tewari today questioned the silence of the SAD, a key constituent of the BJP-led National Democratic Alliance (NDA), on the issue of uniform civil code.
Not given ventilator support, child dies
Patiala, June 30
A ten-year-old child died after he was not provided ventilator support for over two hours at the Government Rajindra Hospital and Medical College, Patiala, on Saturday. The child Hardeep Singh was brought to the hospital in the wee hours after a private doctor had referred him to Rajindra hospital.
SGPC sacks 2 workers for diverting funds
Amritsar, June 30
The Sikh Gurdwara Parbandhak Committee (SGPC) has terminated the services of two of its employees, identified as store keeper Sukhjit Singh and his assistant Parwinder Singh, for allegedly siphoned gurdwara funds on the pretext of purchasing cloth for siropas (robe of honour).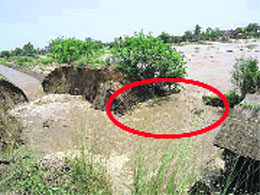 Breach in Sunam distributary
Sangrur, June 30
A 60-ft breach today occurred in the Sunam distributary at Sangatpura village near Lehragaga. Though the water had entered the village fields, no major loss to the crop had been reported.




The breach in the Sunam distributary at Sangatpura village near Lehragaga. A Tribune photograph

PSPCL official comes under scanner for aiding power theft
Jalandhar, June 30
A senior official of the Punjab State Power Corporation Limited (PSPCL), responsible for checking power theft in Amritsar, is "patronising" culprits. These accusations have been made by Additional Superintending Engineer Nirmal Singh in an affidavit submitted to KD Chaudhri, CMD, PSPCL.
Nine arrested for Faridkot clash
Faridkot, June 30
A day after a bloody clash between two Akali factions in Rupianwala village of Faridkot in the runup to the panchayat elections, the Faridkot police today arrested key accused Balraj Singh of the Students' Organisation of India (SOI) from Bhiwanigarh in Haryana.
Cops accused of torture evade arrest
Muktsar, June 30
A former Station House Officer of Malout city police station, an Assistant Sub-Inspector, a constable and two others, who were booked for illegal confinement and torture of a Dalit youth of Danewala village on May 15, are still evading arrest.
BSF repatriates 2 Pak nationals
Fazilka, June 30
In a goodwill gesture, the BSF has repatriated two Pakistani nationals who had strayed into the Indian territory two days ago. Officials said the duo, identified as Ajaj Ahmad (30) and Gulam Sabir (32) of Sahiwal district (in Pakistan), had been arrested by the BSF's 51 Battalion from near Bhaini Dilawar out-post in Fazilka sector.
Engineers for pre-emptive spillage at Bhakra, say delay may lead to floods
Jalandhar, June 30
The All India Power Engineers Federation has demanded the Bhakra Beas Management Board (BBMB) should go in for pre-emptive controlled spillage from its water reservoir by mid-August.
New Sangrur bus stand hanging fire for 2 years
Sangrur, June 30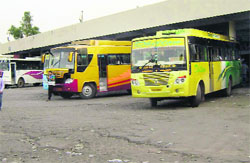 The new state-of-the-art bus stand that was to be constructed at a cost of Rs 40 crore at the site of the old PRTC bus stand here has been hanging fire for the past two years.





A view of the existing Sangrur bus stand. A Tribune photograph

Sangrur de-addiction centre staff demand hike in salaries
Sangrur, June 30
The 11 staff members at the 15-bed de-addiction centre here have been demanding a hike in their salaries in light of the rising inflation in the recent years. They have already written to the Union Ministry of Social Justice and Empowerment and spoken to secretary-level officers several times in this regard but to no avail.
Strong winds uproot 4 electricity towers
Fatehgarh Sahib, June 30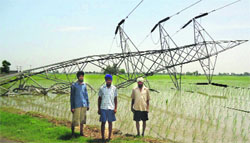 High speed winds, rain that lashed the region last night uprooted four high voltage towers located in Mustafabad and Kotla Masuda villages and disrupted power supply in various parts of the district.




One of the uprooted 220 KV towers in Fatehgarh Sahib on Sunday. A Tribune photograph

Noted Persian scholar NC Thakur passes away
Chandigarh, June 30
Prof NC Thakur, 96, a noted Persian scholar, a theatre personality and an academic of great distinction, passed away here today. A visionary theatre director, he did his Masters in English in 1938 and Masters in Persian in 1943.
Denied PG quota, rural doctors to boycott work
News, June 30
Rural doctors will soon stage a dharna in protest against the state government since they are not eligible to apply for the 60 per cent seats reserved for government doctors in post graduation courses.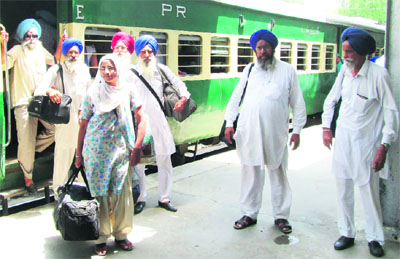 Jatha members arrive at the Attari railway station on Sunday after observing the death anniversary of Maharaja Ranjit Singh in Pakistan. Photo: Vishal Kumar
HC hearing on petition by BDS students today
Ferozepur, June 30
The Punjab and Haryana High Court will take up the petition filed by 456 first-year BDS students of several private dental colleges, who were admitted on the basis of their Class XII marks, tomorrow.




Two arrested with 4 kg contraband
Sangrur, June 30
The police arrested two persons with 4 kg of opium in Sangrur district today. Gurpreet Singh Dhindsa, Deputy Superintendent of Police (DSP), Rural, Sangrur, said Manoj Kumar of Ballran village (Moonak) was held with 2 kg of opium at a naka laid near Kamal Palace on Saturday.
Two held with 7 kg of opium
Patiala, June 30
The Patiala police has arrested a drug smuggler with 7 kg opium near Shambhu today. A case under the Narcotic Drugs and Pschotropic Substances (NDPS) Act has been registered against the accused. The police has arrested Kuldeep Kumar of Jhalabarh, Rajasthan, and Ajay Singh.
Holy books packed in used cartons seized, 4 booked
Amritsar, June 30
In a case of mishandling of Sikh holy books, the Sri Guru Granth Sahib Satkar committee today seized Sikh scriptures packed in discarded cartons of cold drinks, mineral water and biscuits at the Amritsar railway station.