Uploading clip of pannu assault
He is innocent, says accused's father
Bathinda, June 27
The family of Baljinder Singh, reportedly detained by the Uttarakhand police for allegedly uploading a clip showing IAS officer KS Pannu being thrashed at Gobind Ghat, has sought his immediate release.

Bajwa: It's a warning to honest officers
Chandigarh, June 27
Partap Singh Bajwa, Punjab Pradesh Congress Committee (PPCC) chief, today said that the assault on senior IAS officer Kahan Singh Pannu was a wake-up call for the people of Punjab and the bureaucracy to understand the "sinister" designs of the SAD-BJP Government.


PS Bajwa

Cyber cell begins probe
Chandigarh, June 27
The cyber cell of the Punjab Police has launched a probe to trace the person who uploaded the video clip of the assault on the Director General School Education, Kahan Singh Pannu, during the rescue operations in Uttarakhand.

Tarn Taran MLA, Brahmpura locked in tug-of-war
Tarn Taran, June 27
The forthcoming panchayat elections have triggered a tug of war between SAD stalwart Ranjit Singh Brahampura and Chief Parliamentary Secretary Harmeet Singh Sandhu, Tarn Taran legislator.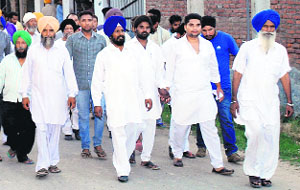 Buta Singh (extreme right), a contestant for the post of sarpanch, during campaigning at Pandori Waraich village in Amritsar on Thursday. Photo: Vishal Kumar
Book Langah for violating poll code: Cong
Chandigarh, June 27
The Punjab Pradesh Congress Committee (PPCC) today demanded that a case be registered under the Punjab State Election Commission Act, 1994, against former Akali Dal minister, Sucha Singh Langah for "violating the model code of conduct and indulging in corrupt practices during campaigning" for the panchayat elections scheduled for July 3.
Panchayat poll: Cong, Akali leaders lock horns in Faridkot village
Faridkot, June 27
Two senior political leaders are in fray for the chair of sarpanch in a village here. The duo had sought a ticket for the Faridkot seat during the last Assembly elections.



Price of a vote as high as Rs 10,000, claim candidates
Muktsar, June 27
With 754 candidates, 51 sarpanches and 703 panches, declared winners unopposed, the results of 32 per cent seats in the district have been declared. Now, elections will be held for the rest of the 68 per cent seats.
In Patiala dist, 2,781 elected as panches unopposed
Chandigarh, June 27
As many as 24,373 candidates have been elected panches for the total 81,412 seats without any opposition. This figure does not include unanimously elected candidates from Fazilka and Ferozepur.
Now, school board staff can retire after 20 years in service
Mohali, June 27
In a major decision, the Punjab School Education Board (PSEB) has reduced the service duration for voluntary retirement from 25 to 20 years.


Power Corp sub-divisional complex gutted in Abohar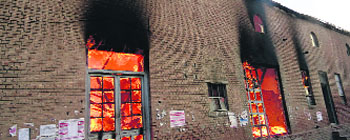 The sub-divisional complex of Punjab State Power Corporation Limited in Abohar in flames on Thursday. Photo: Raj Sadosh
BKU rejects Rs 60 paddy MSP hike
Chandigarh, June 27
The Bharatiya Kisan Union (Rajewal) has rejected the Rs 60 hike in the minimum support price (MSP) of paddy, as announced by the Union Government today.
Ropar thermal plant staff holds protest
Ropar, June 27
More than 100 engineers of Guru Gobind Singh Super Thermal Plant today held a dharna in protest against the filing of a chargesheet against 22 officials for the December 29 fire at plant.
Excise Dept blocks tax ID number of 400 traders
Ludhiana, June 27
Cracking the whip on traders for availing tax concession without submitting C forms, the Excise and Taxation Department has blocked tax identification number (TIN) of nearly 400 dealers across the state to prevent them from carrying out trading activity.
Short of power, PSPCL begins scheduled cuts
Jalandhar, June 27
With the demand for power rising up to 8,700 MW, the Punjab State Power Corporation Limited (PSPCL) has started imposing scheduled cuts in the domestic and industrial sectors.
Booming trade to help improve ties: Pak body
Chandigarh, June 27
Imran Sohail, leader of a 14-member delegation of Jhang Chamber of Commerce and Industry, Pakistan, has termed the bilateral trade as the most potent instrument for improving relations between India and Pakistan.
They waited at a river bank in U'khand for 48 hrs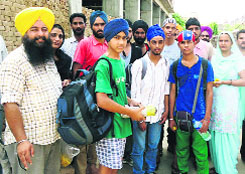 Muktsar, June 27
Eight Muktsar residents who returned from Sri Hemkund Sahib yesterday have expressed resentment against the Uttarakhand Government alleging nobody from the state administration came forward to lend a helping hand even though they remained stuck on a river bank for two days.


Sri Hemkund Sahib pilgrims being greeted in Muktsar on Wednesday. A Tribune photograph

Radiotherapy bunkers to be set up at Rajindra hospital
Patiala, June 27
The Atomic Energy Regulatory Board of India has given the go-ahead to the construction of radiotherapy bunkers at Government Rajindra Hospital, Patiala, to set up linear accelerators that will help in the treatment of patients suffering from various types of cancer.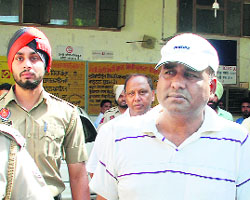 SP admits to ties with victim, but denies murdering her
Mohali, June 27
Mohan Lal, the then Punjab Police Superintendent of Police (SP), headquarters, Batala, today admitted he was in a relationship with 23-year-old victim, Lovepreet Kaur, who had allegedly committed suicide by jumping off his rented flat on the sixth floor at Zirakpur on May 27.

Police accompany Mohan Lal, SP, out of a Dera Bassi civil hospital, where he was examined on Thursday. Tribune photo: Nitin Mittal

Bhinder makes it to Bar Council again
Chandigarh, June 27
Sukhdeep Singh Bhinder, former senior Additional Advocate-General of Punjab, has won the Bar Council elections for the third time in a row.



US-based NRI booked for posting wife's nude photos on social media
Moga, June 27
Two years after her marriage, a woman of a Moga village has accused her NRI husband of uploading her nude photos on the social media by creating a fake identity. She alleged the act followed as her family could not meet his dowry demands.
3 drug traffickers held in Muktsar, contraband seized
Muktsar, June 27
The district police today claimed to have arrested three inter-state narcotics smugglers and seized 25.5 kg of opium from their possession.