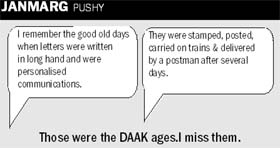 2 robbed of Rs 4 lakh, scooter
Chandigarh, June 27
Assailants in a Maruti car looted Rs 4 lakh and robbed two persons of their scooter in broad daylight today. The incident took place on the road separating Sectors 46 and 47 when Vinod and his colleague Ashok were on their scooter. The two work for a liquor contractor and were returning from Mani Majra after collecting cash.


A test of stamina at GMCH-32
Chandigarh, June 27
Patients at GMCH-32 are a harried lot in the absence of a medical store in Block C of the hospital. The authorities have closed down the only medical store at the emergency unit, giving a tough time to patients and their attendants. The patients have to shuttle between the emergency unit and other blocks for medicines and surgical equipment.
The medical store in the emergency unit at the GMCH-32 has been closed down. Tribune photo: Manoj Mahajan
Counter Attack
Now, Bassi to visit Mayor's ward
Chandigarh, June 27
Sore at the 'interference' in his ward by Mayor Subash Chawla, Congress councillor Mukesh Bassi has now decided to visit the former's ward to highlight the problems being faced by residents.


| | |
| --- | --- |
| Million dollar smile: Actress Diya Mirza at the Elante mall in Chandigarh on Thursday. tribune photo: Manoj Mahajan | Right move: A student presents a cultural dance during a function at Punjab Kala Bhawan in Sector 16, Chandigarh, on Thursday. Tribune photo: Nitin Mittal |

Twelve-day ordeal comes to an end
Chandigarh, June 27
A group of five pilgrims from Chandigarh returned home today, after 12 days of struggle for survival in the flood-ravaged Uttarakhand. Distressed and disheveled, the survivors, who had gone to Badrinath, said the flash floods were the worst possible disaster and caused havoc at the holy shrine and neighbouring areas.


A group of Kajehri residents at the Sector 43 ISBT after returning safely from Badrinath on Thursday. Tribune photo: Parvesh Chauhan
They survived biggest disaster of their life
Chandigarh, June 27
Families of soccer player Navjeet Singh Pallia (22) and local basketball coach Manjit Singh returned home after witnessing "the biggest disaster of their life". Both the families, who left for Hemkund Sahib on June 13 and 14 respectively, returned with stories of their battle for survival.
Manjit Singh (exteme left), a basketball coach, narrates his ordeal at his residence in Sector 41; and (right) Navjeet (extreme right), a local soccer player, with his family members, after returning from Hemkund Sahib at his residence in Sector 40, Chandigarh, on Thursday. Tribune photos: Parvesh Chauhan
Not a happy homecoming for this survivor
Chandigarh, June 27
While relief and happiness could be seen on the faces of people returning safely to the Sector 43 ISBT from flood-ravaged Uttarakhand, those emotions were absent from the face of an Amritsar-based pilgrim who reached here today.


Golf Club chips in with Rs 10 lakh for relief work
Chandigarh, June 27
Chandigarh Golf Club today handed over a cheque of Rs 10 Lakh to The Tribune Trust, as part of its donation to the Prime Minister's National Relief Fund for Uttarakhand.


Chandigarh Golf Club captain Sandeep Sandhu (left) and vice-president Virendra Sharma while handing over a cheque for ~10 lakh to The Tribune Trust as part of their contribution to the Prime Minister's National Relief Fund for Uttarakhand in Chandigarh on Thursday. Tribune photo: Manoj Mahajan
Oppn braces for MC meeting
Chandigarh, June 27
The monthly House meeting of the Municipal Corporation to be held on Friday is going to be a stormy affair as the Opposition councillors today decided to target city Mayor Subhash Chawla for his non-performance as Mayor in the last six months.


New device helps cancer patients speak normally
Chandigarh, June 27
In perhaps for the first time in the region a user friendly instrument has been fitted in the neck of a patient who has been diagnosed with voice box cancer. It enables him to speak normally without the windpipe.
Dr Surinder Singh (right) with two cancer patients at the GMCH-32 in Chandigarh. Tribune photo: Manoj Mahajan
GMCH-32 to have its own CT scan centre
Chandigarh, June 27
The Government Medical College and Hospital (GMCH), Sector 32 would start its own CT scan service within the next three months. The cost for the services at the new centre would be at par with those of the PGI, said the officials.
Brain tumour removed through nose
Chandigarh, June 27
An endoscopic surgery was conducted on 31-year-old patient to remove a tumour in his brain. Anil Pinaker underwent minimally invasive Endonasal Endoscopic Trans-Sphenoidal Surgery at Max Hospital, Mohali. The tumour was removed through the nose.
Visitors jostle for parking space at GMCH-32
Chandigarh, June 27
While the number of visitors to the Government Medical College and Hospital (GMCH), Sector 32, has been on the rise, the limited parking space at the institute continues to inconvenience patients.
| | |
| --- | --- |
| | |
| A road in poor shape at a parking lot of the GMCH-32 in Chandigarh. Tribune photo: Pradeep Tewari | An uncovered drain on the way to the OPD block. Tribune photo: Pradeep Tewari |
Anupama Case: PGI moves national commission over compensation
Chandigarh, June 27
The PGI has filed an appeal in the National Consumer Disputes Redressal Commission against the State Commission's (UT) order directing it to pay a sum of Rs 7 lakh as compensation for medical negligence in the Anupama death case.


300 donate blood in Mohali
Mohali, June 27
Over 300 persons donated blood during a camp organised in connection with the third death anniversary of a prominent sportsperson, Prabhsimran Singh Sidhu, here today.



Deputy Commissioner Tejinder Pal Singh Sidhu at the blood donation camp in Mohali on Thursday. a tribune photograph









ms

c Students' protest
Varsity refuses to give in to demands
Chandigarh, June 27
MSc students continued their protest outside the Vice-Chancellor's officc for the fourth day today. The students are protesting against the university's decision to re-conduct paper I, II and III of MSc (chemistry) Semester IV exam which were held in one of the colleges prior to the date sheet.

Students hold a protest outside the Vice-Chancellor's office at Panjab University, Chandigarh, on Thursday. Tribune photo: Manoj Mahajan
Training programme for traffic marshals
Chandigarh, June 27
The UT Education Department has begun the training programme for traffic marshals to who will be deployed in front of government schools from July 1 to ensure the safety of schoolchildren during morning and afternoon hours.
ett course
Students oppose higher qualification criteria
Chandigarh, June 27
Several students raised objections against the higher qualification criteria fixed for admission to elementary teachers' training (ETT) course at the State Institute of Education, Sector 32, Chandigarh.
selection of teachers at panjab university
Revised criteria to be tabled tomorrow
Chandigarh, June 27
The revised criteria for the selection of teachers at Panjab University and its affiliated colleges will be tabled before the syndicate in its forthcoming meeting to be held on June 29.
CBSE holds training programme for teachers
Chandigarh, June 27
The CBSE in collaboration with the Oracle Academy conducted a teachers' training programme at Gurukul Global school to sharpen their proficiency in Information Technology and enhance their programming skills.
aggarsen senior secondary school
Future of 350 students at stake
Panchkula, June 27
Future of as many as 350 students of Classes X and XII of Aggarsen Senior Secondary School in Raipurrani, Panchkula, is at stake. The school had kept the students in dark about its ineligibility of the science stream for Class XII.
Nominated
Chandigarh, June 27
The Science and Engineering Research Council (SERC), Department of Science and Technology (DST), GoI, New Delhi, has nominated Prof SK Mehta, Chairman, Department of Chemistry, Panjab University (PU), as member of the Subject Expert Committee on Chemical Sciences for "Funds for Improvement of S&T Infrastructure in Universities and Higher Educational Institutions" (FIST) Programme.