Rains damage fruit crops in Chamba
Chamba, June 27
A thunderstorm and the rains this week has hit the Chamba's apple belt hard causing a loss to apple growers' hopes for a bumper crop this season.
20 houses collapse in Shimla

Shimla, June 27
About 20 houses in the Krishnanagar locality of the town today collapsed following incessant rain, forcing evacuation of about 80 other adjoining houses. Though there has been no loss of life, the collapse in the landslide-prone area below the Cart Road has posed a threat to over 100 houses in the vicinity which have already been vacated.
Rescuers at the site of building collapse following heavy rains at Krishananagar in Shimla on Thursday. Photo: Amit Kanwar
56 more airlifted from Kinnaur
Shimla, June 27
With the Indian Air Force (IAF) arranging a small helicopter, district officials visited Chuling and Hango villages to assess the loss to houses due to the rains and the problem being created due to the sinking of land.
Experts raise doubts over success of community colleges
Dharamsala, June 27
The concept of community colleges, floated during a meeting of US Secretary of State John Kerry and HRD Minister MM Pallam Raju, has not been accepted by educationists.
BJP MLAs to donate salaries
Shimla, June 27
State BJP chief Satpal Singh Satti has asked all BJP MPs and MLAs in the state to donate one-month salary towards the BJP Calamity Relief Fund to help victims of Uttarakhand and Kinnaur disasters.
Counselling of MD/MS admissions deferred
Solan, June 27
The counselling for admissions to various postgraduate courses in two medical colleges of the state was deferred today following representations by the General Duty Officers (GDOs) that they had apprehensions that candidatures of some ineligible doctors, who had failed to meet the area-wise service norms, were also being considered by the counselling committee.
Ambota DAV school goes high-tech
Kangra, June 27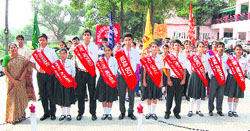 DAV Senior Secondary Public School, Ambota, has become a pioneering institution of this region by installing 14 smart boards for e-enabled teaching and learning.



Cabinet of DAV Senior Secondary Public School, Ambota, takes oath on Thursday. Photo: Ashok Raina
Online registration for obtaining licences begins
Hamirpur, June 27
The state government has started online registration for obtaining licences under the Food Safety Act.
Forest corpn staff seeks CM's help
Shimla, June 27
The HP State Forest Corporation Employees Federation has expressed concern over the move of the government to withdraw the ongoing activities of the corporation on the pretext of enhancing revenue.
Duty-free import of apple from Afghanistan worries growers
Shimla, April 27
While the rupee fall against the dollar has made the import of apple costly, the decision of the Central Government to allow duty-free import from Afghanistan under the South Asian Free Trade Agreement is causing worry to growers in the state.
Ban on rafting in Beas hits private operators
Kullu, June 27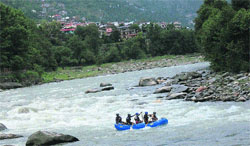 The week-long ban on rafting in the Beas from June 12 to 18 in the peak tourist season has adversely hit local raft operators. The Department of Tourism and Civil Aviation (DTCA) had lifted the ban on June 19 with a rider that "no operator will be allowed to raft when the river level rises". The ban followed after the river rose on June 10 and four rafting accidents took place that killed four tourists.
Rafting resumes in the Beas. Photo by writer
Give list of illegal constructions, HC to MC
Shimla, June 27
Expressing serious concern over the issue of unauthorised constructions raised in Shimla, the HP High Court directed the Commissioner, Shimla Municipal Corporation (MC), to supply a list of unauthorised constructions carried out within the MC limit for the past 25 years.
Himachal Fashion Hunt organised
Dharamsala, June 27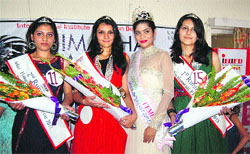 The Inter National Institute of Fashion Design (INIFD), Hamirpur, today organised a Himachal Fashion Hunt-2013. Himakshi Agarwala, Femina Miss India-East, 2012, was the chief guest for the occasion.

From left: Aastha Thakur, first runner-up, Shikha, winner, Himakshi Agarwal, Femina Miss India-East, 2012, and Prabhjot Kaur, second runner-up, at a Himachal Fashion Hunt function in Dharamsala on Thursday. Photo: Kamaljeet
Freedom fighter dies at 87
Bilaspur, June 27
Freedom fighter Lekh Ram Bhardwaj (87) of Pehadwin village near Kandraur, near here, died at the IGMC in Shimla today.
Class VIII student commits suicide
Shimla, June 27
A 13-year-old student of the local Jesus and Mary Convent committed suicide at her house in Sanjauli yesterday.
Man's body found in bushes
Kangra, June 27
The body of Om Raj (40) of Kaliad village was found in the bushes near Kholi village on the bank of the Banner river today.
Foetus found in drain
Solan, June 27
The Baddi police registered a case of concealing a birth by the secret disposal of the dead body under Section 318, IPC, after a foetus was found from a drain on the Sai Road at Baddi today.
2 held under NDPS Act
Mandi, June 27
The Mandi police has arrested Lal Singh, a resident of Agipakhar, and Lal Singh, a resident of Bhalach in Thunag tehsil, under the NDPS Act after recovering 350 gm of opium and 1.1 kg charas from them in two separate incidents.