Losses due to rains pegged at Rs 1,450 cr
HP seeks Central relief; wants maximum support of Border Road Organisation
Pratibha Chauhan
Tribune News Service
Shimla, June 22
The state government has sought immediate help from the Centre under the National Disaster Relief Fund as an interim measure with the total losses due to rains in the tribal district of Kinnaur being pegged at over Rs 1,450 crore, which is likely to increase manifold.
The state government today sent a report to the Union Home Ministry, based on the preliminary information of losses incurred to buildings, roads, horticultural and agricultural produce, water supply schemes and power projects.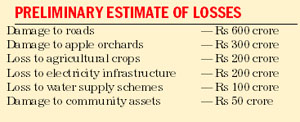 This is the first formal report of the preliminary losses that has been sent by the state to the Centre.
The state authorities have intimated the Centre that Kinnaur district is likely to remain cut-off for another month as the damage to roads is unprecedented.
The road damage has been assessed to be over Rs 600 crore with 2,200 roads being affected. With a large section of the National Highway-22 from Wangtu to Kaza in Kinnaur and Lahaul-Spiti being damaged, the restoration process will be an uphill and a time-consuming task.
The state has also requested the Centre to direct the Border Road Organisation (BRO) to utilise their resources to the fullest to restore the national highway and depute a chief engineer to pace up the restoration work.
The state authorities have made a special mention of the shortage of diesel being faced by the BRO and urged that helicopters be provided to them as and when required.
So far, 20 persons have lost their lives in Kinnaur and two each have died in Shimla and Sirmour districts.
More than 10,000 animals are feared to have perished due to the untimely snowfall and heavy rains in Kinnaur.
Incidentally, the rains in Kinnaur were 1,229 per cent more than normal at this time of the year, followed by Sirmour which received 151 per cent more rainfall than normal.
The estimated damage to over 600 houses, which were fully or partially damaged, is worth over Rs 60 crore. Apple production, too, has suffered a huge long-term loss as trees have either uprooted or given way under the weight of snow.
The loss to apple orchards is pegged at Rs 300 crore and to agricultural crops at Rs 200 crore.
More than 50,000 hectares of agricultural land has been severely affected while the pea crop, which was ready for harvesting, has been totally damaged.
The damage to the electricity infrastructure is about Rs 200 crore and to 900 water supply schemes over Rs 100 crore.
The damage to community assets such as Mahila Mandal Bhawans, community centres and village paths has so far been assessed at over Rs 50 crore.