Uphill task ahead for forces
Hundreds still trapped; damaged road network a major concern
Ajay Banerjee
Tribune News Service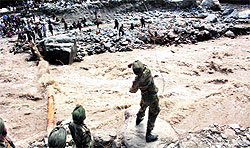 An Army jawan throws a rope across a river to help rescue pilgrims in Uttarakhand. A Tribune photograph

Gauchar (Chamoli), June 22
Silence in this sleepy Himalayan hamlet and its nearby village of Guptkashi is broken intermittently by the whirl of helicopters flying in and out like they would at a busy airport. Located between Rudraprayag and Joshimath, these are the biggest launchpads for helicopters engaged in rescue operations in Uttarakhand.
The June-16 floods have affected an area of around 40,000 sq km. Right from Gangotri in the west to Pithoragarh along the Indo-Nepal Border in the east, valleys separated by the Himalayas are ravaged and rendered inaccessible, leaving thousands stranded.
This has resulted in one of the biggest rescue operations launched collectively by the Army, the Indian Air Force and the Indo-Tibetan Border Police.
Around 45 helicopters are making sorties to rescue those marooned, carry the injured and ferry medicine, water, food packets, blankets, tarpaulins.
On the ground, the Army has sent in around 7,000 men, including doctors, engineers and paramedics. Around 4,000 men of the ITBP are engaged in the operation.
At least 50 satellite phones have been engaged for faster communications as thousands still await evacuation.
While Army and IAF pilots continue to fly non-stop, with refuel breaks in between, in Gauchar, 300 km to its west, the IAF created history by landing its special operations plane, the C-130J Super Hercules, on a 1,300-foot-long runway at Dharasu, close to the Harsil-Gangotri axis.
The plane carried fuel for helicopters. On its return trip, it picked up 100 stranded pilgrims rescued from Gangotri yesterday. An AN-32 aircraft later brought in equipment for bridges.
Agencies admit helicopter sorties may not be enough to rescue thousands still stuck at Joshimath, Badrinath, Harsil or Guarikund. They say a firm road connection is needed. The roads are breached at 110 places and 13 bridges have been washed away.
The real work will start when the Armed Forces complete the evacuation. Roads will have to built, and religious shrines such Kedarnath, Hemkund Sahib and Gangotri temple will need repairs.
The decaying bodies and carcasses will have to given a resting ground as the threat of epidemic looms.
Several organisations have stepped in to feed the hungry. The Delhi Sikh Gurdwara Management Committee (DSGMC) has sent vehicles up a mountain route to set up "langars" (community kitchens). Its member Samardeep Singh, who was on his way to Joshimath, said: "We have hired 70 vehicles to ferry pilgrims."
Sunil Gulati and Pawan Bittu from Jagadhri have driven a truck with supplies of rice and potato for the victims.
At Badrinath, located north of Joshimath, Army helicopters ferried pilgrims from one bank of the fast-flowing Alaknanda to the other.
The ITBP joined in and made a rope bridge at Lambagad. This route was also damaged at Hanumanchati and Pandukeswar.
Those stranded on the Gangotri axis have been evacuated. The road is now open for light vehicles from Gangotri to Harsil. The Army rescue teams today reached Yamunotri and will try to rescue 700 stranded people there.
In numbers
45 helicopters are making sorties to rescue those stranded, ferry the injured and carry essential items
7,000 Army men and 4,000 ITBP personnel are engaged in the operation
50 satellite phones are being used for faster communication