BJP seeks CRPF deployment in 3 segments
Shimla, June 17
Apprehending election-related violence in three hyper-sensitive Assembly segments of Rampur, Kinnaur and Anni, the Opposition BJP has sought the deployment of Central Reserve Police Force (CRPF) for the smooth conduct of polling for the Mandi Lok Sabha by-election. The polling will take place on June 23.
Prism party nominee blames Cong for raid
Mandi, June 17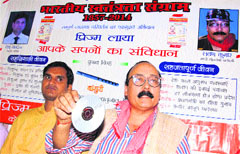 Prism party candidate and RTI activist Lawan Thakur today claimed that the video CD allegedly carrying video clips of a senior Congress leader with a woman was dropped at his residence-cum-office by some unknown person and CID team should catch the culprit rather than intimidating him.

Prism party candidate Lawan Thakur shows a CD to the media in Mandi on Monday. Photo: Jai Kumar
Poll staff to tread 16 km in absence of roads
Bharmour, June17
In the absence of roads, poll personnel will have to walk a long distance to reach the polling stations for conducting the byelection in the Bharmour Assembly constituency.
Ambika Soni's appointment hailed
Shimla, June 17
Chief Minister Virbhadra Singh congratulated Ambika Soni on her appointment as general secretary of the All-India Congress Committee and In charge of Himachal Pradesh.
Skill Development Allowance for Youth
Shimla, June 17
Industries Minister Mukesh Agnihotri and Chairman, State-level Planning Development and 20-Point Programme Committee, Ram Lal Thakur lambasted BJP leaders for making unnecessary hue and cry over the age limit and period of skill development allowance to be provided to youth in the state.
Kalpa, Paonta receive highest rain in a day in June
Shimla, June 17
Paonta Sahib in Sirmour district recorded 405mm of rainfall during the last 24 hours, the highest in a day in June. The previous highest 24-hour rainfall of 98mm for a month was recorded on June 13, 1980.
Vikramaditya is softball assn chief

Shimla, June 17
Vikramaditya, son of Chief Minister Virbhadra Singh, has been unanimously elected president of the Himachal Pradesh State Softball Association. Kulbir Singh Chauhan, vice-president, All-India Soft Ball Federation, said the election of the state body was held under national observers' supervision.
Vikramaditya
Early salary adds to tax burden of staff
Hamirpur, June 17
The disbursement of salaries to government employees for March this year on the last day of the month has brought thousands in the upper bracket of the income tax range.
Replies sought on Wildlife Dept's action plan
Shimla, June 17
The Himachal Pradesh High Court today directed the Union Ministry of Agriculture, the Forest and Rural Development and the Compensatory Afforestation Fund Management and Planning Authority (CAMPA) to file replies on the action plan submitted by the Wildlife Department of the state government.
Tribal villages cut off from district
Chamba, June 17
The link between six villages of the far-off Chobhia tribal panchayat falling in Bharmour and the rest of Chamba district has been cut off due to heavy landslides in the aftermath of widespread rainfall in the district for the past three days.
Board officials order power disconnection of polluting unit
Solan, June 17
Reacting to a news item highlighting the plight of residents of villages in Parwanoo, State Pollution Control Board officials have issued power disconnection orders on Pronto Industries for causing air pollution in the area.

SDPO office reopens today
Palampur, June 17
The government has decided to reopen the office of Sub-Divisional Police Officer (SDPO) at Baijnath which was closed by the previous BJP government in 2008.



Sudheer Sharma addresses mediapersons at Palampur on Monday. Photo: Ravinder Sood
Choice-based credit-based system
Counselling to clear students' doubts
Shimla, June 17
Concerned over the increasing confusion among students over the new choice-based credit-based system (CBCBS) being introduced from the coming academic session, the Education Department has directed all college principals to conduct counselling to enable students to make the right options and take advantage of the opportunities the new system has offered.
Police seeks verification of barrier staff
Shimla, June 17
To check the increasing incidents of crime, especially in border areas, the state police has asked the Excise and Taxation Department to direct the firms managing the barriers to employ staff only after proper verification and install closed-circuit cameras so that proper surveillance can be maintained.
Northern Command summer camp begins
Dalhousie, June17
In tune with the endeavour of the Army of moulding youth into more responsible, conscious and motivated citizens of tomorrow, The Initiator Brigade based at Dalhousie Garrison has undertaken a summer adventure camp for the Northern Command, Udhampur.
Air Force officer shines in US
Dharamsala, June 17
Manav Dutt Sharma, Wing Commander in the Indian Air Force, who hails from Dharamsala, has topped in the American Aero Medical International Medical Officers Course conducted at the US Air Force Base at Dayton, Ohio state, USA.
Lok Pal detects fund misuse
Palampur, June 17
The Lok Pal has detected the misuse of funds amounting to Rs 28,694 in Panchrukhi block of the region.
Youth arrested for kidnapping minor girl
Bilaspur, June 17
The police has traced a minor girl from a house in Chandigarh. She was reportedly missing from her home at the Main Market here since June 2.
4 get one-year jail in thrashing case
Nurpur, June 17
Pankaj Gupta, Judicial Magistrate, First Class, sentenced four persons involved in a thrashing case to one year's imprisonment and a fine of Rs 2,500 at Indora in this sub-division today.
Minor raped
Nurpur, June 17
The police today booked a minor boy for allegedly raping a minor girl (11) living in his neighbourhood.
Rape accused arrested
Bilaspur, June 17
A police team, led by ASI Shyam Lal, Head Constable Naresh Kumar and constables Gyan Chand and Dhani Ram, succeeded in arresting rape accused Rakesh Kumar of Jaroda-Kate village under Dadhole gram panchayat in Barmana yesterday.
Three booked for thrashing tourist
Chamba, June 17
Three persons were booked at the Chamba police station for waylaying, abusing, thrashing and intimidating Rajat, a tourist of Amritsar, and his family near Saroo last evening, Superintendent of Police BM Sharma said here today.