Polling date postponed to June 27 in Kinnaur
Tribune News Service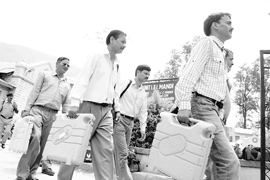 Polling staff on way to election duty in Mandi on Friday. Photo: Jai Kumar

Mandi, June 21
The 16 Assembly constituencies of the Mandi parliamentary segment will go to the polls on June 23 as scheduled earlier, while the Election Commission has postponed the poll to June 27 in the rain-ravaged Kinnaur tribal constituency. The results will be declared on June 30.
The Election Commission today issued a fresh notification and postponed the polling date to June 27 in the rain-ravaged tribal Kinnaur constituency, said Narender Chauhan, the state electoral officer.
All other Assembly constituencies would go to the polls on June 23 and the counting would be conducted on June 30 and results would be declared on the same day, he added.
The decision followed after the high-level team under Chief Minister Virbhadra Singh and Additional Election Commissioner PL Negi surveyed the rain, snow and flood-ravaged Kinnaur district and recommended to the commission to postpone the poll for June 27, sources said.
The poll parties were sent to the polling stations today from Reckong Peo as all road links and the National Highway No. 22 were breached at several places in the district.
The district administration expects that the life would be normalised by June 25 when the parties would be dispatched to the polling stations, the sources said.
DC-cum-District Retuning Officer, Kinnaur, JM Pathania said there were over 90 polling stations that had become difficult to reach with the electronic voting machines.
The parties would move on foot to reach the polling stations as it was unlikely that the link roads would be restored by then, the officials said.
The poll parties have been dispatched to Tabo and Hurling in the Spiti valley where the Kaza-Tabo road have been breached at Shchhling, said BS Thakur, District Returning Officer, Lahaul-Spiti.
The District Returning Officer, Mandi, Devesh Kumar said 70 micro observers had been appointed to monitor the 62 polling stations in the nine Assembly constituencies of Mandi district for a free-and-fair poll. They would report at polling stations at 11am on June 22, he added. Micro-observers for Kullu, Lahaul-Spiti and Bharmour have also been appointed.