HC favours benefits to families of war heroes
Chandigarh, June 24
The Punjab and Haryana High Court has made it clear that it is not averse to the idea of framing of a policy for providing financial assistance and reserving posts for the families of 1971 war heroes.
Four-laning of Zirakpur-Bathinda highway
Centre terminates contract, says start process afresh

Chandigarh, June 24
The four-laning of the Zirakpur-Bathinda national highway is set to be delayed by a year as the Union Ministry for Road Transport and Highways has decided to terminate the contract of the project given to two private companies.


The Zirakpur-Bathinda national highway. Tribune photo: Nitin Mittal



Panchayat poll
It's SAD vs SAD in Tarn Taran villages
Tarn Taran, June 24
Even as the political activity in view of the upcoming panchayat elections is gradually gaining momentum, the Congress seems to be missing in action in a number of villages in the district. In most of these villages, it is a battle between the ruling SAD factions.


108 ambulance staff end strike

Amritsar/Sangrur, June 24
Agitating drivers and pharmacists of the 108 ambulance service called off their strike this evening following an assurance by former Health Minister Laxmi Kanta Chawla and the Amritsar district administration.

Drivers and pharmacists of the 108 ambulance service hold a dharna in Amritsar on Monday. Photo: Vishal Kumar

Book scam: Jindal panel begins probe
Mohali, June 24
The commission, set up under the chairmanship of Justice AN Jindal (retd) to probe the book scam, began its inquiry today.
All pilgrims stranded at Gobind Dham evacuated
Chandigarh, June 24
Almost all pilgrims from the main Gurdwaras en route Hemkund Sahib from Joshi Math have been evacuated, according to IAS officer KS Pannu who is leading a team of officials to Uttarakhand.
Some shopkeepers gave food free of cost
Phagwara, June 24
Though most shopkeepers and hotel and dhaba owners made money by making the stranded pilgrims pay through their nose, a few of them acted as good Samaritans, said Taranjit Singh Walia, 38, who returned here last night.
Pilgrims want corridor to Pakistan shrine
Dera Baba Nanak, June 24
The formation of a new government in Pakistan may have brought about a thaw in relations between the neighbouring countries, but residents of this border district want more.
Rs 3 crore grant each for ravaged shrines
Chandigarh, June 24
The Punjab Cabinet, at an emergency meeting here this evening, decided to give a grant of Rs 3 crore each to rebuild Kedarnath and Badrinath temples and reconstruct parts of Hemkund Sahib damaged in the flood fury in Uttatakhand.
Officer leading rescue team assaulted
Chandigarh, June 24
Senior IAS officer KS Pannu, in charge of the rescue team sent by the Punjab Government to Uttarakhand, was assaulted by some pilgrims stranded at Gobind Ghat. He was saved by jawans of paramilitary forces and the Army.
SAD accused of framing Cong leader
Moga, June 24
Congress leader Vijay Sathi today alleged that the local police at the behest of senior SAD leaders had implicated Congress leader Sukhjit Singh Kaka, an SGPC member, and his supporters in a false case.
Tarn Taran ASI' death: Principal Secy told to finish probe in time
Chandigarh, June 24
Punjab Chief Minister Parkash Singh Badal today directed the Principal Secretary (Home) to ensure that the judicial inquiry into the death of Assistant Sub Inspector of Police (ASI) Kulbir Singh in Tarn Taran district was completed within the stipulated time period of three months. The ASI died during the farmers' agitation at Jeobala village in March earlier this year.
Army commander seeks more jobs for ex-servicemen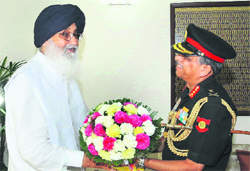 Chandigarh, June 24
Lieutenant General Sanjiv Chachra, General Officer Commanding-in-Chief, Western Command, today paid a courtesy call on Chief Minister Parkash Singh Badal at his residence here before taking over as the Northern Command chief.



Lieutenant General Sanjiv Chachra Chief Minister Parkash Singh Badal in Chandigarh on Monday. A Tribune photo

Survivors recount tales of horror
Nangal, June 24
Seventeen pilgrims, who had left for Hemkund Sahib on June 14, spoke of the horror of flashfloods in Uttarakhand upon their return here. "We saw buildings around us collapse like a pack of cards and people being swept away," said Kuldeep Singh, one of the survivors, who was in a state of shock.
They owe their lives to valiant soldiers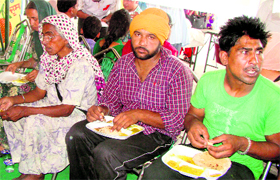 Fatehgarh Sahib, June 24
Gurnam Singh, former sarpanch of Kharora village, and his family members, who had left for Hemkund Sahib on June 15, returned to the village today. "I would like my son to join the Army and serve the nation and humanity, But for the Army, we would not have returned alive," Gurnam said.


Pilgrims given food on their arrival in Patiala on Sunday. Tribune photo: Rajesh Sachar

Jagmeet returns to state politics
Muktsar, June 24
With his visit to Mann village in Muktsar and Nehianwala village in Bathinda, former Member of Parliament (MP) Jagmeet Brar, who was recently removed as CWC member, today claimed that he had become active in state politics.
Governor: Set up R&D centres to develop rural India
Chandigarh, June 24
Punjab Governor Shivraj Patil today lamented the half-hearted approach of the private sector in taking initiatives in the food processing sector. He also expressed concern over special funds allocated for growth and development of rural India lying unutilised.
Confusion over NRI quota seats leaves aspirants jittery
Faridkot, June 24
The prevailing confusion over filling the NRI quota seats in the medical (MBBS), dental (BDS) and post-graduation medical courses (MD, MDS and MS) in various private and government colleges in Punjab has left the aspirants in jitters.
Sugarcane growers in Fazilka await payment of Rs 12 cr
Fazilka, June 24
Though the Punjab Government enhanced the state agreed price (SAP) of sugarcane by Rs 40 per quintal, it has failed to make the balance payment to the tune of about Rs 12 crore for the crushing season 2012-13 to cane growers of Fazilka. The season had ended in March.
Six historical cities to be linked to promote tourism
Sangrur, June 24
Six historical cities, including Amritsar, Kapurthala, Sangrur, Malerkotla, Faridkot and Nabha, will be linked under the Mega Darbar Circuit Project to promote tourism in the state.


Panchayat Poll
HC dismisses pleas against seat rotation
Chandigarh, June 24
The Punjab and Haryana High Court today dismissed at least 90 civil writ petitions challenging reservation and rotation of seats for the post of sarpanch for the panchayat elections.


Robbers' gang busted, illegal arms recovered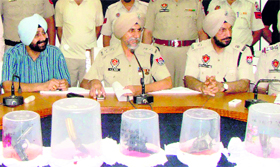 Patiala, June 24
The Patiala police today arrested an inter-state gang of nine persons, who were involved in various cases of murder and robbery, and recovered illegal arms from them.


Patiala Senior Superintendent of Police HS Mann shows the illegal weapons siezed in Patiala on Monday. Tribune photo: Rajesh Sachar

Nine booked for extortion, one held
Ropar, June 24
Nine persons were booked today for allegedly extorting money from truck drivers here.
Two held with smuggled liquor
Sangrur, June 24
The Moonak police today arrested two persons and allegedly recovered 10 cases of country liquor, two .315 bore pistols, eight cartridges, and a car from their possession at a naka near Ganota village.