Govt wakes up to strengthen emergency services in state
Chandigarh, June 23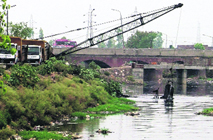 Taking a cue from the Uttarakhand flashfloods, the Punjab Government is carrying out groundwork for strengthening the emergency services in 2,399 flood-prone areas (mostly villages) in the state. Dr Gagandeep Singh Grover, an epidemiologist, said: "Of the identified flood-prone areas, as many as 385 are located in Patiala district. All these areas are in the vicinity of the Ghaggar.
Ludhiana authorities undertake desilting work at Budha nullah. A Tribune file photo

Ropar plant workers exposed to health hazards, finds panel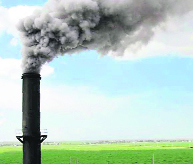 Ropar, June 23
A four-member team of a Delhi-based NGO, Centre for Science and Environment, during its visit to Ropar Guru Gobind Singh Super Thermal Plant found that the working conditions inside the plant exposed the employees to various health hazards.
Prima facie, it appears that the plant polluted the surrounding areas. However, we will know the extent of pollution after the samples are tested
— Panel member


Restoration work of centuries old Bunga Ramgarhia to be expedited
Amritsar, June 23
Though the restoration work at the historic Bunga Ramgarhia located in the Golden Temple complex has been delayed, those looking after the project claim that 90 per cent of the work has been completed. Onkar Singh Sandhu, who is overseeing the project, said they had been able to retain the originality of the bunga (tower) walls and roof.


Himalayan TSUNAMI
Survivors credit Army, flay govt for delayed rescue
Muktsar, June 23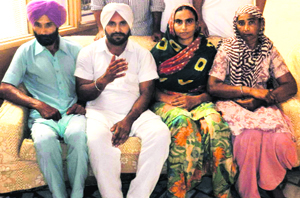 Pilgrims rescued from different parts of flood-hit Uttarakhand are all praise for the Army. Bohad Singh, who along with his wife, sister-in-law and a neighbour, had gone to Hemkund Sahib and returned yesterday, said: "On June 17, we were at an inn at Govind Ghat when suddenly an alarm sounded at 11 pm. On coming out, we saw a nearby road being washed away in flashflood.
Bohad Singh (in white turban) along with other rescued pilgrims in Muktsar on Sunday. A Tribune photograph


Still can't believe we are alive: Jalandhar family


Couple trekked for 22 hours to escape death


4,700 pilgrims rescued so far, claims govt


Three Barnala couples missing
Investment promotion campaign on the anvil
Chandigarh, June 23
Having drawn flak for coming up with its new industrial policy in bits and pieces, the Punjab Government is now working on fine tuning the policy to include ease of regulatory compliance, creating an enterprise eco system, besides providing a system of tracking investments.
Two UGC officials held for misusing grants
Rajpura, June 23
The Patiala police today claimed to have arrested two officials of the University Grants Commission (UGC) for helping others siphon off UGC grants. The accused Talu Ram Bharti, Assistant Section Officer, UGC, and Balwinder Singh, Section Officer, allegedly took commission for releasing Rs 99 lakh to Patel Memorial College in Rajpura even though it was not eligible to apply for the said grants.
Merely 3% candidates clear TET
Ludhiana, June 23
Only three to four per cent of the five lakh candidates, who appeared for the Teachers' Eligibility Test (TET) conducted by the state government in July 2011 and June 2013, passed the test.
Private schools charging inflated fee under scanner
Mohali, June 23
The Punjab and Haryana High Court appointed committee has begun an inquiry to check if unaided private schools are charging exorbitant fee and collecting funds too often. The committee comprising Justice Ranjit Singh (retd), chairman, and two members — Dr Piare Lal Garg, an educationist and Ajay Sharma, a chartered accountant, today handed out a questionnaire to several schools in its first meeting with school authorities.
Seven hurt as traditional, Cong-turned Akalis clash
Tarn Taran, June 23
Seven persons were injured as two SAD factions, one of them of the Congress-turned Akalis, clashed after the filing of nominations for the July 3 panchayat elections. The incident occurred at Reshiana village, 12 km from here, last evening. The injured have been admitted to the local Civil Hospital.
Scholarship portal to be launched
Fatehgarh Sahib, June 23
The district is all set to launch an e-scholarship portal for the disbursal of various scholarships and benefits to students on line. SK Banga, District Information Officer, National Informatics Centre, said the portal would help in disposing of scholarship applications in a more efficient manner. The students will be able to create their accounts on this portal and apply online for sanction and disbursal of their scholarships. Scholarships for SC/BC students of Class XII, degree and postgraduate courses will be disbursed through the portal. — OC
Survey finds 804 cancer cases in Sangrur
Sangrur, June 23
The second phase of the statewide cancer survey was completed in Sangrur district. In this phase, people suspected to have the disease were to be examined. Eight hundred and four of the several thousand suspected cancer patients were found to have cancer. Thirty two patients, who were referred to Government Medical College, Patiala, for re-examination, have not yet reported back. — TNS