There are 2.5 million ex-servicemen (ESM) in India who are entitled to post-retirement care according to the terms of their service. If we include their spouses and dependants, they add up to about 10 million. It is estimated that this number may swell 20 million by the year 2040.
While in uniform, the soldier, sailor or airman, comes home for brief periods, once or twice a year. Hardly 20 per cent of them are lucky enough to have one or two tenures of not more than two to three years in a peace station, where again, not all of them get government accommodation. The hunt for hired accommodation and admissions for school children being tedious, tiring and uneconomical, he lives in barracks and goes back to the borders after his tenure in town.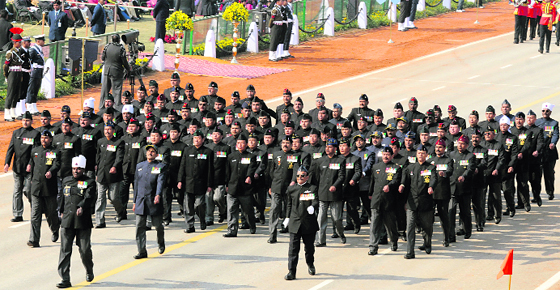 Ex-servicemen's contingent on Rajpath during the Republic Day parade. A number of government organisations and private associations have their fingers in the pie for ex-servicemen's management in India, but there is no single organisation accountable to deal with their problems
He retires rather young. When he sheds his uniform and comes home, he is gripped with many problems. Pension is not enough. There are land disputes. The tenant refuses to vacate the house. Children's education and tuitions are expensive. There are ailing parents to be looked after. He needs a job to add to his meager pension which is not released promptly. With the passage of time, he finds health problems becoming more and more acute.
With problems galore, he runs from pillar to post, from one local ESM league to another, from one sainik welfare officer to another at various levels, but to hardly any avail. When his son grows up and wishes to join the armed forces, enamoured by his father's uniform and medals still well preserved and hanging in a comer, he forcefully forbids his son not to do so but rather take up anything else as a career.
When the soldier is martyred, those in authority make tall promises to the bereaved parents, widows and orphans for his supreme sacrifice for the motherland, but years pass by in futile wait.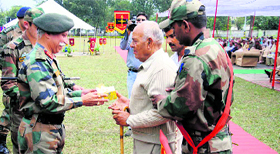 In view of the sizable number of ex-servicemen and their dependants, which is likely to double during the next three decades, we need a countrywide organisation to manage their affairs.Such an organisation should be manned entirely by ESM volunteers of all ranks.
Who is responsible exclusively for the management of ESM? There is the Directorate of Resettlment in the Ministry of Defence with a limited role in finding jobs for ESM. The states have a Director of Sainik Welfare with a sainik welfare officer at each district. Command, Area and Sub-Area headquarters also try to help out the ESM, in addition to their whole time engagement in logistics for the Command for its routine operations. There is also the Ex-Servicemen's League at Delhi, with insignificant functioning at the all-India level. Various states, cities and towns have unrecognised, unregistered splinter ESM associations. There are on the face of it, many fingers-in-the-pie for ex-servicemen's management. However in actual practice there is not a single organisation accountably responsible to deal with the problems of ESM.
Need for a single organisation
In view of the sizable number of ESM and their dependants, which is likely to double up during the next three decades, we need a countrywide organisation to manage their affairs, on the principle of "self-management by the ESM for the ESM" as an integral part of the Ministry of Defence. Call it a Department of ESM, with its branches in every state district, town and village or where ever required.
Such an organisation should be manned entirely by ESM volunteers of all ranks, from a general down to a sepoy and their equivalents in the Navy and Air Force, as far as possible.
The nitty-gritty, nuts and bolts of this all-India organisation, its role and functioning at each level, is a thesis by itself, to be worked out in detail. An annual budget allocation by MOD for the department will be required. The proposed ESM organisation will grapple with all post-retirement problems, individual as well as collective, at all levels -- local, district, state and central level, regimental records, pension, etc.
Only a few amongst the myriads of such problems may be enumerated, such as re-employment with the para-military forces, public and private sectors, municipal corporations, banks, transport, government project for veterans, procurement of bank loans for various purposes, conciliation of various domestic disputes, property and land problems, children's admission to educational institutions, legal cases in local courts and the Armed Forces Tribunal, patronage of widows and orphans with their multiple problems, complicated health problems of dependant parents, old age homes for aged ESM and their dependants, etc.
Most Commands, Areas, Sub-Areas and Station Headquarters have substantial funds for troops' welfare, including ESM. Canteen profits add to these funds every year. The proposed ESM organisation at each level should liaise with respective headquarters for their share of such funds. Alternatively, the whole share of ESM should be transferred to the central fund at the disposal of the proposed Department for ESM at the MoD.
In due course of time, having acquired organisational maturity, expertise, confidence and with available talent, the organisation should be competent to undertake minor and major government and municipal service projects at various levels to generate its own funds.
With efficiency, diligence and quality services, the organization can easily win over monopoly to operate canteen services in all hospitals, government offices, retail medical shops in hospitals, security services in all banks, school transport services, as a few amongst many other similar projects.
The proposed organisation should function like a non-government organisation under the protective wing of the government at all levels. The self-help venture, like any other undertaking, needs a bold and committed leadership which is available in plenty amongst the ESM. More than that, a political will is required, which has never been lacking for the armed forces and ESM in India.
While in uniform, the Army, Navy and Air Force Acts and Rules are applicable to enforce discipline and compliance of orders. The standards of training, nature of routine, work culture, methods of man-management and above all, inter personal relationship, inculcate a high degree of comradeship, respect for and faith in the seniors. Therefore there is no need to resort to Acts/Rules. These virtues of respect, work ethics, a sense of sacrifice and patriotism are carried over as a part of the psyche by the ESM, even after he or she sheds the uniform. They continue to address the seniors as "Sir" for the rest of their life. This inherited spirit and qualities of leadership at all levels should govern the execution of work by the proposed organisation of the ESM, without any Acts/Rules.
Expanded charter
In spite of Sarv Siksha Abhyan and the Right to Education Act, except in a couple of states, the illiteracy rate continues to be 20 to 30 per cent. The number of schools and trained teachers is far below the number of students. Higher education of children is a pressing problem for ESM. There is only one Armed Forces Medical College at Pune and an Army Law Institute at Mohali (Punjab). In times to come, the proposed Veteran Educational Service may establish more institutions for higher education, including engineering and management.
To solve the problems of affiliations with regional universities, with multiple rational institutions spread countrywide, a Central Veteran University may eventually become a possibility.
More than 30 per cent ESM are facing complicated legal problems beyond their individual and financial scope. Most prominent of these problems are land disputes, land grab, eviction of tenants, widow's pension, and inheritance problems of martyrs' orphans.
Most of these legal cases continue through out the life of the ESM, due to lack of follow up and lack of physical, mental and financial capacity of the veteran. The veteran's legal service at central, regional and local levels can play a vital role in attending to individual problems. Besides dealing with local, district and high courts, the proposed legal service can now bring up these cases to the Armed Forces Tribunal.
Ex-servicemen's Contributory Health Service (ECHS) has been functioning for over five years. It needs a thorough review. It is a subject by itself. However the proposed ESM's department will be involved more and more with the functioning of the ECHS. In the same context establishment of veteran's hospitals in time to come should be visualised. At present, Military Hospitals in most places do not have infrastructure in their establishment for catering to ESM, who are an additional work load on them. ECHS polyclinics have been established at the district level. The ECHS needs a mobile medical service at district level to reach out to ESM mostly residing in rural areas. It is quite common to see elderly ESM and their families, living alone both in rural and urban areas. The proposed veteran's organisation will have an important task to establish old age-cum-nursing homes on an as required basis.
British and American models
The British government retains a few portfolios for veteran's affairs to be administered centrally and has delegated the rest of ESM care to the service headquarters. Some of the centrally administered affairs are pensions and compensations, veteran's advisory and pension committees, armed forces memorials, special support programmes for veterans and the Royal Patriotic Fund Corporation. The Veterans Affair Department has annual budget estimates and allocations to the three service headquarters for veteran's welfare programmes. .
The Naval Headquaters has organised the Royal Naval Association for naval veterans. They have established a Royal Naval Benevolent Trust to support various programmes for their veterans. The Air Force Headquarters. has also established the Veteran Royal Air Force Association and Royal Air Force Benevolent Fund to support various schemes for veterans. The Army Headquarters has delegated management of their veterans affairs to their respective regiments, who have in turn formed their veteran's associations and benevolent funds. All the association funds and trusts attend to various problems of their ESM like housing, re-employment, rehabilitation, health and disabled veterans centers, legal problems, widows and orphan care, educational loans and financial assistance, etc.
Army, navy and air force are integrated defence services in USA. There is a Federal Department of Veterans Affair with branches in each state. They maintain an up-to-date directory of all veterans and coordinate the functioning of various organisations for veterans.
There are rank-wise veterans associations like Military Officers Association of America the Non-Commissioned Officers Organisation and the American G.I. Forum. There are associations of veterans from various wars like the Vietnam Veterans of America Incorporated, Iraq and Afghanistan Veterans Association and the Veterans of Foreign Wars.
There are also ethnic American veterans organisations like Catholic Veterans Association, Jewish Veterans of America, Society of Hispanic Americans and National Association for Black American Veterans. There are exclusive organisations for the blind, disabled and women veterans. Organisation of veterans by various categories and their co-ordination by the Department of Veterans Affairs at all levels ensures management of all types of veterans affairs by reaching out to every one.
We have yet to read about or see on TV, veterans in the UK or US out on streets for a protest against neglect, what to say of their retired generals threatening to return their medals of chivalry and meritorious services.
A career in the armed forces, till a few decades ago, was a coveted choice. For many reasons, the defence services, particularly the army is loosing its sheen. Neglect of ESM is one of the reasons. Dignity of a nation is depicted by the way the nation looks after its disabled persons, women and children. The nation's valor is depicted by the way the nation looks after its ESM. It is time we devote serious attention to our ESM. A penny spent on them will bring dividends worth more than a pound.
The writer is a veteran of World War II and an activist for ex-servicemen's welfare