The age of the retro traveller
The modern, aware, traveller demands a lingering immersion in a nation's heritage. That is where we Indians score, as the traditional wisdom of India extends far beyond our shrines. It permeates every aspect of our lives, every inch of our highways
Hugh & Colleen Gantzer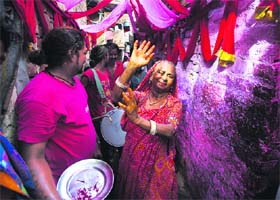 An old woman dances down an alleyway in front of drummers during a wedding procession in Kathputli Colony in New Delhi. It is an area inhabited by puppeteers, magicians, acrobats, dancers and musicians, mostly from Rajasthan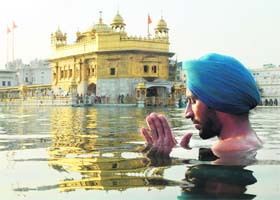 A devotee takes a holy dip in the sarover at the Golden Temple in Amritsar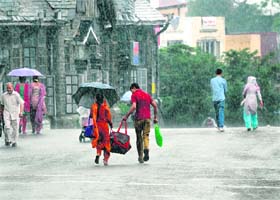 A couple rushes for cover as it pours on a hill station. Photos: AFP
WE sell dreams. We travel writers, film makers and novelists, are dream merchants so we have to know what the public desires. One way of finding out what our potential travellers want, is to see the movies they like and read the novels they prefer.
There is a novel about a voyage that spread like wildfire around the world, and then became a blockbuster movie: The Life of Pi. In a refreshing contrast to his predecessors, Tourism Minister Dr K. Chiranjeevi, reacted swiftly to the opening of a new horizon when he gave a special National Tourism Award to this amazing tale. Moreover, this unbelievable story has inflamed the imagination of the world and brought rich rewards to its creator. Why? Because Information Technology has programmed us into becoming sorters of bits and bytes. After hours of sitting before a small screen, assessing facts and figures, we ache to step back and forget reality. We want to fly into our imagination, into make-believe. We yearn for the freedom of fantasy.
That is where we Indians score. We have an unlimited reservoir of fable. We have been building our castles of fantasy for more than three thousand years. We learn fantasy from our mothers and grandmothers. We are marinated in the epic tales of supermen and women, of flying chariots and monstrous weapons of mass destruction, and talking birds and animals, and giants, hobgoblins and titanic, fearsome, demons. There's a great difference between our folklore and those of the so-called, 'developed nations'. Their civilisations teach them to spurn such imaginative tales, their children are conditioned to grow out of believing in Hansel and Gretel, Jack and the Beanstalk and the jolly old gentlemen who comes Ho! Ho! Ho-ing down the chimney every Christmas Eve. We, however, never grow out of our legends even though we may become Argumentative Indians in the Amartya Sen mode or quantum physicists, who specialise in knowing more and more about less and less till they seek to know everything about almost nothing. That's literally true: the Higgs Boson is the ultimate expression of something that is so small that it is almost nothing. Yet there are Indian scientists working on those great particle accelerators, searching for the transient streaks that might, just might, indicate the presence of the miscalled "God Particle". Many of those brilliant, and intensely logical, people will emerge from those deep underground vaults, into the comfort of their homes, put aside the quarks and quirks of their whirling devices, and worship the stolid, traditional, Indian icons they believe in.
That is the secret of the resilience of our civilisation.
Our brains are divided into two lobes: the left and the right. The left seems to be the source of logic and reasoning, the right is apparently the intuitive and emotional half. Western civilisation, it has been argued, has developed the left half. Eastern cultures have tended to draw on the right. If there is any truth in this, then Indian civilisation has grown at the confluence of these two streams drawing on both, aided by the miracle of Sanskrit. Because Sanskrit is the most phonetic and finely structured of all languages, much of our ancient lore was transmitted verbally. It was almost as if our savants, working in what Einstein called 'The Laboratories of the Mind", felt that written knowledge could easily fall into the hands of those who would misuse it. Today, if you have the right password, you could download instructions to make the most fiendish devises from terrorist web-sites. To prevent this from happening, our far-seeing mentors wrapped their discoveries in folklore, easily remembered and passed down verbally through the generations, waiting to be re-discovered when mankind had reached the maturity to decipher them. Einstein's E= mc(squared) describes the process that converts matter into energy at the heart of a nuclear explosion, but it makes no sense to the casual reader.
Similarly, if we have enough knowledge to look beyond our folklore we find amazing insights into scientific truths. This is the stardust we must sprinkle to lure the modern, aware and questing, traveller; the sort of person who has some idea of the epochal book, The Origin of Species by biologist-traveller Charles Darwin.
Darwin made a huge splash in the 19th century with his Theory of Evolution. It contended that man had evolved from fish which become reptiles which, in turn, gave birth to mammals, proto-humans and so on. That was just two hundred years ago. Now consider our Dus Avataras, a concept which is immeasurably older than Darwin's Theory. After Matsya, the fish incarnation, comes Kuruma, the tortoise, followed by Varaha, the mammalian boar, Narasimha, the fearsome pre-human, Vamana, the diminutive proto-human resembling Ramapithecus whose remains have been found in the Shiwaliks. The successive incarnations then go on to describe the social and mental evolution of mankind through our hunting, farming, urban and global stages. Kalki, the avatar to come, could well be a prescient vision of the Bionic man: humans and machines blended into a virtually indestructible prosthetic unity. Darwin was pre-empted by our thinkers.
This is just one example of the fascinating decoding of our folkloric heritage. Every temple, vihara, church, mosque and gurdwara has its rich heritage of iconic folklore; so does every one of our 4,635 distinct communities identified by the Anthropological Survey of India. Demagogues may try to build walls between people for their own, self-serving, agenda but our traditional beliefs often become cross-cultural bridges binding seemingly disparate traditions. In Maharashtra the world's only high-velocity meteoric crater in basaltic rock, the lake of Lonar, has a legend that is eerily similar to the Biblical tale of the fall of Lucifer. In fact, the flaming Lucifer, plunging to the earth, is curiously similar to that of the defeated Lonasura and even their names could be mispronunciations of each other.
In our 40 years of travel through our land we have glimpsed an array of such hidden gems. The Nataraj is a brilliant icon of the Big Bang and the Big Crunch. The Descent of the Ganga caught in Siva's locks is a powerful ecological parable. The dance of Shakti around Siva, creating the illusion of Maya, could be emblematic of orbiting electrons creating the illusion of solidity. Today, it is often socially correct to dismiss these beliefs as the compulsions of tradition. As a Bollywood star expressed it, "I do my little puja thing!" as if she would really be above such primitive practices. Clearly, she did not realise that the icons in her puja room had a far deeper significance than she was capable of appreciating.
People like her are also unaware of the fact that the traditional wisdom of India extends far beyond our shrines. It permeates every aspect of our lives, every kilometre of our highways. Our roads are the most fascinating in the world and one of us always stays awake when we are driven from destination to destination. When we spot something unusual we stop, and probe and photograph.
Cow-dung towers speak of our ancient ecological consciousness. Stepwells in Gujarat combined water-harvesting, sculptural art and heat-escaping, public pavilions. In Tamil Nadu, we spotted burly handlers manoeuvring fractious bulls to the jallikattu arena. Bull sports dot the migration route of the Tremilai-Dravidian people from the maiden bull-jumpers of Crete, through bull-fighters of the Iberian peninsula and the speculated bull-ring in Gujarat's Dhola Vira, to the endangered jallikattu. Then, in the thatched, moist shade of a roadside Pan Borrage in West Bengal we learnt that a yam plant is worshipped as the goddess of the borrage. It is, in fact, a bio-indicator. If the yam plant thrives, so will the delicate, green, pan creepers. If it begins to wilt then something is going wrong in the borrage.
These are just some of the rewarding insights we have received in our probing travels.
The customary questions asked by tourists were "Where?" and "Who?" These are, increasingly giving way to "Why? and How?" As the IT penetration increases, raw information about costs and connections will no longer be the travel writer's stock in trade. Modern, aware, travellers will demand a lingering, savouring, immersion in a nation's heritage. That is what we write about. That is what Marco Polo and Hieun Tsang did
That is also why we call our genre Heritage Travelling Writing.
— The authors are veteran travel writers. They have written 26 books. The couple received the National Tourism Award for 2011-12 for their travel books.
The Life of Pi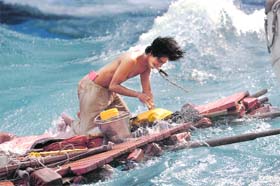 It 's a strange tale written by Canadian author Yann Martel. He spent some time in Bombay, Matheran, Madras and Pondicherry. He assumes the identity of Pi Patel with great sensitivity and though a purist might fault some of names given to the characters in this book, these are, at worst, tiny ripples in the compelling stream of his narrative.
He has captured the complexity of our society, with its social interactions with an assured and yet naïve charm. In particular, when Yann Martel describes his experience in a lifeboat with four wild animals it often soars to the metaphysical levels of Jonathan Livingston Seagull.
Critics have raved about it calling it an adventure story, a meditation on God and an outrageous fable. You never know if an Indian boy with the unlikely name of Pi Patel was ever adrift in a lifeboat with an orang utan, a zebra, a hyena and a tiger. Was he ever marooned on an island with flesh-eating plants? Or was it all in his mind? And Pi's encounter with the Japanese is hilarious. Clearly, this is a classic which deserves a very special place of its own.