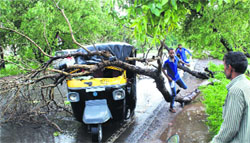 An auto-rickshaw that was damaged after a tree fell on it due to heavy rain near Banur on Friday. photo: JS Virdi
Central team scouts for airport site in Ferozepur
Ferozepur, June 29
A high-level team of the Airport Authority of India (AAI) visited here to check the economic and technical feasibility of setting up an airport here. The Centre had yesterday decided to set up a low cost airport in the region. The AAI team, led by Narender Mukhija Joint General Manager (Civil Engineering), inspected various sites for setting up the airport and had discussions with the local civil and military authorities.


Cong mulls replacing few sitting MPs in LS poll
New Delhi, June 29
The 'social engineering strategy' of the ruling Shiromani Akali Dal (SAD) and its ally, the Bharatiya Janata Party (BJP), for the next Lok Sabha elections has started worrying the Congress in Punjab.
PCC plans to bring SAD-BJP's 'failures' in public domain
Chandigarh, June 29
The Pradesh Congress Committee (PCC) has decided to sharpen its attack on the SAD-BJP coalition government. The PCC will be meeting here tomorrow under the chairmanship of All India Congress Committee general secretary Shakeel Ahmed, who recently replaced Gulchain Singh Charak as the party's Punjab affairs in charge.
Bajwa seeks package for border areas
Chandigarh, June 29
Punjab Pradesh Congress Committee president Partap Singh Bajwa has written to party chief Sonia Gandhi and Prime Minister Manmohan Singh seeking a special package for the development of industry and infrastructure in border districts.


Age no bar for her
Fazilka, June 28
Vidya Devi, paternal aunt of Fazilka MLA and Cabinet Minister Surjit Kumar Jyani, who has been unanimously elected sarpanch of Katehra village in Fazilka district, is perhaps the oldest woman to have made it to the post.
Vidya Devi
This young sarpanch aims to promote community farming
Moga, June 29


Thirty-six-year-old Jagjivan Singh, who has unanimously been elected sarpanch of Lohara village on the outskirts of Moga, is determined to change the fortunes of marginal farmers and landless labourers, besides improving basic amenities in the village. Talking to The Tribune, Jagjivan said he wanted marginal farmers to adopt community farming to cut their input costs and increase profitability. He said he would visit their houses to persuade them.

Jagjivan Singh

Jakhar: Akalis forcing Badal to retire


Sangrur, June 29
Congress Legislature Party Leader Sunil Jakhar today alleged a faction of the SAD was in hurry to make Sukhbir Badal Chief Minister of Punjab by imposing premature retirement on Parkash Singh Badal by getting him appointed convener of the NDA.

Videograph polling process: Cong
Chandigarh, June 29
Apprehending foul play during polling, counting of votes and declaration of results, the Punjab Pradesh Congress Committee (PPCC) has sought videography of the entire process in all the gram panchayats.



Finally, FIR in Pannu case
Chandigarh, June 29
The Uttarakhand police today finally lodged an FIR in the case of assault

on Punjab Director General of School Education Kahan Singh Pannu during rescue operations in the hill state about a week ago. Talking to The Tribune, Jagjivan said he wanted marginal farmers to adopt community farming to cut their input costs and increase profitability. He said he would visit their houses to persuade them.
KS Pannu
Tarn Taran police assault victim refused admission in govt school
Amritsar, June 29
The Dalit girl from Usma village who was brutally assaulted by policemen in full public view in Tarn Taran in March has accused the Education Department of refusing her admission in a government school.
'AIG's attacker' gets VIP treatment
Patiala, June 29
Youth Akali Dal senior vice-president Maninderpal Singh Johar alias Sunny Goodwill, accused of beating and attacking AIG Counter-Intelligence SS Mand in Ludhiana last year, has been enjoying VIP facilities at Government Rajindra Hospital for the past one month.
Govt yet to pay for Yannick's treatment
Patiala, June 29
A private hospital today claimed that the Punjab Government had not given any written assurance for reimbursing the pending Rs 25 lakh amount incurred on the treatment of Burundi national Yannick Nihangaza, who was admitted here following an attack on him in Jalandhar. "We have not received any written commitment from the government regarding reimbursement of expenses incurred on him," Kanishka Nohria, GM, Columbia Asia Hospital. The government had earlier given Rs 5 lakh, but the expenses incurred were much more, hospital sources said. — PTI


2 Patiala officials booked for fraud
Patiala, June 29
The police has booked a patwari, Harjeet Singh, and a data entry operator, Surinder Singh, posted in Ghanaur for allegedly tampering with official land records in connivance with local land dealers.
Suicide case: Lovepreet had tried to kill herself earlier too, claims police
Mohali, June 29
In the case of abetment to suicide registered against Mohan Lal, Punjab Police Superintendent of Police (SP), Crime, the police has found that the victim Lovepreet Kaur had attempted to commit suicide earlier too.
Five arrested for enacting Rs 17-lakh Sunam robbery
Sangrur, June 29
A Sunam trader and four out of five accomplices were arrested today for enacting a Rs 17.5-lakh robbery on April 10.
Six pistols, ammo seized
Ferozepur, June 29
The BSF today seized six Chinese .30 caliber pistols, six magazines and 39 live rounds besides some Pakistani SIM cards from an area close to border outpost Joginder in Mamdot.