Monsoon weakens, has farmers worried
Chandigarh, July 6
The monsoon may have arrived early this time, but it has weakened after the initial heavy spell in the third week of June. The development particularly has the paddy growers and those related to the power sector worried.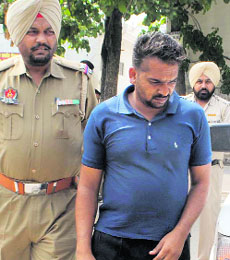 Another key accused in Pannu assault case held
Mohali, July 6
The police has arrested one more accused, Sukhwinder Singh Bobby, in the case of assault on Punjab senior IAS officer KS Pannu in Uttarakhand and subsequently uploading a video of the incident on Internet. DIG, Punjab Police, Kunwar Vijay Pratap Singh, said Bobby, a taxi driver and an aide of Gurwinder Singh alias Baba Panesar, was arrested from Ludhiana.





Sukhwinder Bobby being produced in a court in Mohali on Saturday. Tribune photo

Led by P'kot MLA, BJP men damage toll barrier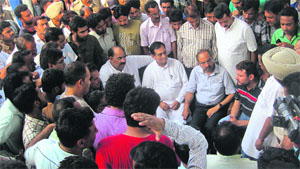 Mukerian (Hoshiarpur), July 6
Scores of BJP workers led by Pathankot MLA Ashwani Sharma blocked the Jalandhar-Jammu highway for over three hours today following a clash with toll barrier staff at Harse Mansar village near here. The BJP supporters along with the residents of villages surrounding Harse Mansar also reportedly damaged a few barricades and toll collection booths in the presence of Sharma, the former BJP state chief.
BJP workers, led by Pathankot MLA Ashwani Sharma, take up their grievances with Mukerian SDM Rahul Chaba (in black T-shirt) at the toll plaza near Mukerian on Saturday. A Tribune photograph

Party executive from today, Amritsar MP unlikely to participate
Amritsar, July 6
The stage is set for the two-day state executive meeting of the Punjab BJP here beginning tomorrow. BJP national president Rajnath Singh will also attend it.
Chowdhary can't stop grant to state: Badal
Chandigarh, July 6
Reacting to Union Minister of State for Health and Family Welfare Santosh Chowdhary's statement to stop grant to Punjab if it continued to flout norms regarding mobile medical vans, Chief Minister Parkash Singh Badal today claimed the minister did not have power to stop the grant.
Cong: Kangar booked at behest of Maluka
Chandigarh, July 6
The state Congress today alleged that Gurpreet Singh Kangar, vice-president of the Punjab Pradesh Congress Committee (PPCC) and former MLA from Rampura, had been wrongly booked at the behest of SAD Minister Sikander Maluka. Kangar has been charged with poll violation in the recent Panchayat Block Samiti and Zila Parishad elections.



Domestic help-turned-sarpanch vows to bring succour to poor
Muktsar, July 6
Earning nearly Rs 4,500 a month and living in a shanty, Draupadi (38), a domestic help, has seen enough of tough times. Not anymore, as she has been elected sarpanch of Chak Badhai village in the district.
Not a single vote for them
Muktsar, July 6
A number of contestants for the post of sarpanch did not get even a single vote in some parts of the district. This means these candidates did not cast ballot in their own favour.
Poll violence: Victim's kin allege police inaction
Faridkot, July 6
Three days after 20-year-old Pavitar Singh fell prey to police firing during a clash between two Akali factions in Chet Singh Wala village, the victim's family has alleged the police has not yet registered an FIR against the accused Inspector.
Number of missing in U'khand rises to 31
Chandigarh, July 6
The number of persons from Punjab who have gone missing in the Uttarakhand floods has increased to 31. Yesterday, Chief Minister Parkash Singh Badal had given a list of 26 missing persons to his Uttarakhand counterpart.
Heroin seizure adds to traders' woes
Amritsar, July 6
With the Railway authorities yet to address their woes, the exporters here continue to reel under losses as they are unable to send their goods to Pakistan in the absence of an adequate number of rail wagons.
Govt approves Sharma's posting as Himachal DGP
Chandigarh, July 6
Despite denial by Himachal Pradesh Government on appointing Punjab ADGP (Human Resource Development) SK Sharma as DGP, a senior Principal Secretary confirmed that the Punjab Government had "already sent a no objection certificate" in this regard to the hill state.
Tewari leads delegation to Chidambaram
Chandigarh, July 6
Union Minister of State for Information and Broadcasting Manish Tewari has supported the demand for withdrawal of excise duty on bicycles. Tewari, who is an MP from Ludhiana, the hub of the cycle industry, led a delegation of bicycle manufacturers to meet Union Finance Minister P Chidambaram in New Delhi yesterday.
Class X girl raped in Tarn Taran
Tarn Taran, July 6
A student of Class X of Kotli Saru Khan village was allegedly raped by two youths of the same village while she was on her way to school yesterday.



High Court quashes govt directive to fill promotion posts via deputation
Chandigarh, July 6
Nearly two decades after the Punjab Government directed the Punjab State Tubewell Corporation to fill promotion posts through deputation from the Irrigation Department, the Punjab and Haryana High Court has set aside the directive and ruled out state's interference in the board's functioning.