Badals have throttled democracy: Bajwa
Chandigarh, July 3
Punjab Pradesh Congress Committee president Partap Singh Bajwa today lashed out at Chief Minister Parkash Singh Badal and Deputy CM Sukhbir Singh Badal for "vitiating the election process" and making a mockery of democracy.
Akalis regain hold over CM's ancestral village
Bathinda, July 3
After suffering a setback in the block samiti elections, the Akalis managed a comfortable victory in Ghudda, the ancestral village of Chief Minister Parkash Singh Badal.
Badals skip voting
Muktsar, July 3
No member of the ruling Badal family, including Chief Minister Parkash Singh Badal, Deputy Chief Minister Sukhbir Singh Badal and Bathinda MP Harsimrat Kaur Badal, cast their vote for the panchayat elections today. They had not voted during the zila parishad and panchayat samiti poll either.
Polling agents spar in Sangrur village
Sangrur, July 3
Barring a clash between two polling agents at a polling station, polling in the district remained peaceful. Senior Superintendent of Police (SSP), Sangrur, Mandip Singh Sidhu, said polling agents of two candidates for the post of panch in Ward No 4 of Bhullarherri village, 7 km from Dhuri, entered an argument and one of them hit the other with a pen.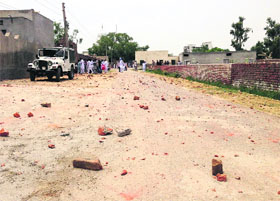 A jeep that was damaged during a clash among supporters of two candidates at Khudian Maha Singh village in Lambi on Wednesday. A Tribune photo
Akali groups clash in Muktsar
Muktsar, July 3
Three persons sustained minor injuries after supporters of two SAD factions threw stones at each other and fired shots into the air outside a polling station at Khudian Maha Singh village in the Lambi block of Muktsar today.
SAD leader, son injured in attack
Faridkot, July 3
In a clash between two SAD factions in Kotla-Rai-Ka village in Moga district last night, a senior SAD leader and his son suffered bullet injuries. Sukhwinder Singh Brar, vice-president, SAD, and his son Happy are being treated at the Civil Hospital, Moga. The Senior Superintendent of Police (SSP), Moga, has ordered an inquiry into the incident The injured SAD leader alleged that he was attacked at the behest of a sitting SAD legislator. But the MLA said he was not "remotely linked" with the incident.
Akali MLA held captive by villagers
Faridkot, July 3
Akali MLA Rajwinder Kaur Bhagike was allegedly held captive for four hours by villagers during the counting of votes at Patto Didar Singh Wala, the native village of Tota Singh, in Moga.
Four poll officials injured in acid attack
Ferozepur, July 3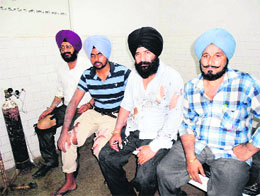 Four members of a polling party at Booth No 2 of Basti Kishan Singh village were injured after miscreants walked into the booth and poured acid on the ballot boxes. The acid spilled on poll officials Labh Singh, Harmanpreet Singh, Sarabjit Singh and Santokh Singh. Varinder Pal Singh, SSP, said six persons came to the booth with a milk container. The polling officer allowed them in, thinking that they had brought tea for them. They poured the pot containing acid onto the ballot boxes and fled.

Injured polling officials at a hospital in Ferozepur on Wednesday.

Violence in Amritsar, Tarn Taran
Amritsar/Tarn Taran, July 3
Polling in some villages of Tarn Taran witnessed violent incidents while elections were countermanded in Sarhali Khurd (Jandoke) village after a bloody clash.
Cong, SAD leaders trade charges
Bathinda, July 3
Congress and Akali leaders have blamed one another for incidents of violence in a number of villages declared sensitive. Guru Harsahai legislator Rana Gurmit Singh Sodhi alleged that 80 Congress workers from his village, Mohan Ke Uttar, had fled owing to pressure by the police.
State BJP executive meet from july 7
Uncertainty over Sidhu's participation
Amritsar, July 3
Uncertainty looms large over Amritsar MP Navjot Sidhu's participation in the state executive meeting of Punjab BJP scheduled to take place here on July 7-8. BJP national president Rajnath Singh will attend the meeting for the first time.
Candidate booked for distributing poppy husk
Patiala: Jagjeet Singh of Duladdi village, a candidate for the post of panch, was caught distributing poppy husk among voters in villages near Nabha on Tuesday night. Charges under the NDPS Act were slapped against him. In separate incidents, four persons were injured in Devigarh, two in Nabha and three in Rajpura during polling. "The polling was peaceful as policemen were deputed in strength at the polling stations," said Patiala Senior Superintendent of Police HS Mann. — TNS
POLL DIGEST
'Drunk' poll official nabbed
Abohar: The police arrested Sukhwinder Singh, headmaster of a government school, who was on election duty allegedly under the influence of liquor in Koyalkhera village. The police action followed complaints by voters. His medical examination was conducted at the Civil Hospital. Sukhwinder belongs to Burajmuhar village near Abohar. — Raj Sadosh
Basmati exports to US down as fungicide use in region goes up
Chandigarh, July 3
India has nearly lost its niche market in the US for exporting Indian basmati rice as farmers in the entire basmati growing Indo-Gangetic region do not follow uniform good agricultural practices. With different states having differing opinions on the use of tricyclozole to control rice blast in basmati, farmers continue to use this fungicide blatantly, which then leaves its traces in the basmati rice and has now hit its export.
Hike subsidy on solar water pumps, Badal asks Centre
Chandigarh, July 3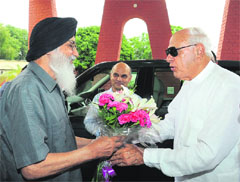 Punjab Chief Minister Parkash Singh Badal today urged the Centre to enhance the subsidy on solar water pumps from 30 per cent to 80 per cent. The demand was raised by the Chief Minister during the meeting with Union Minister of New and Renewable Energy Dr Farooq Abdullah here.



Union Minister Farooq Abdullah with CM Parkash Singh Badal in Chandigarh on Wednesday. A Tribune photo

Honey Singh in favour of censor board
Chandigarh, July 3
Rapped by the Punjab and Haryana High Court for alleged vulgarity in his songs, Punjabi singer Honey Singh today said "Yo! Yo!" to the idea of setting up a censor board for songs.
Five mustard oil samples from Sangrur fail test
Sangrur, July 3
Five samples of mustard oil, collected by the district health authorities during the past three months from various parts of Sangrur district, have failed to meet the standards of the Food Safety and Standards Authority of India (FSSA). The authorities said the samples were either sub-standard or misbranded or both.
Premature release of rape convicts barred
Chandigarh, July 3
The Punjab Government has barred premature release of rape convicts. As a petition filed in public interest came up for hearing this morning, the State of Punjab produced the English version of the notification, prohibiting the grant of premature release or remissions to rape convicts:
Petition against postal ballot for dental council poll dismissed
Chandigarh, July 3
The Punjab and Haryana High Court has ruled that infirmity in implementation of a legal provision or a regulation cannot be a ground for setting it aside. The ruling by a Division Bench of the High Court came as it dismissed a petition against the system of postal ballot for conducting the elections to the Dental Council of India.
Regularise constructions on basis of policy decision: HC to Punjab
Chandigarh, July 3
Two decades after petitions were filed for regularisation of constructions carried out in violation of the Punjab New Capital (Periphery) Control Act, the Punjab and Haryana High Court has made it clear that the cases have to be decided by a "competent authority" in accordance with a policy decision to legalise the constructions, if taken by the state government. The High Court based its ruling in the matter on a judgment passed some 14 years ago.
Heroin worth Rs 50 cr seized
Amritsar, July 3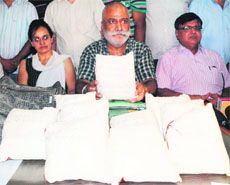 The Rail Cargo custom seized 10 kg heroin worth Rs 50 crore hidden in cement bags mported from Pakistan. Vijay Bahadur, Deputy Commissioner, Customs, told the media that the consignment was concealed in a black bag, which was kept in the heaps of cement bags in a compartment of the goods train. The bag contained two bundles of 5 packets, each weighing 1 kg.



A Rail Cargo official shows the seized contraband. Photo: Vishal Kumar