Renewable energy tech launched in Ropar village
Ropar, July 2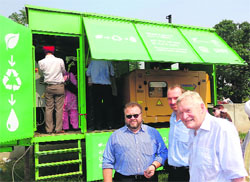 A new renewable energy technology that can dissuade farmers from burning stubble in the open was launched in the fields of Khwaspura village by the Indian Institute of Technology (IIT), Ropar, here today. The project titled Energy Harvest takes agricultural waste left over from the harvest such as rice and wheat straw and heats them in a small reactor (Pyroformer) under controlled conditions to generate oil, gas and biochar.
The Pyroformer container set up in Khwaspura village of Ropar district on Tuesday. A Tribune photograph
State prepares to sell power to Pak Punjab
Chandigarh, July 2
The Punjab Government's plan to sell surplus power to Pakistan Punjab in the near future is set to become a reality with the Centre agreeing to allow Pakistan to import 500 mw of power from the country.
Cane farmers get dues, Cong claims credit
Gurdaspur, July 2
The state government has finally released Rs 96.60 crore as arrears due to sugarcane farmers.
Polling for 13,080 panchayats today
Chandigarh, July 2
All is set for electing 13,080 panchayats tomorrow. As many as 1.27 crore voters will elect 81,412 panches in 13,000 villages. The polling will begin at 8 am and conclude at 4 pm.


Printing of ballot papers in progress in Jalandhar on Tuesday: and (right) policemen in Ludhiana checking their duty roster for the elections. Tribune photos: Sarabjit Singh and Himanshu Mahajan

Turf war erupts among halqa chiefs, again
Gurdaspur, July 2
After the zila parishad elections, turf war has once again erupted among four halqa (area) chiefs of this politically sensitive district. Each one of them is finding it difficult to get his own man elected sarpanch of his village panchayat.
Panic over ballot papers
Chandigarh, July 2
The administration was kept on the tenterhooks with an "overworked" firm that had bagged the task of printing ballot papers for the four districts of Hoshiarpur, Jalandhar, Amritsar and Kapurthala providing ballot papers only this morning.
TB patients suffer as medicine supply hit
Ludhiana, July 2
The Paediatrics Department of Ludhiana, Jalandhar and Amritsar do not have any medicines to treat Tuberculosis patients. The state is yet to receive its quota of medicines for TB patients from April onwards.
Rajindra hospital store runs out of medicines
Patiala, July 2
The drug store at the Government Rajindra Hospital and Medical College ran out of medicines today even though the hospital had recently bought medicines worth Rs 45 lakh to distribute among the poor. Several patients had to buy medicines from private drug stores. The store was set up yesterday to provide free medicines to the poor.
Supply was not hit despite squall, claims PSPCL
Patiala, July 2
The Punjab State Power Corporation Limited (PSPCL) today claimed the recent storm has damaged the power distribution system and that they have suffered huge losses.
Govt's in-principle approval to projects worth Rs 660 crore
Chandigarh, July 2
Chief Minister Parkash Singh Badal today gave in principle approval to projects worth Rs 660 crore in the state for the current fiscal under various Nabard schemes.
A first: 'Sehaj path' from Gurbani's Braille version at Golden Temple
Amritsar, July 2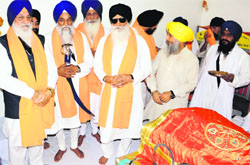 The foundation day of the Akal Takht, supreme temporal body of the Sikhs, was observed with fervor here today. The significant part was that for the first time, the 'sehaj path' was performed from the Braille version of the Guru Granth Sahib by Bhai Gurmej Singh.
Akal Takht Jathedar Giani Gurbachan Singh (2nd from left) and SGPC president Avtar Singh (left) honour Bhai Gurmej Singh, who transliterated the Gurbani in Braille, in Amritsar on Tuesday. A Tribune photo
Green initiative to mark Amritsar foundation day
Amritsar, July 2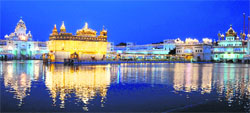 The stage is set for the foundation day celebrations of Amritsar on July 6 with the US-based EcoSikh roping in the Shiromani Gurdwara Parbandhak Committee (SGPC), district administration and NGOs in its plan to initiate various green initiatives to preserve the holy city's ecology for the future.
Crafting a nest for birds is this septuagenarian's mission
Tarn Taran, July 2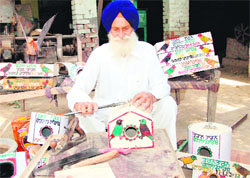 Septuagenarian Dara Singh is a man with a mission to provide shelters to birds. A carpenter by profession, Dara Singh has turned Chohla Sahib village into a safe haven for birds by putting up over 200 wooden nests at various places. These nests can be seen at all public places and most of the houses in the village. Besides, Dara Singh gives these for free if any visitor to the village asks for it.


Septuagenarian Dara Singh at work at Chohla Sahib village. Photo: Vishal Kumar
3-tier security for sensitive villages
Bathinda, July 2
The police today sealed the state's border with Rajasthan and Haryana and inter-district entry/exit routes to prevent the flow of drugs into the state while panchayat elections are underway tomorrow.
Pannu assault case: Panesar being victimised, claim his kin
Ludhiana, July 2
The family of Gurvinder Singh alias Baba Panesar, in the custody of

state's cyber crime cell, claims that he is being "victimised for exposing the fake claims of the Punjab bureaucracy" regarding rescue operations at Gobindghat in Uttarakhand. His nephew Jaswinder Singh said a reputed Punjabi newspaper had published a report in its June 21 edition (IAS officer KS Pannu was assaulted on June 22) with inputs from Paneser "exposing the false claims of the Punjab Government".
Baba Panesar

Lt Gen Bhuttar is PPSC chief
Chandigarh, July 2
The state government has issued orders appointing of Lt Gen Manjinder Singh Bhuttar (retd) as Chairman of the Punjab Public Service Service Commission (PPSC). His name was cleared by Governor Shivraj Patil.
AI's Amritsar-Birmingham flight from August 1
Amritsar, July 2
Air India will again start its Amritsar-Birmingham flight via Delhi from August 1. Air India General Manager Anil Mehta, who was in the city today to pay obeisance at the Golden Temple, made an announcement to this effect.


High Court to decide PSEB secy's fate today
Chandigarh, July 2
The fate of Dr Balwinder Singh's appointment as Punjab School Education Board (PSEB) secretary will be decided tomorrow as the Division Bench headed by Justice Surya Kant will hear a petition challenging his selection.


Five of robbers' gang held after shoot-out, four pistols seized
Sangrur, July 2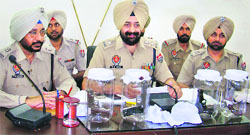 The district police today claimed to have arrested five members of an inter-state gang. The police exchanged fire with the gang members before nabbing them. No one was injured in the shootout.



Sangrur SSP Mandip Singh Sidhu (left) shows the seized pistols in Sangrur on Tuesday. A Tribune photograph
Former Akali sarpanch held in murder case
Ferozepur, July 2
The police has arrested former Akali sarpanch Surjit Singh of Jalloke village who was wanted in a murder case.