A considerable improvement is witnessed in the reporting of crimes against women like rape and molestation. But, a majority of Indian women still prefer to exercise silence over issues of domestic violence, a cause behind major health problems

Domestic grammar of violence
Vandana Shukla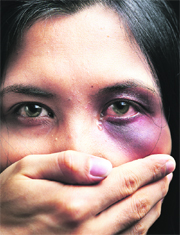 Battered: Domestic violence is a major deterrent to women's empowerment
Confiding her trauma to a researcher, a 45-year-old homemaker said that once when her son caught her crying he commented, "At least Papa doesn't beat you up! Why do you cry?" Later, he told her that his best friend's father would beat up his wife, so it was okay if his father just shouts and hurls abuses at her. At least he doesn't raise his hand!
This woman had developed high B.P., thyroid problems and peptic ulcer. She knew something in her was dying, but was unable to articulate it.
Domestic violence is a reality one in three women globally experience -- from an ordinary home maker to celebrities like Nigella Lawson, whose market worth runs into £ 23 million. Her equally rich and famous husband, art collector Charles Saatchi, assaulted her in public by grabbing her throat and twisting her nose. The act caught by paparazzi cameras went viral on the internet and was ridiculed by thousands for Saatchi's hypocrisy, when he tired to brush the episode aside as a 'playful tiff.'
Women across social divide put up with violence as a way of life that comes from hyper-masculinity of their men. But when educated, empowered women like Nigella continue to take violence passively, at home and even in a public space, unless it triggers a public debate, it baffles social scientists. It also raises questions whether the social norms are influenced by cultural histories more or by the influences of modernism working at various levels in a society.


Studies have shown that nearly one-third of Indian women who experience domestic violence have thought about running away from that family but fear of leaving their young children and having nowhere any place to go prevent them to do so.
— Quoted in a study conducted by the United Nations
Domestic violence works both ways. When it is physical, its victims bear the testimony on their bodies; broken limbs, burn marks, bleeding nose etc. These abusive instances sometimes get reported to the police and the culprit gets socially ostracised for violent behaviour. But, the other kind of violence that plagues millions of Indian homes has the sanction of our patriarchal structure. It is psychological in nature and the victims of this violence burn at both ends. The verbal and psychological violence involves the educated middle class women, who are too petrified of losing the good name of the family by exposing their trauma in public. This pushes them into the category of silent victims. Their silence also emboldens their tormentor, who often happens to be the husband or members of the family of the in- laws. The second kind of violence does not get reported either in a police station or in a hospital -- reporting psychological disorders is still a taboo in our society. The victim does not receive sympathy because the signs of violence are not visible on her body and the perpetrator of this refined violence does not receive chiding. Which, in turn emboldens him to sharpen his tools of violence—making them more vituperative and scathing.
Fact and fiction
Not only in India, domestic violence is grossly underreported globally- in surveys as well as in filing a report to the police. A study by Sreeparna Ghosh, of the University of Anglia, that appeared in the beginning of this year showed the huge gap that exists between what is reported in the national surveys such as the National Family Health Survey (NFHS-3 -2005-2006) and the figures available from the police's National Crime Records Bureau (NCRB).
To begin with, the disparity in reporting of domestic violence between the NFHS-3 and NCRB (2009) ranges from a difference of around 6 per cent for Himachal Pradesh to a high of 58 per cent in Bihar – that is, in Bihar, half of domestic violence cases reported in surveys are not reported to the police. Even southern India with supposedly greater gender 'fairness' is found to have large gaps in reporting of domestic violence(44 per cent in Tamil Nadu, 32 per cent in Andhra Pradesh and 20 per cent in Karnataka). The states known for rigid patriarchy like Punjab, Haryana and UP hide many more untold horror stories of violence women suffer at home.
Even within the national survey, the severity of violence is likely to be underemphasised because the correlation between injuries sustained as a result of domestic violence varies very little between 'severe' and 'less severe' instances of abuse. In other words, those reporting 'less severe' abuse may in fact be suffering far more. The limitation of nomenclature is often read as the limitation of a victim's suffering.
For the most part, instances of domestic violence reported by women in national surveys never make it to the police or the courts, for reasons well known to the Indian society. While this in itself is not surprising, what is surprising is the extent of this deficit. Whereas a considerable improvement is seen in reporting cases of other crimes against women like rape and molestation, majority of Indian women prefer to exercise silence over matters of domestic violence. They prefer to suffer in silence rather than face the social ignominy, for no fault of theirs.
A crime has to have a proof
Domestic violence is also a violation of human rights, but it rarely gets reported as a crime. It is a manifestation of inequality within the home that refuses to come to terms with changing social reality of gender equality. Contrary to the general belief, violence faced by women in intimate relationships is neither restricted to certain social sections nor is it manifested only in its physical form. It can be - physical, emotional, sexual, economic and verbal. A woman may face violence of any one kind, two or in combination of all of them.
The worst kind of violence women face in a domestic situation is expressed through a strategy of silence and non-communication, a rejection of their role in the family structure. It erodes their self-esteem to such an extent that rarely is the victim able to identify the problem and so it is all the more difficult for a third party to intervene in such cases. Reporting such violence to the police is unthinkable in the Indian setting. A senior bank personnel's daughter driven to the verge of committing suicide by her husband's violence of silence and verbal abuse alternately, elicited a response from her father that fits the patriarchal design, "I fail to understand her problem, she gets food and shelter in that house, what else does she want?" The case was put up by Lawyers for Human Rights International, Chandigarh. Such responses are based on hard-to-change premises; a woman can't live by herself hence she must put up with all kinds of violence, two, a woman has no life without a man in her life, howsoever abusive he may be.
The case represents a prototype family set up where women are not supposed to cross a certain line. It also answers why domestic violence does not get accounted in NCRB data.
While men can subject their women to violence for their ever stretchable demands — that may begin with desire to have unlimited consumer goods in dowry to good looks of the bride to her ability to beget sons only and to be obedient etc., a woman on her part is not supposed to raise her voice even when her rights are violated.
A strange mix of social, psycho-social and economic issues are involved in such situations. Indian men grow up internalising traditional views of male superiority. When they fail to acquire the desired status or prominence in social life, career etc. they try to compensate it by trying to control their domestic life. Another situation occurs when this man enjoys a high status at work along with the sycophancy that accompanies it. He wants to be treated as a 'boss' at home, unable to leave behind the 'halo' and 'aura' of the workplace. As a result he tortures his wife finding a sadistic pleasure in crushing her personality.
Most sufferers of violence come from a background where they have seen a dominating father or a brother and perhaps a submissive mother. They find similar reference points when they look around; their neighbours, relatives and friends have all been 'tolerant' and advice her to do the same. In a patriarchal set-up, the higher a woman's tolerance levels, the greater is her capacity for self-sacrifice, this virtue earns her a place of pitiable existence in domesticity. It also makes her a soft target of violence. Even though there are laws that offer women protection against violence at home, they do not exercise these rights for the sake of protecting the family.
Retribution of violence
Violence begets violence. The overbearing mother- in- law syndrome bears a testimony to it. The tormentor and the tormented become complementary— like two halves of a bracket. Violence at home creates a chain reaction —it damages children emotionally and psychologically, leaving life-long scars. Its gravity is undermined because it is not as dramatic as the criminal act of a rape, it has the capacity of dehumanise a family.
Domestic violence is a serious social issue, it validates gender inequality. It calls for a deeper understanding of the institution of family that is facing never- seen- before kind of structural changes with disintegration of values, changing gender roles, migration and an aggressive intervention of consumerism in private spheres.
Because violence is treated as a male prerogative in a super- macho society like ours, when women acquire the role of the tormentor and men become the tormented it invites ridicule. Through popular culture like films to hundreds of jokes taking rounds through sms, subdued men are ridiculed and so are dominant women in a marriage. Though society is maturing to accept the existence of organisations like 'Confidare' that offers safe house for battered men in Banglore to the 'Harassed Husbands Associations' across metros and smaller towns like Chandigarh, or 'Save Indian Family Foundation.' These organisations should be viewed as distress calls for taking the enormity of the problem triggered by domestic violence. Violence is a disease and it should be treated clinically, like a disease, without ostracising men and pitying women.
Laws and some glaring facts about domestic violence
Protection of Women from Domestic Violence Act 2005 (PWDVA)- it entitles women facing violence in intimate relationships to access the courts of law for civil relief in the form of "Stop Violence" orders.
The new WHO report finds that violence against women is a global health problem of epidemic proportions.
37.7 per cent of Asian women are abuse victims, the highest in the world.
30 per cent women across world face beatings or rape, most often by own partners.
1 in 3 women globally is a victim of sexual or physical attack.
38 per cent of female murder victims are killed by husbands or boyfriends.