| | | |
| --- | --- | --- |
| | OPED — Culture | |
Hundred years and superstars of Hindi cinema
The star factor of Hindi cinema, seen as a by-product of media overreach existed long before media had any say in the making or breaking of an actor. What turns an actor into a superstar still remains an enigma
Deepa Gahlot
In today's no-time-for-complexities era, when audiences want no more from their films than "entertainment, entertainment, entertainment" (to quote from "The Dirty Picture"), the only measure of success is the film hitting a Rs 100- crore benchmark over the opening weekend.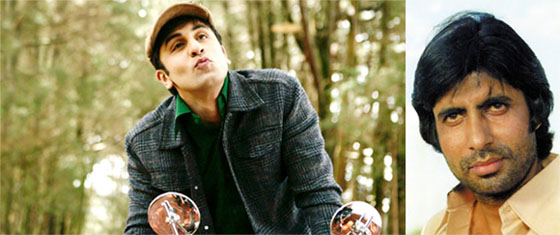 Talent matters: Ranbir Kapoor in "Barfi" and Amitabh Bachchan, the longest lasting superstar has shown versatility on screen
Any star—male or females are still seen as second-class citizens in Bollywood. Those who can manage that magical figure come into the superstar bracket, and the latest to enter this hallowed circle is Ranbir Kapoor, with "Barfi" and "Yeh Jawaani Hai Deewani" hitting that elusive number. When this kind of success is matched with acting ability it is sone pe suhaga, an added advantage.
After his unfortunate debut "Saawariya", Ranbir Kapoor has shown an unerring ability to pick films that gave him a chance to perform a variety of roles. He didn't seem to care for success, but once he earned himself a young fan-following, success of the 100-crore variety followed him effortlessly.
Many stars manage hits, many more are media darlings, but there is that extra something that makes a superstar, and Ranbir has that 'It' factor, which, in his case is talent and insouciance. But it's not easy to figure out what exactly it is that makes him bigger and better than his contemporaries. Hrithik Roshan and John Abraham are better looking, Imraan Khan and Emran Hashmi are also popular, but Ranbir Kapoor makes a superstar.
Birth of the superstar


The Runners Up

Ashok Kumar's "Kismet" was one the biggest hit of its time, in which he played a thief with a conscience. If figures are adjusted for inflation, Kismet will still be in the list of all time superhits. Ashok Kumar started as a romantic hero, sang his own songs, went on to become a movie moghul with Filmistan Studios, and had a long-lasting career as a character actor.


Rajendra Kumar was known as Jubilee Kumar because several of his films completed the coveted silver jubilee (25 weeks) that is unthinkable today.


Dharmendra would to the list of the handsomest men in Indian cinema. Despite his roster of hits, if he fell a little short of superstar status, it's perhaps because he was-unfairly-perceived as a lesser actor.


Jeetendra was a dancing star who had a series of hits produced by the Southern studios in the terrible eighties.


Vinod Khanna was once touted as the only star who could compete with Amitabh Bachchan, but he toppled himself by his erratic conduct.


Mithun Chakraborty was the prince of the B-grade action movies, churning out a multitude of similar looking films that earned him a working class fan following.


Govinda was once a hit-maker with David Dhawan comedies, but considered too low-brow to be an A Lister


Akshay Kumar's career has been erratic, a row of hits and then a row of duds, but with a continuing high popularity rating.


Ajay Devgan's career has been so consistent and so varied, there's no reason why he should not be called a superstar.
Films and film stars have always been adored and worshipped in our cinema-crazy country, but the term superstar was coined for Rajesh Khanna. There were stars before him, notably the triumvirate of Dillp Kumar, Raj Kapoor and Dev Anand, but what happened to him was not ordinary stardom, he triggered fandom on a loony scale…ordinary Jatin from a downmarket locality of Mumbai, the man so many producers turned down saying he looked like a Gurkha; a short, pimply guy who must have never seen the inside of a gym. He didn't need to take his shirt off or dance like a gypsy to get audiences to love him; in any case, he had the kind of body that needed to be covered up with bell bottoms and buttoned to the neck guru kurtas. All he needed to build up that massive fan base was his crinkly-eyed smile, do his one hand-waving dance step, and sing those RD Burman compositions in Kishore Kumar's voice. He had women flinging themselves in front of his car (an Impala, it was reported then) and men copy his somewhat weird hairstyle. It also helped that so many of the roles he did, had him play a really nice, gallant guy and in "Anand," "Safar" and "Andaz" he also died tragically young.
His rise also coincided with a boom in film magazines- fanzines as they were called. Earlier, there were major stars adored by film-loving millions, but their lives (and loves) were not up there for public consumption. The media of that period had a lot to do in putting Rajesh Khanna on to a pedestal, also because his blinding charisma was unprecedented. Since then, the media has gone nuts over Bollywood, which is proved by the mild to severe hysteria when a star has a birthday, wedding or, sadly, funeral. Before the Rajesh Khanna age film coverage in the mainstream media was minimal, so the fanzines fuelled star worship. His sudden wedding to the young and gorgeous Dimple was the stuff of legends.
Because he wasn't tall, strapping and muscular, obviously the films made for him were romantic dramas-"Aradhana", "Kati Patang", "Amar Prem", "Dushman"-of marvellous stories, that era ended with him.
It didn't last too long, but while it did, the Rajesh Khanna craze was unprecedented. Then, the Amitabh Bachchan juggernaut came and flattened everything in its path.
The one and only
If current standards of success and devoted fan following are applied, then Kundal Lal Saigal was probably the first superstar of Hindi cinema-the only male singing star.
Now all it takes to get into the movies is a family connection, but in the early days, an interesting back story helped in the building up of a legend. A railway timekeeper and typewriter salesman, and a very ordinary looker became a star on the strength of his singing.
Indian cinema had discovered the magic of sound only in 1931, and so films with many songs were the way to go. How many stars could sing their own songs, and how many as well as KL Saigal could. In his time, costume dramas were still popular and films about saint, kings and singers gave him the opportunity to sing. So it was inevitable that his first hit in 1933, be "Puran Bhagat", followed by "Yahudi Ki Ladki", "Chandidas," "Street Singer", "Bhakt Surdas", "Tansen," "Shahjehan" and, of course, the classic "Devdas."
After Saigal, no other singer reached those heights of stardom.
Three legends
If the Golden Era of Hindi cinema is the fifties, then the three who reigned then were Dilip Kumar, Raj Kapoor and Dev Anand.
It was possible then, for three great stars to work without any outward signs of rivalry, undercutting or jealousy. They may not have been great friends, but were always cordial and gracious in public.
As the son of the legendary Prithviraj Kapoor, Raj Kapoor had the advantage of pedigree, though not an easy entry into cinema, as his father refused to launch him. Dilip Kumar and Dev Anand were outsiders, with middle class backgrounds and a passion for the movies.
None of them was heart-breakingly handsome, but had dazzling charm, intelligence and screen presence that reached out of the screen and grabbed an adoring audience.
All three made a place for themselves—Raj Kapoor and Dev Anand also got into filmmaking and established their own banners, RK and Navketan.
Whenever a tragic hero was needed, Dilip Kumar was the man to cast, Raj Kapoor played the Chaplinesque, common man, and Dev Anand the flamboyant romantic hero.
Such was their influence that young men copied their hairstyles, their clothes and their manner of speech. No film star before these three had so much influence, because audiences almost identified with the characters they played. Their stories of love, family, friendship, social awakening, betrayal, disappointment and tragedy could have been the story of any man of the post-Independence era, making allowances, of course, for cinematic exaggeration.
It was Shammi Kapoor 'Yahoo' that changed the rules once again.
The dancing rebel
When the rebel star burst on to the scene, he broke the mould of the upright, soft-spoken gentlemanly hero. The dancing, leaping, whooping, teasing, romantic hero that Shammi Kapoor portrayed, changed the idea of romance forever. His 'yahoo!' exuberance and mischief made romance look like fun and carried away the suffering, brooding Dilip Kumar style.
Hindi cinema had done away with the intense post-Independence period. Modernisation was knocking, urban centres were booming and the young generation of the sixties was looking for a change of pace. The light musical romance that had come to be associated with Nasir Hussain, found the perfect face in the form of the dashingly handsome Shammi Kapoor. His strapping frame was made for exuding energy. When he danced, every limb, every muscle danced along with his light, seductive eyes.
Films like "Dil Deke Dekho", "Tumsa Nahin Dekha," "Kashmir Ki Kali", made a canny PR man come up with the label 'Rebel Star' and it stuck. A long as he played leading man, Shammi Kapoor never stopped dancing and hell-raising.
The man who would B
If a star just came in and redefined the term Stardom, and continues to do so, it was Amitabh Bachchan.
He has completed 44 years in films — having started his charmed career in 1969 with K.A.Abbas's "Saat Hindustani." And it has been a career of immense talent, remarkable risks, thrilling highs and enviable longevity at the top. No star has held on to his superstar position for so many years, and he continues to play lead roles in films that are specially written for him. His energy, discipline, modesty and punctuality are legendary.
He has worked with every new generation of filmmaker from the seventies onwards, and it is the dream of every director to work with him. The man with the mesmerizing voice has played a mind-boggling array of roles, from God to gangster, chef to cop, revolutionary to rebel… to a 13-year-old child in "Paa." He is an inspiration for every actor and filmmaker, and has been the subject of innumerable books and academic theses, yet remains down to earth and approachable.
With a success record so consistent, over a period of time Amitabh Bachchan has come to symbolise the Indian film industry to viewers in the country and abroad. A name that is recognized and admired the world over, even where Hindi films are not regularly released. He vociferously opposes the use of the word Bollywood to describe Indian films, but has become the face of Bollywood globally.
But when he hit big success after a row of flops, with "Zanjeer," he became the 'Angry Young Man' of that generation. And in the seventies, India had a lot to be angry about — the rise of organised crime, corruption and the Emergency. With films like "Trishul", "Deewar," "Laawaris," "Khoon Pasina," he ushered in the era of action films, and swept aside everything that stood for the past.
And the King Khans
Like the triumvirate of the fifties, the current Bollywood Badshahs are Shahrukh Khan, Aamir Khan and Salman Khan. Even with Ranbir Kapoor shaking their throne, they are still the 100-crore superstars, with a global following and enviable six-pack abs well into their late forties.
It took a bit of trial and error on the part of all three to create the image that would last-all started with romantic films, did a bit of action and now have a distinct style.
Shah Rukh Khan is the romantic hero, Aamir Khan is the idealist and Salman Khan the chest-baring, shirt-ripping mass entertainer.
When a list of the top grosser of all time is complied, the films of these three will figure in the list - "Dilwale Dulhania Le Jayenge," "Three Idiots," "Dabangg" are representative of the cinema each of them stands for, and will continue to do so, now that their superstardom is unshakeable.
— The writer heads the Theatre and Film department of the NCPA, Mumbai, and has authored "The Prithviwallahs" (co-authored with Shashi Kapoor), and biographies of Shah Rukh Khan and Shammi Kapoor