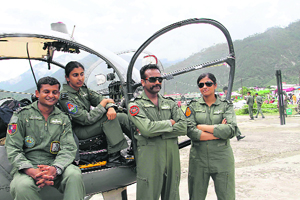 'Flying couples' maintain calm, save lives in tough terrain
Gauchar, June 25
Working couples are commonplace in urban areas, but two couples in the Indian Air Force rescue teams mandated for operations in Uttarakhand are literally the 'flying couples'. Both the women pilots fly the smaller single-engines Cheetah/Cheetak while the men are pilots on the twin-engine Mi-17.
Pilot-couples of the IAF rescue team. Tribune photo: Vinod Pundir

Armymen trek miles to feed flood-hit pilgrims
Harsil (Uttarakhand), June 25
Army personnel at an army camp at Harsil in flood-hit Uttarakhand were forced to trek a long distance on mountain tracks to arrange food for the 5,000 pilgrims who have converged at the camp. To solve the problem of food shortage that the camp was faced with, each soldier returned with 25 kg of rations in his backpack.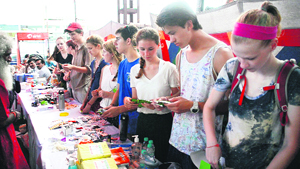 Foreign Hand! With help pouring in for the Uttarakhand calamity-affected people, foreigners, too, came forward to distribute medicines and other essential items at a relief camp in Rishikesh on Tuesday. Tribune photo: Rameshwar Gaur

New Himalayan lakes pose strategic threat
Chandigarh, June 25
As receding glaciers form new lakes across the Himalayan frontier, a new dimension has been added to the strategic paradigm. Geological and climatic considerations apart, many of these lakes lie close to the border and may well be used to trigger floods downstream.
The commander who always returned the compliment
Gauchar, June 25
"I am not from Goa. I am from Mumbai," said Darrell Castellino, commander of the ill-fated Mi-17 helicopter that crashed today in Gaurikund, when someone said his second name suggested that he hailed from the beach state.
Rahul meets flood-hit, promises all help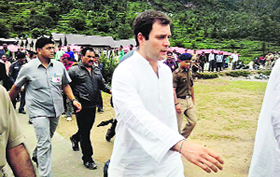 Dehradun, June 25
Congress vice-president Rahul Gandhi today assured all possible help to the flood-hits of Uttarakhand. He interacted with victims at a relief camp at Guptkashi. Rahul Gandhi reached Gauchar in Rudraprayag district yesterday after arriving in a private plane at the Jollygrant airport near here. He spent night at Gauchar and flew in a private helicopter to Guptkashi today.
Congress vice-president Rahul Gandhi at Guptkashi on Tuesday. A Tribune photograph
Maharashtra plans tough laws to protect schoolchildren
Mumbai, June 25
If the Maharashtra government has its way, school managements and teachers across the state will face the music for a number of practices considered par for the course at present: interviewing toddlers seeking admission, corporal punishment, verbally insulting students, forcing children to repeat a class for poor performance, etc.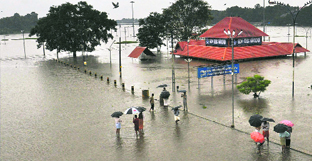 Flood fury in Kerala: The submerged Aluva Siva Temple in Kochi on Tuesday. — PTI

Chiranjeevi's son 'involved' in street brawl
Hyderabad, June 25
Popular Telugu film star and Union Tourism Minister Chiranjeevi's son Ramcharan Teja has landed in trouble following a road rage incident involving his bodyguards. Following a direction from the State Human Rights Commission, the city police probed the street brawl incident that occurred in the posh Banjara Hills area on May 5. In a report submitted to the commission, the police found fault with the actor and his bodyguards who mercilessly thrashed two software professionals.
Maharashtra chemists call off agitation
Mumbai, June 25
Around 55,000 chemists in Maharashtra have called off their proposed agitation against "corruption-related harassment" by the FDA officials following Chief Minister Prithviraj Chavan's assurance to resolve their grievances. "We have decided to call-off our agitation of work-to- rule and keeping chemists stores open only from 2 pm to 10 pm from Wednesday, following Chief Minister Prithviraj Chavan's assurance to resolve our grievances," J S Shinde, President of Maharashtra State Chemists and Druggist Association (MSCDA) told PTI here. — PTI
2 Naxal leaders convicted
Nagpur, June 25
Two top Naxal leaders, arrested by Mumbai ATS in 2007, were today found guilty of unlawful activities by a local court and given jail terms. Vernon Stanlase Gonsalves alias Vikram (50) and Srinivasan Krishnan alias Vishnu (50) were sentenced to imprisonment of five and six years respectively. — PTI
11 held in bank cheating case
Chennai, June 25
CBI sleuths today arrested 11 persons here, including senior officials of State Bank of India and Punjab National Bank for cheating the Sankagiri branch office in Salem district of PNB to the tune of Rs 12 crore, sources said. They are likely to be produced in a court in Coimbatore tomorrow, they said. — PTI