HC: Consider 2011 Census for poll reservation in future
Chandigarh, July 1
In a significant judgment, the Punjab and Haryana High Court today made it clear to the State of Punjab that the 2011 Census needed to be taken into consideration for the reservation of seats in future elections.
Getting arms deposited an uphill task for police
Patiala, July 1
The Punjab police is facing the tedious task of pressing villagers having arms licences to deposit their firearms with the police stations and private gun houses in view of the forthcoming panchayat elections.
Centre accepts diversification proposals, sanctions Rs 224 cr
Chandigarh, July 1
Accepting the proposals for diversification in the farm sector for this fiscal year, the Centre has sanctioned Rs 224 crore for the state. "We have got a letter from the Central Government in this regard," said a senior official.
shining in sunset years


Elderly people have a leisure time at Rose Garden in Ludhiana on Monday. Tribune photo: Himanshu Mahajan




Capt denies writing to Sonia on Bajwa
Chandigarh, July 1
Former Punjab Chief Minister and Congress Working Committee (CWC) member Capt Amarinder Singh today denied he had written to party president Sonia Gandhi claiming that Punjab Pradesh Congress President Partap Singh Bajwa had links with terrorists during the phase of militancy in the state.




CM seeks Haryana, HP's help to save Ghaggar
Chandigarh, July 1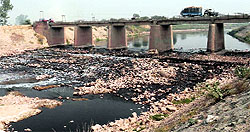 Chief Minister Parkash Singh Badal today sought the personal intervention of his Haryana and Himachal Pradesh counterparts Bhupinder Singh Hooda and Virbhadra Singh to stop the reckless discharge of untreated domestic waste water and industrial effluents into the Ghaggar in Punjab's territory.

The polluted Ghaggar near Nada Sahib. A file photograph


Pannu assault case
Accused Panesar was thrashed at gurdwara
Mohali, July 1
Gurwinder Singh alias Baba Panesar, who was arrested by the state cyber crime cell yesterday, was thrashed by a group of pilgrims at Gobind Ghat in Uttarakhand a day after the assault on senior IAS officer KS Pannu (June 22).



Nothing to hide: Maluka
SGPC, Satkar panel at loggerheads again over transportation of religious books
Amritsar, July 1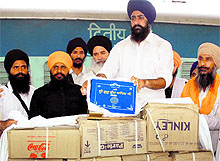 The issue of the manner in which holy books are transported from one place to another has once again brought the SGPC (Shiromani Gurdwara Parbandhak Committee) face to face with Sri Guru Granth Sahib Satkar Committee. Taking strong exception to the committee's move of seizing religious literature from Amritsar railway station on Sunday, SGPC chief Avtar Singh Makkar today warned the committee against harassing those dispatching such literature in cardboard cartons.

The seized material in Amritsar
Stop harassing Punjab farmers: BKU
Chandigarh, July 1
The Bharti Kisan Union, in a press release here today, threatened that it would launch an indefinite dharna against the Punjab Government from July 22 onwards if the government continued to "harass" farmers on one pretext on the other.
Despite orders, officer yet to join new posting
Patiala, July 1
Almost three weeks after the government orders on "immediate compliance," PCS officer Anuprita Johal has yet to join her new place of posting.
Pharmacists' strike
Health services remain paralysed in rural areas
Sangrur, July 1
The ongoing strike by rural pharmacists, veterinary pharmacists and Class IV employees has adversely affected the health services in rural areas.
No Shakespeare for BA students
Ludhiana, July 1
From now on, students of BA III of Panjab University (PU) and all colleges affiliated with it will not have to study Shakespeare's works as the university has changed the syllabus from the current academic session.
7 of Batala family harassed for murders that never took place
Chandigarh, July 1
Gurparkash Singh was arrested for twin murders that never took place.
BBMB surpasses generation target
Ropar, July 1 The Bhakra Beas Management Board (BBMB) has exceeded its power generation target by 24 per cent in the first quarter of the current fiscal.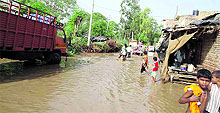 Canal breached near Abohar
Abohar, July 1
High-velocity dust storm followed by incessant rain uprooted hundreds of trees on the banks of canals in Abohar sub-division last night.




A flooded colony near Abohar on Sunday. A Tribune photograph


Power engineers continue protest
Ropar, July 1
Continuing their agitation against the filing of a chargesheet against 22 officials for the December 29 fire at Guru Gobind Singh Super Thermal Plant, Ropar, nearly 125 engineers organised a gate rally here today.

Notice slapped on Railways for 'illegal possession' of govt land
Ferozepur, July 1
The district administration has slapped a legal notice against the Northern Railways for alleged unauthorised possession of government land measuring over 91 kanals in Ghulam Hussainwala village and 9 kanals in Bareke village along the Indo-Pakistan border.

7 IAS officers transferred
Chandigarh, July 1
The Punjab Government today issued transfer orders of as many as seven IAS officers. Vishwajit Khanna, Secretary, Defence Services Welfare, has been transferred as Principal Secretary (Labour).

Relief for Uttarakhand victims


Chandigarh, July 1
The Punjab Government will construct dwelling units in 25 villages of flood-ravaged Uttarakhand, an official press release said here today.



HC stays e-auction of minor mineral quarries
Chandigarh, July 1
The Punjab and Haryana High Court today stayed the e-auction of minor-mineral quarries in 19 districts of Punjab.



NRI booked for torturing wife for dowry
Moga, July 1
The police has registered a criminal case against an NRI, Gurmeet Singh Dhaliwal, for allegedly torturing his wife. His mother Balwinder Kaur has also been booked.