Bansal, Behl step in to end Mayor-councillor standoff
Chandigarh, July 1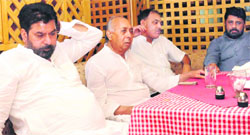 The standoff between Mayor Subhash Chawla and Congress councillor Mukesh Bassi saw a dramatic "end" today. Local MP Pawan Kumar Bansal and Chandigarh Territorial Congress Committee (CTCC) president BB Behl intervened to end the impasse between the two warring factions in the city Congress unit.
(From left) Mayor Subhash Chawla, CTCC president BB Behl, councillor Mukesh Bassi and councillor Pardeep Chhabra after the patch-up meeting in Chandigarh on Monday. Tribune photo: Manoj Mahajan
Man, son stab neighbour to death, arrested
Chandigarh, July 1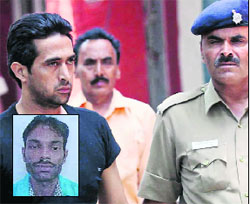 A domestic dispute turned ugly when a father-son duo allegedly stabbed their 32-year-old neighbour to death in an EWS flat in Sector 30 here last night. The police has arrested 62-year-old Ravinder Gandhi and his 28-year-old son Amit for their neighbour Santosh Kumar's murder.



The accused, Amit and his father Ravinder Gandhi, being taken to a court in Chandigarh on Monday; and (inset) Santosh Kumar, the victim. Tribune photo: Manoj Mahajan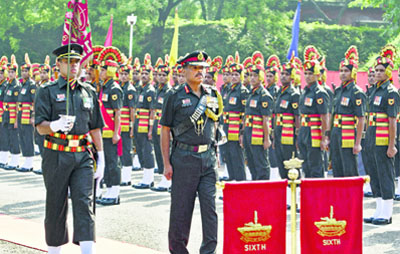 Lt Gen Philip Campose inspects a guard of honour after taking over as General Officer Commanding-in-Chief, Western Command, at Chandimandir on Monday. A Tribune photograph
Nehru Hospital set to go hi-tech
Chandigarh, July 1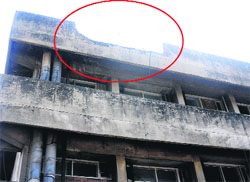 As the 50-year-old building of PGIMER's Nehru Hospital heads for modernisation, the institute proposes to centralise the Wi-Fi system, audio-visual mode of communication in private wards and waste management system inside the hospital.




A damaged portion (encircled) of Nehru Hospital. Renovation of the building is on the cards. Tribune Photo: Pradeep Tewari
80 polling booths declared hypersensitive in Mohali
Mohali, July 1
Out of the 444 polling booths set up for the gram panchayat elections in Mohali district, 80 have been declared hypersensitive.
Encroachments removed from Sector 26 vegetable market
Chandigarh, July 1
The enforcement wing of the UT Estate Office today carried out a demolition drive in the Sector 26 fruit and vegetable market.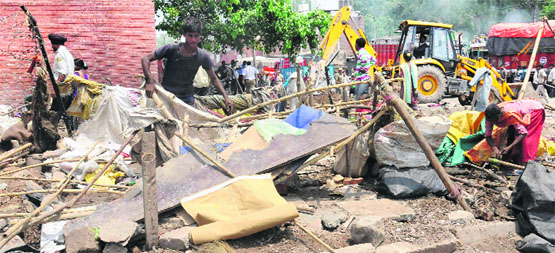 An anti-encroachment drive under way at the Sector 26 vegetable market in Chandigarh on Monday. Tribune photo: Manoj Mahajan
Rs 24 lakh donated for flood-hit
Chandigarh, July 1
The Administration has so far collected Rs 24 lakh for flood victims. Deputy Commissioner Mohammed Shayin said traders donated Rs 8,40,550.
No end to Panchkula water woes
Panchkula, July 1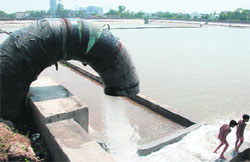 Panchkula continues to be parched. Kaushalya dam, which was to supply 20 MGD potable water to the town during rainy season, has failed to do so. The dam has been able to supply only 1.5 MGD potable water for the past two years. There seems to be no end to the water woes of Panchkula. Officials of the Haryana Development Authority (HUDA) said they would try to meet the deadline by October.

A pipeline fills a water tank at Sector 1 in Panchkula. Tribune photo: Nitin Mittal
15 doctors felicitated
Chandigarh, July 1
Dr Z India Health Care Private Limited, Desh Bhagat University and Desh Bhagat Radio 107.8 FM (Aap Ki Awaz) celebrated Doctor's Day at Park View Hotel, Chandigarh.
23 Poonch students visit City Beautiful
Chandigarh, July 1
As many as 23 students from Jammu and Kashmir's Poonch district visited Chandigarh today as part of the Indian Army's Sadbhwavna Yatra. For most of these students, it was a dream run visiting the shopping mall and multiplex here today.



Students at a mall in Chandigarh on Monday. Tribune photo: Manoj Mahajan
Helpline set up
Mohali, June 29
The district administration has set up a 24-hour helpline for seeking information about missing persons.
Satire on education system attracts crowd
Chandigarh, July 1

A short play, "Aapka Sawaal-Humara Jawaab", was staged at the Sector 17 Plaza. The play, a satire on the education system, was directed by Chakresh Kumar. It was organised by NGO Vatsal Chaya in collaboration with the Chandigarh Sangeet Natak Academy.

Artistes stage a play at the Sector 17 Plaza in Chandigarh on Monday. Tribune photo: Parvesh Chauhan
Goni's father clears the air on property dispute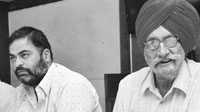 Mohali, July 1
"Manpreet Goni has nothing to do with our family dispute now," claimed Swaran Singh, father of Goni, the IPL cricket player, here today.

Swaran Singh (right), father of IPL cricketer Manpreet Goni, addresses a press conference at Phase V in Mohali on Monday.Tribune photo



City veterans' body elects office-bearers
Chandigarh, July 1
Chandigarh Veterans Amateur Association organised its annual general body meeting at Panjab University, here.
Surprise checks
Chandigarh, July 1 Finance Secretary VK Singh, Joint Secretary (Estates) SK Setia and Deputy Commissioner Mohammed Shayin conducted surprise checks at the Estate Office, Excise and Taxation Office, Chandigarh Housing Board and other UT offices.


Cut-off for Class XI admission goes up
Chandigarh, July 1
The cut-off for admission to Class XI in city's government schools has gone up this year. Among 39 government senior secondary schools in the city, Government Model Senior Secondary School, Mani Majra, registered the highest cut-off of 9.8 CGPA for the science stream in the general category, an increase of 0.2 CGPA from the last year.
Schools open after summer vacation
Chandigarh, July 1
Government as well private schools opened today after the month-long summer vacation.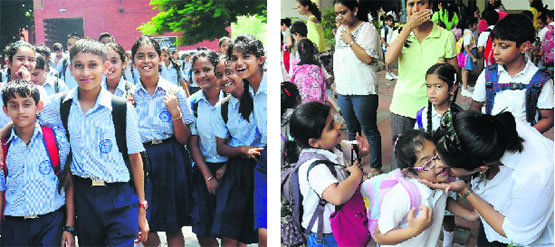 Students of a government school and (right) a private school in a jubilant mood in Chandigarh on Monday. Tribune Photos: Manoj Mahajan
BCom admission: First list out, highest cut-off 113.4 percentile
Chandigarh, July 1
As the provisional merit list for admission to BCom in Panjab University-affiliated colleges was displayed today, the highest cut-off turned out to be 113.4 percentile in the general pool. The cut-off has improved from 113 during the previous year's session. In UT pool (15 per cent seats), the highest percentile turned out to be 113.2.
NSUI members submit memo to Vice-Chancellor
Chandigarh, July 1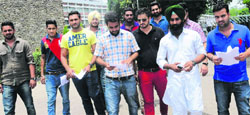 Condemning the Panjab University Syndicate's decision to increase the fee from the next academic session, representatives of the National Student Union of India (NSUI) today submitted a memorandum to the Vice-Chancellor (VC).
NSUI members return after submitting a memorandum to the Vice-Chancellor at Panjab University, Chandigarh, on Monday. Tribune Photo: Manoj Mahajan
Aggarsen students hold protest
Panchkula, July 1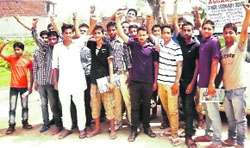 As the schools reopened today, 50 students of classes X and XII held a protest outside Aggarsen Senior Secondary School in Raipur Rani. The students said they had not got their board results due to the fault of the school. A few students even smashed the windowpanes of two school buses.
Students of Aggarsen Senior Secondary School, Raipur Rani, stage a protest on Monday. A Tribune photograph
PU rejects 240 applications under sports quota
Chandigarh, July 1
Taking strict steps and to avoid any allegation of favouritism in filling seats for the BCom stream under the sports quota, the Panjab University authorities have rejected over 240 forms of the applicants, here.
Prof Bansal is PU Dean (research)
Chandigarh, July 1
Prof Lalit Kumar Bansal today took over the charge of Dean (research) of Panjab University, Chandigarh. Earlier, Prof RK Pathak was holding the charge, who superannuated yesterday.