For prisoner, prisons need correction
Once we accept the concept that the purpose of incarcerating a criminal is to reform him, there should be no problem accepting that our prisons are anything but correctional homes. For that, living conditions to entire administrative approach have to change
Ranjit Singh
THERE have been deaths, riots and hunger strikes in our jails, pointing to an urgent need for prison reform. The prison system — which involves managing 1,328 jails across the country, housing over 3.5 lakh prisoners against a capacity of 2.5 lakh — cannot be free of problems. No wonder, prison administration has been the subject of criticism in all forums, whether judiciary, general public or the legislature.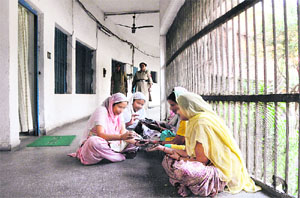 Inmates in a women's cell at Ludhiana jail applying henna on their palms ahead of the Karvachauth festival. File photo: Himanshu Mahajan
Overcrowding in prisons, prolonged detention of under-trial prisoners, unsatisfactory living conditions, lack of treatment programmes, and indifferent and inhuman approach of the prison staff towards inmates are the major problem areas, which call for immediate attention of the Central and state governments. The 115-year-old Prison Act is yet to be updated to meet the modern-day ideas of imprisonment.
To begin with, a "Prison Discipline Committee" under the British had recommended increased rigorous treatment for prisoners while rejecting the humanistic concerns for them. The notion of prison has undergone a sea change since then. The present humanistic approach is also not a very recent phenomenon. It can be traced back to the Indian Jail Committee Report of 1919-20, in which reformation and rehabilitation of offenders were identified as the objectives of prison administration. This report could not be implemented perhaps due to its 'radical approach' or unfavourable political atmosphere then prevailing.
A landmark initiative came after Independence, when the government invited Dr W.C. Reckless, a UN expert on correctional work, to undertake a study on prison administration and suggest policy reforms. His report, "Jail Reforms in India", made a plea for transforming jails into 'reformation centres' besides recommending revision of outdated jail manuals. Subsequent developments in the policy of reformation continued and, thus, it would not be a matter of debate now so far as the theory of sentencing and correction is concerned.
Fundamental principle
This should then form the basic notion of prison administration and reforms. Sentences, as observed by Justice Krishna Iyer, are in large part concerned with avoiding future crime by helping the offender learn to live productively in the community, which he has committed the offence against. As per the Judge, other things being equal, odds are that offenders will learn to live successfully in the general community if they are dealt within the community, rather than being shipped off to artificial and typical environments of an institute of confinement.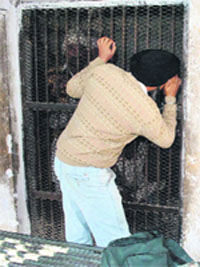 A relative speaks to a prisoner in Patiala jail. A file photo
As is observed, banishment from society is not the way to integrate someone into society, and yet imprisonment involves just such banishment, albeit a temporary one. The goings-on in prisons are fairly well known — sex starvation, brutalisation, criminal companionship, multiple vices through bio-environmental pollution in dehumanised cells. Upon release, what emerges is an embittered enemy of society with the stigma of conviction stamped on him. Primarily, it is due to penal illiteracy of our prison system that we restore to society a potentially good person processed into a delinquent. The need is to restore a useful man to society, which would call for drastic changes in prison administration. The problem being acute and multi-dimensional, the progress would be slow, which is a cause of serious concern.
The unsatisfactory conditions existing in jails had spurred the Central government to constitute a committee for jail reforms, known as the "Mulla Committee". The terms of reference of this committee led to wide-ranging recommendations regarding prison buildings, living conditions in prisons, medical and psychiatric services, security and discipline, system of classification, treatment programme, work programme, vocational training of under-trials, women and children in prison, young offenders, etc.
Prison populations have been continually on the rise. The majority of inmates belong to the under-privilege sections of society, and most of them are first-time offenders (around 90 per cent) involved in technical or minor violations of the law. As per the "National Crime Records Bureau Report, 2005", 66.2 per cent of the total inmates are under-trial. The conditions in jails, sub-jails and police lock-ups are rather deplorable. The organisational structure of the Department of Prisons is inadequate and ineffective, as the administration is governed by outdated laws, which do not meet the present-day requirements of correctional thinking. Lack of coordination among the police, prosecution, judiciary, prison and probation officers have further compounded the problem. There is no system available for adopting a scientific approach for treatment of offenders by the prison administration itself.
Minimum rules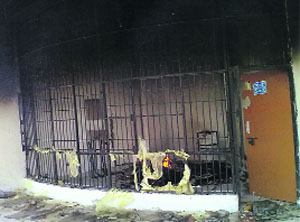 Fire in Faridkot prison afer inmates went berserk following the death of a prisoner in April 2013.
Once we have understood the basic principles and purpose of punishment, which is not to torture a person but to reform him and ultimately to make him a good citizen, as per the UN Standard Minimum Rules for the Treatment of Prisoners, the need for prison reform can be well appreciated and understood. The UN Standard declares that there shall be no discrimination on the grounds of race, colour, sex, language, religion, political or other opinion, national or social origin, property, birth or other status. A need for respecting the religious beliefs and moral precepts of the group to which the prisoner belongs is also among them. Keeping under-trial prisoners separate from those convicted, separating prisoners detained under civil law and criminal offences and providing separate residences for young and child prisoners are some of the other rules laid down by the UN. Punishments like reduction in diet, placing prisoners in a dark cell, or other inhuman and degrading punishments are also prohibited.
The UN rules recognise the need for proper selection and training of prison personnel as a pre-condition for proper implementation of the prison law. A comprehensive mechanism for selection of the right people for every job in a prison and their proper training is, thus, prescribed. These aspects can help in improving our prison administration.
Humanising justice
It was in the background of such UN initiatives that the movement for humanisation of criminal justice in India started. Prison administration is an important part of the criminal justice system. The judicial and administrative trends in the field of prison reforms are now based on the fundamental principles of the Indian Constitution and judicial decisions of the Supreme Court as well as various high courts.
Though there may not be any specific provisions regulating the rights of prisoners or prison reforms, certain fundamental rights have been invoked to protect the prisoners' rights while undergoing incarceration. There have been several landmark and thought-provoking judgments establishing the rights of prisoners, which have made available the basic rights to all inmates. Because of these precedents, the right of access to law and legal facilities assigning a competent counsel to defend the prisoner, right to meet friends and relatives, right to freedom of speech and expression, exclusive right to read, and the right to publish books, articles and journals, have been recognised. Fair treatment with dignity, equality, basic human needs, and natural justice would be some of the other rights that have been guaranteed the prisoners. There has, thus, been a substantial contribution by courts in the administration of prison reform. The administrative side has also made progress in prison reforms, though the movement has been slow and has not kept pace with the need.
Policy in making
The draft national policy (2007) on prison reforms and correctional administration was a step in this direction. Once it is settled that reformation and rehabilitation of an offender is the purpose of punishment, certain amendments in the penal provisions governing society or procedural provisions may need to be carried out.
One of the recommendations made by the Mulla Committee was for the release of under-trial prisoners unconditionally once they complete a period of detention equal to half of the maximum sentence awardable. The recommendation in regard to amendments suggested in Section 433-A of the Cr.PC may also need a look.
Another suggestion concerning demolition of prison buildings that have outlived their utility or need remodelling and renovation cannot be ignored. No efforts seem to have been made to segregate the under-trials from prisoners undergoing sentences. A recommendation made in this regard for housing under-trial prisoners in old prison buildings after remodelling those may, thus, merit early consideration. Diet, sanitation and hygiene, clothing, bedding and equipment, and permission for free and frequent communication with relatives and friends so that the bond with the outside world is maintained, are other aspects of recommendations of the Mulla Committee that should be implemented.
Invariably, there is lack of medical and psychiatric services in prisons. The ad hoc arrangements that are generally seen should make way for permanent arrangements. There is also a lack of treatment programmes in jails. The prison administrations are taken up mostly with day-to-day needs of prisoners, and there is hardly any meaningful reformation programme available. This needs to be made an integral part of prison administration. Work and vocational training are an essential need for prisoners. While designing these programmes, employment and production needs of the industry and market also have to be taken into consideration.
Provisions for probation, parole and remission need to be liberalised and so also the granting of bail, whether for an under-trial or prisoner under appeal. This would also help address overcrowding in prisons to an extent. Unless action is taken in this regard with a sense of urgency, incidents of mass violence, as seen in prisons in Punjab over the past few years, will continue.
Barring reform
* Our prison system restores to society a potentially good person processed into a delinquent.
* Wide-ranging recommendations of the "Mulla Committee" on prison reform have not been implemented.
* Lack of coordination among the police, prosecution, judiciary, prison and probation officers compounds the problem.
* While there are no specific provisions on prisoners' rights, certain fundamental rights have been invoked to protect prisoners.
* The draft national policy (2007) on prison reforms and correctional administration was a step in this direction.
The writer is a retired Judge of the Punjab and Haryana High Court.