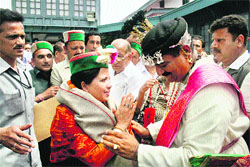 Pratibha Singh being greeted by Maheshwar Singh, president, Himachal Lokhit Party, at Holly Lodge in Shimla on Wednesday. Photo: Amit Kanwar
Withdrawal period must for animal drugs
Solan, July 3
With a view to ensuring that people do not face adverse impact of drug residues from animal foods, the Directorate General of Health Services (DGHS) has made it mandatory for veterinary drug manufacturers to write the withdrawal period, which is the maximum period prescribed for their use, on all such drugs.
With package gone, investors ignore state
Dharamsala, July 3
The investment after the lapse of the industrial package in January this year in Himachal Pradesh has slowed down. Data collected by The Tribune in Kangra and Una districts hardly revealed any investment proposal that had come to the Industries Department after the lapse of the package.
HPU scheme not for rural students
Mandi, July 3
Thousands of students from rural background in the state are running from pillar to post to get science and commerce subjects and a college of their choice, under the newly introduced Choice-Based Credit System (CBCS), as the 22 government-run degree colleges located in rural areas have not introduced the new subjects.
Villagers approach IG against policeman
Mandi, July 3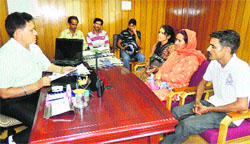 Residents of Majiali village in the Rewalsar area today lodged a complaint with PL Thakur, Inspector General of Police (IGP), Central range, against a policeman working at Mandi. The villagers accused him of intimidating them in several local matters over the years, while their complaints were dumped in the office by him.
Residents of Majiali village (Rewalsar) meet IGP PL Thakur in Mandi on Wednesday Photo: Jai Kumar
Headmaster, lecturer cadre principals at loggerheads
Kangra, July 3
Principals of Government Senior Secondary Schools coming from headmaster and lecturer cadres are at loggerheads. The lecturer cadre principals are demanding joint seniority for further promotional avenues. But the other section is demanding that the seniority of the two cadres should remain separate and there should be no change in the recruitment and promotion rules.
HC tells govt to recover charges from encroachers
Shimla, July 3
The HP High Court today directed the state government to recover the cost of demolishing encroachments on government land from the unauthorised occupants and also recover use and occupation charges from them.
Kisan Morcha terms Rs 60 hike in paddy MSP 'paltry'
Bilaspur, July 3
The BJP National Kisan Morcha has expressed strong resentment against the hike of only Rs 60 in the Minimum Support Price (MSP) of paddy this year. The MSP of paddy was increased from Rs 1,250 to Rs 1,310 only.
Rains cause massive damage in Chamba district
Chamba, July 3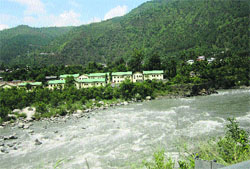 Crops and property, worth crores of rupees, were destroyed in different parts of Chamba district as the region experienced incessant rains recently, according to reports reaching the district headquarters here today. The reports revealed that in rural areas, the kharif crops in several bighas had been damaged due to flooding. The short-term cash crops, including vegetables, perished causing heavy financial loss to farmers.
The Jawahar Navodaya Vidyalaya at Sarol along the Ravi in Chamba.
Rs 2 cr granted to Kangra town
Kangra, July 3
The state government has sanctioned Rs 2 crore for the long-pending sewerage project and drinking water scheme in the town.
Additional charge assigned to senior officers
Shimla, July 3
Narinder Chauhan, Chief Electoral Officer, who is also holding the additional charge of Principal Secretary, PWD, has been assigned the charge of Housing, relieving K Sanjay Murthy of the charge.
Baddi unit booked for disappearance of evidence
Solan, July 3
The management of an industrial unit, located in the Nalagarh industrial area, was booked for causing the disappearance of evidence and grievous hurt, after it failed to inform the police about a worker who had lost both his arms while operating a machine in the unit on June 28.
Another cop attacked in Palampur, 3 booked
Palampur, July 3
A police constable on duty was allegedly attacked by members of a liquor mafia at Bundla village, 2 km from here, last night.
Three cops held on gang rape charge
Mandi, July 3
A woman from Gawal village in the Ladbharol area of Jogindernagar today accused three police constables, Bhup Singh, Subash and Man Singh, posted in the Police Lines of gang-raping her at a private quarter on July 1.
4 die in separate incidents
Bilaspur, July 3
Two persons died of massive heart attacks, one youth fell to his death into a gorge while a child died due to snake bite in various incidents during the past 24 hours in the district on Monday.
Headless body of woman recovered
Nurpur, July 3
The headless body of a woman was found at Kotpalahri village near Bhadwar, about 1 km from her house, late last evening.