'Uncle Judges' in Punjab & Haryana HC
Scales shouldn't tilt in favour of kin: Former CJs
Chandigarh, July 9
The verdict is clear. "Uncle Judges" with kith and kin practising in the same court should ensure that the scales are not tilted in favour of their relatives. Also, the black sheep amid the black coats need to be identified so that the winds of favour blowing from their quarters do not sway others off their feet.
Cong: Book former BJP state chief for damaging toll plaza
Hoshiarpur, July 9
The state Congress has demanded registration of a criminal case against Pathankot BJP MLA Ashwani Sharma and his supporters for allegedly damaging public property and attacking the staff at a toll plaza near Mukerian.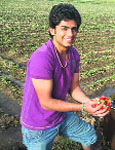 Gurdaspur boxer strikes gold in strawberry farming
Gurdaspur, July 9
Eighteen-year-old Chetan Verma is brimming with youthful exuberance and has stars in his eyes. His passion of growing strawberries in this non-descript township is catapulting him to new heights.


Chetan Verma at his farm in Gurdaspur. A Tribune photo

Seizure of Religious Literature
Satkar panel to move High Court seeking cancellation of case
Amritsar, July 9
Sri Guru Granth Sahib Satkar Committee has decided to move the Punjab and Haryana High Court seeking cancellation of the police case registered against it following a complaint lodged by the SGPC.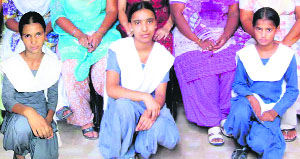 Mansa girls top talent search test
Bathinda, July 9
Two girls from poor families of Bhamme Kalan village in Mansa district have bagged the top two positions in the state in the National Talent Search Examination, results of which were declared today.

The girls who topped the talent examination. A Tribune photo

Unrest in Moga over remarks on social media
Moga, July 9
Members of a community today held a protest against remarks on their religious beliefs in the social media on the Internet. The police has strengthened security in the city to prevent any untoward incident.


Man dies in Amritsar wall collapse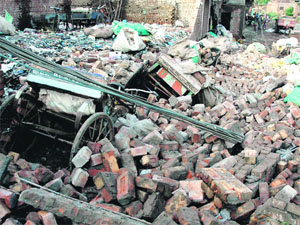 An 18-year-old rag-picker was killed when a wall collapsed in Amritsar's Bangla Basti area on Tuesday. Photo: Vishal Kumar
Minority panel wants mosques, churches in jails
Jalandhar, July 9
The Punjab Minority Commission has demanded construction of mosques and churches in different jails across the state on the pattern of temples and gurdwaras.
Cattle feed units to come up in Nawanshahr, Hoshiarpur
Chandigarh, July 9
Chief Minister Parkash Singh Badal today announced that two cattle feed processing units would be established at a cost of Rs 5 crore each at Nawanshahr and Hoshiarpur to provide assured marketing support to maize farmers under the state's crop diversification plan.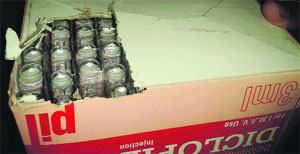 Drugs meant for poor rot at Patiala hospital
Patiala, July 9
It seems that the authorities at Government Rajindra Hospital have not learnt any lesson from their previous mistakes wherein expired medicines and those nearing expiry were distributed in the hospital emergency.

A box containing decayed medicines at Government Rajindra Hospital in Patiala. Tribune photo: Rajesh Sachar

Awaiting payment, contractor delays work on school building
Patiala, July 9
The construction of a government school building in Rajpura Colony, Patiala, involving an expenditure of Rs 6.75 crore, has hit a roadblock.
The building of a government school under construction at Rajpura Colony in Patiala; and (right) a broken windowpane of the building. Tribune photos: Rajesh Sachar
Social scheme beneficiaries without pension for 3 months
Sangrur, July 9
Over 1.70 lakh beneficiaries of social security pension, including old-age pensioners, of Sangrur and Barnala districts have not yet received their pension money for the months of April, May and June.
Councillors, residents hold protest in Dhuri
Sangrur, July 9
Led by municipal councillors Ishar Ram and Sanjay, residents of ward No. 10 and 11, Dhuri, today staged a dharna in front of the municipal council's office against delay in construction of a road dividing both the wards.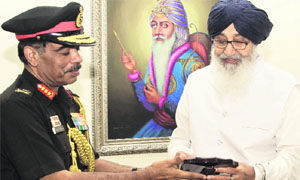 Lt Gen Campose calls on Punjab Governor, CM
Chandigarh, July 9
A week after taking over the reins of the Western Command, General Officer Commanding-in-Chief, Lt Gen Philip Campose, today called on Punjab Governor and Administrator, UT Chandigarh, Shivraj Patil, Haryana Governor Jagannath Pahadia and Punjab Chief Minister Parkash Singh Badal.
Lt Gen Philip Campose presents a memento to Chief Minister Parkash Singh Badal in Chandigarh on Tuesday. Tribune photo

Villagers told not to eat fish bred in filthy ponds
Fatehgarh Sahib, July 9
Concerned over the consumption of mangur fish captured from filthy village ponds, the Health Department has warned villagers that its consumption could lead to serious ailments like cancer.
RO plant at Patiala jail
Patiala, July 9
The Punjab Jail Department today installed a reverse osmosis (RO) water treatment plant inside the Central Jail, Patiala, with the help of an NGO.



Two held for snatching car in Sangrur
Sangrur, July 9
The police has arrested two persons, Jaswinder Singh alias Jassu and Navjot Singh, for allegedly snatching a Volkswagen Vento car belonging to Surinder Pal of Longowal village.