osama bin Laden was able to hide undetected in Pakistan for years because of a "collective failure" of the country's "military authorities, the intelligence authorities, the police and the civilian administration," according to a damning report kept secret by the Pakistani government.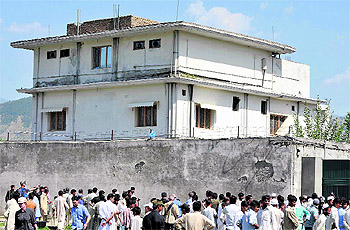 Pakistani media personnel and local residents gathered in front of the hideout of Al-Qaida leader Osama bin Laden in Abbottabad following his death in a US Special Forces ground operation on May 3, 2011. — Photo: AFP

The former al-Qaida leader was gunned in a US raid on his compound in the garrison city of Abbottabad in May, 2011, prompting Pakistan to set up a special commission to investigate how his presence in the country went undetected for nearly a decade and, later, how US Special Forces pulled off the raid deep inside Pakistan without being detected.
The result, a more than 300-page report based on interviews with more than 200 witnesses, including members of the Bin Laden family and four ministers from the federal and provincial governments, accuses Pakistani authorities not just of "negligence and incompetence" in detecting the terrorist leader's presence, but also leaves open the door to the possibility of connivance, saying the failure to discover him in Abbottabad "may or may not have involved" what the commission called a "grave complicity" at some "undetermined level."
The blistering report calls the night time raid on Abbottabad an "American act of war against Pakistan" and slammed America's "contemptuous disregard of Pakistan's sovereignty, independence and territorial integrity in the arrogant certainty of its unmatched military might".
It also gives a detailed insight into how Bin Laden evaded capture for so many years, and how close he came to being captured during more than nine years he spent on the run.
In one extract, the wife of one of Bin Laden's courier recounts an incident in 2002 in which Bin Laden himself was stopped by a traffic policeman in Pakistan's Swat Valley for speeding while travelling in a car to the local bazaar. Maryam, who was married to Ibrahim al-Kuwaiti, one of Bin Laden's most trusted associates and couriers, said her husband "quickly settled the matter", allowing the former al-Qaida leader to remain under the radar.
Apparently aware of the possibility that its findings might be suppressed by Pakistani authorities, the commission in its report called on the government to make the text public. That did not happen. The commission's critique of Pakistan's civilian, military and intelligence apparatus has only come to light because of a leaked copy of report obtained by the Al Jazeera television network.
Not only was Bin Laden able to hide undetected in his compound, but "to crown it all, the (house) was enumerated in a house survey with the comment that it was 'be-chiragh' i.e. uninhabited!"
"Since August 2005, there were never less than 25 people living in it! The extent of incompetence, to put it mildly, was astounding, if not unbelievable," the report says in its findings. Of more than nine years that the former al-Qaida leader was on the run, he was a resident of Abbottabad for six, according to the report.
The commission adds, "It is clear that someone from the civil administration, police security and intelligence services should have noticed but did not notice, anything odd about the compound over so many years."
That Bin Laden went undetected in the city of Abbotabad for so long, despite it being home to a large military academy for former army officers led to speculation that he may have been helped by military intelligence. The report does not go so far as to point fingers but does say that "connivance, collaboration and cooperation at some levels cannot be entirely discounted."
Citing testimony gathered from Bin Laden's wives and other associates, it tells a story of a family living in isolation, taking very few risks. According to the testimony and diaries discovered in the compound, Osama bin Laden entered Pakistan in early 2002, after evading capture by the US in the Battle of Tora Bora in Afghanistan in December 2001.
Later that year, Bin Laden travelled to Pakistan's Swat Valley with al-Kuwaiti and his brother Abrar. The two men acted as Bin Laden's couriers throughout his stay in the country. Maryam described to authorities the presence of a "tall Arab" who, a man she would later identify as Bin Laden.
While in Swat, Bin Laden was visited by Khalid Sheikh Mohammad, who stayed with the group in Swat for two weeks. A month later, a report on Al Jazeera alerted Bin Laden of Mohammad's arrest by the CIA and Pakistani intelligence in Rawalpindi. He then decided to move to a safer place — Abbottabad — with his couriers and their families.
"According to Maryam,(Bin Laden) reposed complete faith in her husband Ibrahim who had been with him ever since he was introduced to him by Khalid Shaikh Muhammad [sic]," the report says. "Ibrahim and Khalid... had practically grown up together in Kuwait and were as close as brothers."
According to testimony from Bin Laden's wives, the group lived "extremely frugally." Bin Laden reportedly owned three sets of clothes for summer, three for winter, a single black jacket and a sweater. He also wore what is described in the report as a "cowboy hat" to avoid detection from above.
HIDE-OUTS
The former al-Qaida leader stayed hidden in Pakistan for long. The 336-page report, based on testimony from more than 200 witnesses, official documents and site visits, alleges:
nOsama bin Laden wore a cowboy hat when he moved around the compound to avoid detection from above.
nOsama bin Laden came close to capture in 2002 or 2003 when he was living in the north-west Swat Valley, according to the wife of Bin Laden's courier, Maryam. It occurred after a policeman pulled them over for speeding as they were on their way to a bazaar but Maryam's husband, Ibrahim al-Kuwaiti, quickly settled the matter before the officer recognised him, she said.
nThere was no evidence that current or former Pakistani officials helped Bin Laden hide, although it couldn't rule it out completely.
nThat little was known about any network of support that Bin Laden enjoyed in Pakistan, other than the group of family and backers that lived with him in Abbottabad.
nThat all levels of Pakistani government, including the army and intelligence services, failed to detect Bin Laden as he lived in six different places in Pakistan over nine years. The report's conclusion was scathing. "To summarise, negligence and incompetence to a greater or lesser degree at almost all levels of government are clear," it said.
— The Independent