| | | |
| --- | --- | --- |
| | ARTICLE | |
Food security in India
Legislation need not be a pre-requisite
by S. S. Johl
Food security does not necessarily need legislation to kickstart action in this direction. Executive action can provide for not only food security, but also nutritional security, especially for the vulnerable sections of society i.e. children, old persons and women, especially the pregnant and lactating mothers.
There is no dearth of availability of foodgrains and major protective foods in the country. Normally the foodgrain stocks are at the highest level in June and the lowest in April. Compared to the year 2004, when the foodgrain stocks at the highest level were 322.82 lakh tonnes on 1st June, the stocks on 1st June, 2013 were 777.40 lakh metric tonnes. The lowest high was on 1st June, 2006 at 222.98 lakh metric tonnes and from there on the highest level of stocks kept increasing year after year. The lowest level of foodgrain stocks too was on 1st April, 2006, at 166.20 lakh metric tonnes and this level too kept increasing continuously, touching 597. 58 lakh metric tonnes on 1st April, 2013.
The per capita availability of cereals has also increased from 386.2 grams in 2001 to 407 grams in 2010. This availability is estimated to be at 686.7 grams in 2012, the highest ever in the country. It is only in case of pulses that the availability has declined over time. The cereal availability has increased in spite of a huge wastage of foodgrains through defective or lack of proper storage and tardy management, little realising that eliminating wastage amounts to additional production and availability. The CAG in May, 2013, reported that there was a storage gap of 331.85 lakh tonnes in the country, up from 59.5 lakh tonnes in 2007. Further, the utilisation of the existing storage is less than 75 per cent in many months and the location of storage capacity is also out of tune with its optimal spread. As a result, the wastage of grains increased from 0.28 per cent in 2011 to 6 per cent in 2012. Continuously increasing production is also leading to the increasing wastages due to management incapabilities. It is estimated that, on an average, yearly wastages, if checked can feed at least one lakh persons for the whole year.
In respect of other commodities, the per capita availability of edible oils increased from 8.2 kg in 2001 to 13.6 kg in 2011. The vanaspati availability understandably remained around 1.0 kg, due to the consumption preference shifting to refined oils. The sugar availability increased from 15.8 kg to 17.0 kg in this period. The milk availability increased from 217 grams per day to 281 grams. Compared to 1981, the availability has increased more than three and a half times for edible oils, about two and a half times for sugar and more than doubled in case of availability of milk. There is, thus, no shortage of food items in the country.
Per capita consumption is another indication of the higher level of availability of food in the country. Changing consumption patterns have reduced the consumption of cereals marginally in the rural areas, yet considerably in the urban areas, especially in respect of rice. Coarse grain consumption decreased from 2.29 kg per capita in 193-94 to 0.85 kg in 2009-10 in rural areas and from 1.03 kg to 0.38 kg in the urban areas in this period. All cereals consumption declined from 13.40 kg to 11.35 kg in rural areas and from 10.9 to 9.37 kg in urban areas during this period.
The per capita consumption of edible oils increased from 0.37 to 0.64 kg in the rural areas and 0.56 to 0.82 kg in the urban areas. In respect of fruits, the per capita consumption of bananas has increased more than three times, mango more than two and a half times, apple more than three times. Milk consumption has doubled, eggs consumption increased more than fourfold, fish and mutton one and a half times and chicken consumption per capita increased nine times during this period.
There is thus no shortage of food, both cereals and protective foods in the country. The total availability and per capita availability of food has increased and consumption patterns have shifted, although marginally, from cereals to the protective foods. It is a healthy trend, yet these are the averages. Averages often hide more than they reveal.
In spite of the per capita availability of foodgrains and major protective foods constantly increasing and exceeding the pace of population growth in the country, a large section of the poor population does not have adequate access to food, specially the protective foods. This is because of highly inequitable inter-personal distribution of productive assets and income levels in society. It is but natural that benefits of investment and ensuing growth and development would gravitate to the better placed segments of society to the disadvantage of a majority of the population in the country.
The 2009-10 NSS data showed that in India, 90 per cent of the rural population spent less than Rs 49 per capita per day, of which Rs 27 was on food items and Rs 22 on non-food items. The 50 per cent sample rural population was spending less than the inhuman poverty line expenditure of Rs 27 per capita per day.
Even the PPP (Purchasing Power Parity) estimates indicate that based on US$1 per capita per day expenditure 41.6 per cent of the population in India was below the poverty line. The poverty measured in PPP terms declined by meager 0.76 per cent per annum during the last 25 years. It is amply clear that in spite of tall claims by the government and multiplicity of high-sounding food security programmes, the country may not be able to meet the millennium goal of 50 per cent reduction in hunger by 2015. Surprisingly, the country's performance in this respect is lower than that of Pakistan even.
For the last several years the food security legislation has been in a limbo. No doubt it is desirable to have a Food Security Act, yet its absence does not stop the government from providing food security to the people. It is generally observed that societies that have more laws have lesser respect for them. Well-governed nations do not necessarily need a plethora of laws to create order in society and cater to the needs of their citizens. Executive orders are enough to make the services and benefits flow efficiently to the targeted population. Programmes like MNREGA can easily be expanded and linked to the food supply through partial payments in the form of food stamps for buying food items from the open market with adequately enhanced level of wages rather than rendering the people to the status of beggars through free or highly subsidised supply of food items, which are often pilfered with impunity and in large part do not reach the targeted population.

| | | |
| --- | --- | --- |
| | OPED — Women | |
Birth of a girl and beyond
Sex ratio in the 0 to 6 age group continues to dog the planners. A model of coordinated effort between the village panchayats, religious bodies and chambers of commerce in Rajasthan and Uttarakhand has written a success story of improved sex ratio
Usha Rai
It was with a quote from the Gurbani that Tejinderpal Singh Timma began his campaign against sex selection in Ganganagar district of Rajasthan. It goes as, "So kyon manda aakhiye, jit jamme rajaan." (Why degrade the one who gave birth to the kings). Secretary of the Chamber of Commerce in Ganganagar and President of the Gurudwara Committee of the district, Timma is a strong supporter of the district's 'Let Girls Be Born' (LGBB) campaign of Plan India and Urmul Setu. LGBB is funded by Plan India, a national level NGO active in 12 districts spread across 6 states -- Bihar, Jharkhand, Delhi, UP, Uttarakhand and Rajasthan. Timma has been able to influence the large community of Sikhs and Punjabis by recalling this quote from Guru Nanak.
With focus on girl child's survival and education from primary to professional level, that includes technical courses, especially in families that have only girls, this year alone the Chamber of Commerce and the local Gurudwara Committee have facilitated girls' education through scholarships valued at Rs 3 crore in Ganganagar.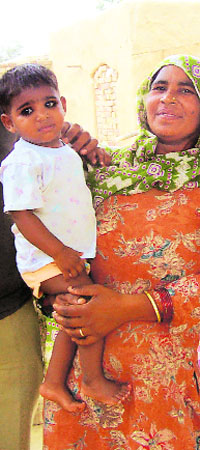 Khushi, the adopted girl with her proud mother Manjit Kaur
They have succeeded in getting a quota of free seats for girls from poor families in courses like engineering, computer science, dentistry, MBA, B. Tech., nursing and others. This is in addition to the mass marriages they conduct for girls from poor families providing them basic household goods worth Rs 1lakh to Rs 2 lakh to start their new life. Simultaneously, the Lohri festival held at the harvest time where traditionally the birth of sons is hailed, was converted into Kanya Lohri, an occasion to celebrate the birth of girls.
A 2006 report on the falling child sex ratio stirred Timma'a conscience to take up the cudgels for the survival of girls. The first Kanya Lohri was held the same year to mark the birth of 101 girls. With the support of the president of the Chamber, Mr B D Jindal, a strategy was adopted to accord the girls a place of eminence in society. Now there is no looking back. Mothers receive a packet of sweets, a coconut and a shawl on the birth of a daughter. Subsequently, based on a list of 2500 families that had only girls, financial support was provided for their education from nursery to class 12.
Education and training
Slowly the programme widened to a shiksha (education) package for girls in higher education and vocational courses. There was such a clamour for financial support that a draw of lots had to be held to select the girls. This year there were 28,000 applications for the free education scheme.






Girls all the way:

Celebration of Kanya Lohri in Ganganagar district, Rajasthan
Though the LGBB project in Ganganagar and Sadhoshehar blocks of Ganganagar District, spearheaded by Urmul Setu started only in March 2011, it has already started showing results. Its panchayat coordinators work closely with Anganwadi workers, ASHAs (accredited social health activists) and ANMs to monitor pregnancies and discourage sex selection. The Pradhan and other elected representatives of the panchayat have extended their support to the project. Wall paintings in the panchayatghars promote their birth. Badhaipatras (letters of appreciation) and birth registration certificates are given at public functions to honour the girl child. From its own funds, the panchayat gives small gifts like wall hangings, clocks to these parents and a token cash of Rs 10 to Rs 50 to the girls. In the changing pro-girls culture, several women who have two or more daughters are no longer secretly terminating pregnancies. Instead, they are carrying the child and, if it happens to be a daughter or twin daughters and the parents think they cannot cope with another girl in the family, a new home is found for at least one baby girl. Nisha and Vikram Singh, the project and block coordinators respectively for the LGBB campaign in Ganganagar, led by example.
Adopting girl babies
They adopted one of the twin daughters of a Sikh couple of village Sangram, Raisinghnagar block of Ganganagar in December 2011. Bhumika, an identical twin, is now a year and a half old. She is the darling not just of her parents but the entire Urmul Setu family. She is like a mascot for the LGBB campaign, present at all their strategy meetings and flitting from one lap to another. Drawing on the example of Nisha and Vikram, five other couples have adopted baby girls — all of them from poor families that had two or more daughters.
The LGBB campaign works closely with 40 panchayats of the two selected blocks. It has been a challenge to change the mind-set of the community and the panchayats, says Nisha. In 2011, in Mohanpura gram panchayat, Chinderpal Kaur, an articulate and aggressive anganwadi worker (AWW) and President of the Zilla AWWs, was determined to get the panchayat pass a resolution legalizing sex selective abortion. "It should be the right of the parents to decide how many girls they want. In rural India a family had no future if it did not have at least one son," she thundered at meetings. Nisha and her team made many trips to Mohanpura warning Chinderpal that she could be prosecuted for demanding sex selection, that is illegal. After eight months, Chinderpal changed her stand and took an oath in front of the community that she would not motivate families for sex selection. Later, other AWWs, ASHAs and the community took similar oaths to protect the girl child. In fact, Bhumika, the adopted baby is the grandchild of Chinderpal Kaur.
The story of Gurutej, a youth volunteer for the LGBB campaign from Rotawali village of Sadhoshehar block, is more remarkable and confirms the commitment of the community to girls. Gurutej was only 16 and in class 11, when he visited his maternal grandparents in Taliwala village of Ferozpur, Punjab, in 2012. During the visit, twin girls were born in a neighbour's home and their mother died in childbirth. The distraught family decided to give the twins to an orphanage so that the father could remarry.
Gurutej expressed interest in adopting one of the twins and spoke to his mother Manjit Kaur and the Rotawali panchayat motivator, Reena Saini. Though Manjit's husband is only a farm worker and she already had three sons, the eldest 21 years, she rushed to Taliwala after discussion at home and brought home one of the twins when she was just 15 days old. Since she brought the joy of a daughter to the family, she was named Khushi (happiness) Kalyana. Manjit has stopped working in the fields so that she can look after Khushi and Gurutej, who is studying privately, polishes marble earning Rs 500 a day so that he can help support his little sister.
Rotawali village turned up in full force to welcome the little girl and emulating Gurutej, two other families in the village have adopted little girls from relatives. The gram panchayat of Rotawali, the 'Beti Bachao Abhiyan' and other have recognised and applauded Gurutej.
Social synergy
The three-year LGBB programme, supported by committed civil society organisations, started in 2010 in selected districts of Delhi, Bihar, Jharkhand, UP, Uttarakhand and Rajasthan where the child sex ratio had plummeted to alarming levels has borne fruits. Its multi-dimensional approach includes working with local panchayats and health workers; keeping track of pregnant women until the birth of the child and then of the child; preparing support groups of the community and youth volunteers on gender issues and the rights of the girl child. Using different strategies and through nukkad nataks a pro-girls movement is on in all these blocks. Simultaneously there is focus on birth registration of every child, enforcement of the PCPNDT Act and regular inspection of ultra sound clinics.
LGBB's NGO collaborator Shikshit Rozgar Kendra Prabandhak Samiti (SRKPS) in Jaipur, specialises in sting operations and has conducted 15 raids so far. Jaipur has 250 sonography centres and is among one of the biggest markets for sex determination. Before 2010, about 54 cases had been filed under the PCPNDT Act(Pre-conception and pre-natal diagnostic techniques Act) in Rajasthan but by the end of 2012, this number shot up to 308. Of the 18 doctors of the country whose licences were suspended, eight were from Rajasthan. However, no doctor has been convicted.
In Uttarakhand, the online availability of the completed 'F' forms, required under the PCPNDT Act, has improved tracking of pregnancies and monitoring of sonographyclinics. "At the press of a button I can see all the 'F' forms on the net," says Dr Saroj Nathani, the State's dynamic young nodal officer for PCPNDT. Since the decision in October 2012 to get the 'F' forms online, some 85,000 forms are now accessible to the state health department. With more raids and inspections of clinics based on the study of the 'F' forms, vigilance has gone up. Since 60 percent of the deliveries are now institutional, it is easier to keep track of them, she says. Analysis of the data for hospital deliveries in the last six months shows that the sex ratio in Dehradun has improved to 903 as against 886 in the 2011 census. ASHAs and ANMs too are pro-active in birth registrations, getting the formalities done within 21days of a child's birth. Monitoring and analysis of birth registration over nine months shows that the child sex ratio in Pithoragarh has gone up to 881 from 762 at birth in the 2011 census.
Victims turn into crusaders
In Dhanbad, Jharkhand, Kakoli Devi, ananganwadi worker has donned the mantle of an angry Durga. She would advise families against sex selection, but in June 2011, her husband beat her and duped her to have an ultrasound, where the sex of the foetus was revealed. He then tricked her to swallow an MTP pill which was followed by an abortion. Kakoli Devi is now the face of the LGBB campaign. In August 2012, under section 28 of the PCPNDT Act, she filed a complaint against her husband, the radiologist and the owner of the diagnostic centre and the doctor at the nursing home who terminated the pregnancy without her consent.
Investigations showed that the doctor who conducted the abortion was unqualified and the nursing home had not been registered under the MTP Act.
Quite clearly, the LGBB project has had an impact but the tempo needs to be sustained and the programme extended to more areas before the girl child finds a permanent place in the hearts of the aam admi.