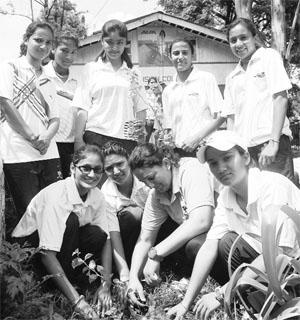 Members of the Himachal Cricket Academy (Women) plant a sapling in Dharamsala on Monday. Photo: Kamaljeet
14 years on, govt forgets Kargil's PVC awardee
Palampur, July 8
The local administration has failed to remember two martyrs of the town. Both officers sacrificed their life fighting Pakistani intruders in the Kargil War in 1999.
Shell out more for transportation of apples
Shimla, July 8
With a hike in the prices of petrol and diesel, the apple growers will have to pay almost 15 per cent higher freight rates for the transportation of their produce to the markets.
Transfers of Govt Employees
Ministers ridicule Dhumal's statement
Shimla, July 8
Sujan Singh Pathania and Prakash Chaudhary, ministers in the Virbhadra government, today denounced former Chief Minister PK Dhumal's statement on the issue of political interference in the transfers of government employees.
Protest over prosecution sanction against Bindal
Solan, July 8
The grant of prosecution sanction in a case registered against BJP MLA and former minister Rajiv Bindal by the Vigilance and Anti-Corruption Bureau has triggered a protest from local BJP leaders.
Delegation seeks inquiry into villager's death
Bilaspur, July 8
A deputation of villagers of Chamyon village in Harnoda gram panchayat met Additional Superintendent of Police (ASP) Vinod Sharma here today.
Husband booked for suicide bid
Nurpur, July 8
Following the complaint of Kamaljeet Kaur of nearby Harnora Ghat, the police has registered a case against her husband Raman Kumar for allegedly trying to commit suicide by consuming a pesticide today.
Man gets custody for killing mother
Nurpur, July 8
The local police claimed to have solved a murder case last evening when accused Deepak Kumar of Kotpalhari village confessed that he had killed his mother Srishta Devi.
ENT camp gives 'hearing' touch to 7-year-old girl
Kangra, July 8
A two-day free ENT camp organised by the local branch of the Vivekananda Kendra at the Zonal Hospital, Dharamsala, turned out to be a boon for seven-year-old Srishti, who successfully underwent a cochlear implant surgery at the camp.
Govt schools, colleges to have units of Bharat scouts
Shimla, July 8
Units of the Bharat Scouts and Guides will be started in all Government High and Senior Secondary Schools and Government Colleges, said Chief Minister Virbhadra Singh on the sidelines of the Annual State Council Meeting of the Bharat Scouts and Guides here today.
Office-bearers appointed for BJP forums
Bilaspur, July 8
GL Sharma of the Naina Devi constituency has been appointed convener of the intellectual forum of the BJP and Capt Ram Singh (retd) of the Ghumarwin constituency has become district convener of the Ex-servicemen Forum.
Disease hits 50 pc of maize crop
Bilaspur, July 8
Members of the BJP Kisan Morcha have expressed resentment as their maize crop has been infected with a disease despite sowing the seeds bought from the recognised state Agriculture Department.
Immunisation Week for migrants begins
Kangra, July 8
Strengthening the Routine Immunisation (RI) is crucial to achieve polio-free status and every year full immunisation prevents approximately 0.4 million under-five deaths from vaccine preventable diseases in India.
Man dies as car veers off road
Chamba, July 8
Anil Kumar died on the spot when his car veered off the road and rolled down 200 metre from a hillock, near Hamalgala village of the district, a report said here today.