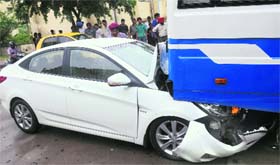 CLOSE SHAVE: The occupants of a car had a providential escape after it crashed into a mini-bus at the road dividing Sectors 31 and 32 in Chandigarh on Wednesday. Tribune photo: Vicky Gharu
He was drunk, says Sachit
Chandigarh, July 17
"I was relaxing at home when my mother heard a woman screaming outside. The screams grew louder and louder. My mother called me and asked me to see what had happened. I rushed outside and saw the woman lying on the ground trying to get up," said Sachit, a BCom second-year student of the Khalsa college.
Mohali taxi driver murdered, body dumped in canal
Mohali, July 17
A local taxi driver was allegedly murdered by two persons who had hired the vehicle after which his body was thrown into a canal near Ludhiana. The deceased has been identified as Ram Shiromani Pal, alias Guddu, who worked as a driver at a Phase III taxi stand here.
City children in the grip of fever
Chandigarh, July 17
With city hospitals being flooded with cases of children suffering from fever, some of them as young as one year old, doctors have advised parents not to panic and take their children immediately for consultation instead of self-medication. More than 50 per cent of the cases reaching the paediatric OPDs at city hospitals are those of fever.


Veggie prices shoot up, courtesy rain
Chandigarh, July 17
Due to a shortage in the supply of vegetables owing to heavy rainfall in the region, vegetable prices have shot up by about 50 per cent in past one week. The prices of vegetables have been affected primarily due to a shortage of stock. The prices of tomato, beans, lemon, ginger and onion have shot up. Supervisor of the wholesale market Balwinder Singh said, "Our local stock has almost finished and vegetables from neighbouring states (Punjab and Himachal) are in short supply as crops get damaged due to rain."

Police uses water cannons on Haryana youths
Chandigarh, July 17
A recently launched TV serial, "Jodha Akbar", led to a spate of protests in the city today, which ended after water cannons were used by the police on the protesters, leaving five youths injured.

The police uses water cannons on the protesters at Sector 25 in Chandigarh on Wednesday. A Tribune photograph



Noble cause: Employees chip in to marry off Nari Niketan inmate
Chandigarh, July 17
"A new world has opened up for me," said 20-year-old Geeta, an inmate of the Nari Niketan, after getting married to Dera Bassi-based businessman Rajesh Kumar at an old-age home in Sector 43 here today.


Geeta, an inmate of the Nari Niketan, and her husband Rajesh Kumar being blessed by a senior citizen after their wedding at an old-age home in Sector 43, Chandigarh, on Wednesday. Tribune photo: Parvesh Chauhan

School buses give safety norms the go-by
Chandigarh, July 17
Schoolchildren continue to travel in unsafe school buses and auto-rickshaws in the city. This despite the State Transport Authority, Chandigarh, issuing 217 challans to school bus operators for violating the safety norms set by the Supreme Court.
A bus of St Soldier's School, Phase VII, Mohali, plies with school's name not painted on it. Tribune photo: Vicky Gharu


Injured boys' condition critical
Chandigarh, July 17
The condition of the two boys, who sustained grievous injuries in an accident in Kharar on Tuesday morning, continues to be critical. While 10-year-old Amanpreet's condition has slightly deteriorated, Iqbalpreet (13) continues to be on a ventilator.


P'kula Admn shuts eyes to violations
Panchkula, July 17
Most school buses sans safety grills and ply packed to their capacity, putting lives of schoolchildren to a grave risk in Panchkula. The authorities concerned have shut their eyes to these violations.

A school bus without safety grills and an uncovered fuel tank inlet at Panchkula on Tuesday. Tribune photo: Nitin Mittal

Mohali vehicles sans safety grills, proper first aid kits
Mohali, July 17
Guidelines and directions given by courts as well as the Punjab Government norms on the plying of school buses are being flouted here, compromising children's safety. A team of Chandigarh Tribune found today that buses at different schools were not adhering to the norms.

The conductor of a school bus shows an expired medicine kept in the first aid box, at Mohali on Wednesday. Tribune photo: Vicky Gharu
19,040 children in P'kula govt schools found anaemic
Panchkula, July 17
In a survey conducted by the Panchkula Health Department, about 55 per cent children from all government schools in Panchkula were found to be anaemic. Hemoglobin test of all the students in Panchkula from classes 6 to 12 were conducted which revealed that as many as 19,040 out of the 34,424 students were anaemic, mostly girls.


Close shave for students as bus stop shed collapses in P'kula
Panchkula, July 17
Schoolchildren had a narrow escape when a bus stop shed on the road separating Sectors 9 and 16 collapsed today morning. Though no casualty was reported, it has exposed the state of affair in maintenance by the authorities.

The bus stop shed that collapsed on the road separating Sectors 9 and 16 in Panchkula on Wednesday. Tribune photo: Nitin Mittal

Monsoon weak in city so far
Chandigarh, July 17
The city received 68 mm less rainfall in the first fortnight of the current month as against the normal rainfall of 143 mm during this period near the airport. As per the met officials record, area near the Chandigarh Airport received 75 mm rainfall in the first fortnight of July.

A car crosses a waterlogged road in Chandigarh on Wednesday. Tribune photo: Parvesh Chauhan


GMADA to launch e-bidding for booth sites
Mohali, July 17
For the first time in Mohali, the Greater Mohali Area Development Authority (GMADA) has decided to sell booth sites in developed sectors through e-bidding. The process to implement the decision has started and it will take about a month before the scheme is opened to the public.
Programme on 'attitudinal change' for UT cops ends
Chandigarh, July 17
A three-day programme on attitudinal change for the Chandigarh Police personnel concluded today. Shashi Bhushan Sharma, Head-Operations, Vigilant India 247, who was the guest speaker, briefed about the contents of the programme.


Odissi dance performance leaves audience spellbound
Chandigarh, July 17
A performance of Odissi dance by Gurgaon-based dancer Vani Madhav at the Bhaskar Rao Auditorium in the Pracheen Kala Kendra, Sector 35, left the audience spellbound. Organised by the Indian Council for Cultural Relations in collaboration with the Pracheen Kala Kendra, Vani began her performance with Panchvati highlighting the importance of five elements of nature - Fire, Air, Sky, Water, Earth - on our lives and how man-made crisis is creating the whole problem.
Vani Madhav performs Odissi dance at the Bhaskar Rao Auditorium in the Pracheen Kala Kendra, Sector 35, Chandigarh, on Wednesday. Tribune photo: S. Chandan
BSNL contractual staff resent delay in salary disbursal
Chandigarh, July 17
Around 100 contractual employees of the Bharat Sanchar Nigam Ltd (BSNL) are doing round of offices to get their salaries even after the delay of about 15 days. According to the norms of the department, all the contractors, who have hired employees for various BSNL services, are bound to disburse monthly salary by the 7th of every month.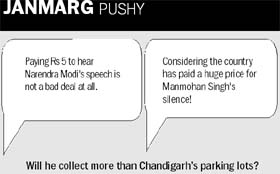 Mismatched blood liver transplants successful
Chandigarh, July 17
Lack of a donor with the matching blood group no longer remains a barrier to liver transplant. A team of Medanta Liver Institute has successfully conducted blood group mismatched transplants in India (called ABO-incompatible transplant).
Secretary visits GMCH
Chandigarh, July 17
Anil Kumar, Secretary, Medical Education and Research, along with Director-Principal, GMCH, and the representatives of the Urban Planning and Engineering Department, Chandigarh Administration, visited the Block-E of the GMCH, the Regional Institute of Mentally Handicapped, Sector 31, the residential area of the GMCH in Sector 48 and the site of Regional Trauma Centre, Sector 53, Chandigarh, here today.
Alert couple foils robbery at P'kula
Panchkula, July 17
A robbery at an elderly couple's house in Sector 8 here was foiled early this morning after the couple raised an alarm. Three masked men had just removed the grill when owner of the house Inderjit Bhatia heard some noise.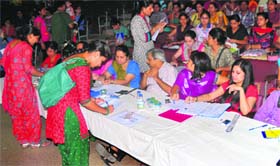 Admission time: Students take part in the BEd counselling at the Law Auditorium, Panjab University, in Chandigarh on Wednesday. Tribune photo: S. Chandan
Fee Hike issue
40 schools yet to furnish complete details
Chandigarh, July 17
Despite repeated reminders, nearly 40 local private unaided schools have yet not furnished their complete information regarding their academic and financial details to the three-member committee appointed by the Punjab and Haryana High Court, probing the issue of fee hike for UT.
Scramble for hostel seats at city colleges
Chandigarh, July 17
Apprehending the safety of their wards in paying guest (PG) accommodations, given the fact that merely five of them are registered with the Administration, parents of first-year students have flooded the hostels of the city colleges pleading for seats.
PU to adopt zero-tolerance policy against ragging
Chandigarh, July 17
Panjab University has decided to adopt a zero-tolerance policy against ragging in the current session. It has declared that any sort of ragging will be a cognisable offence and all forms of it have been banned inside and outside the campus.


10 get Amrita Sher-Gil Samman
Chandigarh, July 17
As many as 10 personalities of Chandigarh were today honoured with the Amrita Sher-Gil Samman at the Government Art Gallery and Museum, Sector 10, here. Conferred by the Chandigarh Lalit Kala Akademi, the award was given to them in recognition of their distinguished contribution to the field of art.
Artists pose for a photograph after the award ceremony conducted by the Chandigarh Lalit Kala Akademi at the Government Art Gallery and Museum, Sector 10, in Chandigarh on Wednesday. Tribune photo: S.Chandan
PU NOTES
Tentative merit list
Panjab University has declared the tentative merit list for admission to BA/BCom LLB (Hons) five-year integrated courses at the University Institute of Legal Studies (UILS), Chandigarh, Hoshiarpur and Ludhiana.
FROM SCHOOLS
Vanamahotsava celebrated
Vanamahotsava was celebrated with great enthusiasm by NSS Volunteers of DAV Model School, Sector 15-A. The pre-primary students of DAV-15 were apprised of the importance of trees for the existence and survival of mankind.