BJYM president Anurag Thakur being welcomed at a convention
in Hamirpur on Tuesday. (L) and Monkeys roam about on the Mall in Shimla on Wednesday. Photos: Amit Kanwar
BJYM plans to enroll one crore youth
Hamirpur, July 17
The Bhartiya Janta Yuva Morcha (BJYM) yesterday organised a convention to start a membership drive "Yuva Mitra, Yuva Sadasya" here, in which national president of the BJYM Anurag Thakur was the chief guest.
Govt to monitor vigilance bureau cases weekly
Shimla, July 17
The monitoring of the cases pending with the Vigilance and Anti-Corruption Bureau will be undertaken by the state government on a weekly basis to ensure proper progress in the investigation of the cases.
Pratibha seeks more flights to Shimla, Kullu
Shimla, July 17
MP Pratibha Singh today called on Union Civil Aviation Minister Ajit Singh in New Delhi and urged him restore the original runway length of 4,100 feet (1,189 m) of the Shimla airport.
New HPSSSB member takes oath of office
Hamirpur, July 17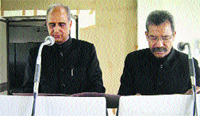 SR Mehta, newly appointed member of the Himachal Pradesh Subordinate Services Selection Board (HPSSSB), took the oath of office and secrecy at a function here today.


HPSSSB Chairman JK Chauhan administers the oath of office and secrecy to newly appointed member of the board SR Mehta in Hamirpur on Wednesday.
BJP, Cong in a spat over minister's availability in Dharamsala
Dharamsala, July 17
Supporters of Minister for Housing Urban Development Sudhir Sharma and former minister Kishan Kapoor have entered into a spat over the development of Dharamsala.
Non-gazetted employees' elections
Chamba, July 17 Satpal Thakur and Ajay Jaryal have been unanimously elected district president and general secretary, respectively, of the Himachal Pradesh Non-Gazetted Employees (NGOs) Federation here.
Staff overburdened, courtesy five new polytechnics
Mandi, July 17
Five government polytechnic colleges, started this year in five established institutes with 400 students, have stretched the infrastructure in these colleges to the limit, as labs and faculty are not enough to train even the original strength of students, leave alone the additional strength.
Shoolini, Ukraine varsity sign MoU
Solan, July 17 Shoolini University, Solan, has signed a memorandum of understanding (MoU) with Bukovinian State Medical University Chernivtsi (Ukraine) to establish and encourage cooperative relations between the two universities in education and research.
Pleur short-circuit incident was due to mechanical failure: Report
Chamba, July 17
The inquiry report with regard to the high-voltage short-circuit incident at Pleur village in Chamba district in May last, has pinpointed mechanical failure as the cause of the tragedy. During this episode, the domestic electric wiring of houses in the village was destroyed, thereby electrocuting four persons and injuring five persons.
Strike of cement firm's workers enters Day 2
Solan, July 17 The chain hunger strike of workers of the Darlaghat-based Ambuja Cements Limited entered its second day today. The workers are protesting under the joint banner of the Bhartiya Mazdoor Sangh (BMS) and CITU and demanding regularisation of employees who have been daily wagers for the past 21 years.
Students, staff of Baroh college to hold protest today
Kangra, July 17
Employees and students of Pandit Anant Ram Sanathan Dharam Degree College, Baroh, and other residents of the region have asked the government to take over the college or they will hold a symbolic agitation tomorrow. They said if their demand was not met before July 23, they would hold protests.
HC tells Govt Dental College to pay `25,000 for cancelling exam
Shimla, July 17
Expressing displeasure over the working of the Health Department, particularly the manner in which it had cancelled an examination for lecturers at Himachal Pradesh Government Dental College (HPGDC), Shimla, held on January 16 and 17, 2013, the HP High Court imposed Rs 25,000 fine on the state government.
Consumer forum returns complaint
Sundernagar, July 17
A Bench of the Consumer Forum, Mandi, headed by its president JN Yadav, has returned a complaint filed by Pupul Dutt Parshad, Superintendent of Police, Mandi, with regard to an excessive tariff bill issued by Bharat Sanchar Nigam Limited (BSNL), Mandi.
House collapsesin Mandi
Mandi, July 17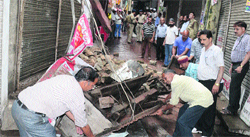 An old dilapidated house located in the Bhootnath locality of the town collapsed today. There was just one shop housed on the ground floor. No one was injured in the incident.



People at the Bhootnath Street in Mandi on Wednesday. Photo: Jai Kumar
Fake currency seized from Una brought from Thailand
Una, July 17
The fake currency seized from various parts of the district by the Una police recently had its roots in Thailand.
BCA student arrested, computer, printer seized
Solan, July 17
A team of the Mandi police today seized a computer, a printer and papers used to print fake currency notes from a computer shop in Nauni and arrested Sumit Bharat Bansal who was running it.
Two nabbed
Mandi, July 17
The Mandi police on Monday recovered fake currency worth Rs 36,500 from two men, identified as Deepak Sharma of Kamali, Ghumarwin, and Tarun Thakur of Damrog, Solan, who were roaming in the Jankheli area. They were arrested under Sections 489-A and 489-C, IPC, at Gohar police station.
Engineer jumps into Sutlej, dies
Bilaspur, July 17
Chandan Sood, an engineer at Darlaghat Ambuja Cement factory in Solan district, ended his life by jumping into the Sutlej from the Kandraur bridge, 15 km from here, yesterday. He was a resident of Bhawarna village in Kangra district.