Combat changing climate, and fast
Industrial greenhouse gases are commonly blamed for global warming. But agriculture too contributes 10 per cent of the load, of which 74 per cent comes from low-income countries. Punjab and Haryana can do their bit by taking up low-carbon-footprint practices.
Manjit S Kang
US President Obama's June 25 speech at Georgetown University in Washington DC and US Secretary of State John Kerry's speech on June 23 in New Delhi — both involving climate change — have put forth the challenges posed by climate change. Obama indicated that his climate change strategy included enhancing engagement with emerging economies such as India and China while Kerry emphasised that combating climate change and reducing poverty were intrinsically linked challenges. Putting things in an Indian context, he remarked: "When Himalayan glaciers are receding, threatening the very supply of water to almost a billion people; we all need to do better."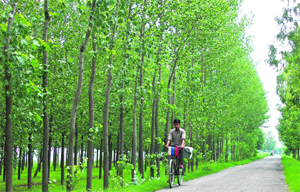 Trees, such as the poplar help to sequester carbon. Zero tillage and precision farming can cut agricultural greenhouse gas emissions. Tribune file photo: Himanshu Mahajan
The concerns are justified because in May 2013, the concentration of the major culprit of climate change, carbon dioxide, in the Earth's atmosphere passed the worrisome 400 parts-per-million mark, as recorded at the Mauna Lao Observatory in Hawaii. The consequences of global warming caused by carbon dioxide emissions include increase in mean temperature, unfavourable changes in precipitation (e.g., erratic monsoons), more frequent occurrence of extreme climatic events such as drought, flooding and coastal storms, and sea level rise. These events have cascading effects on food and livelihood security, shelter, and human health.
Emerging economies
There is fear that the economic growth of emerging economies will be constrained by limiting carbon dioxide emissions because increases in atmospheric concentrations of carbon dioxide are positively linked with economic growth. Total gas emissions decline in times of economic downturn. This was witnessed in western countries in the 1930s and 1980s, in eastern countries in 1990s, and internationally in 2009. On the contrary, in the 1950s, 1960s, and initial years of the 21st century, greenhouse gas emissions increased tremendously as during these periods, rapid economic development occurred.
Agricultural contribution to the GDP is much higher in developing countries like India and China. According to the World Bank, in 2010, the contribution of agriculture to the GDP in the US was only 1.2 per cent while in India it was 17.2 per cent. Agriculture provides livelihood to 40 per cent of the world's population that is able to work. In India, this proportion is around 60 to 70 per cent.
Agriculture contribution
Agriculture impacts global warming directly and indirectly. In developing countries, in addition to the production of carbon dioxide through the burning of fossil fuels, it is generated by the burning of agricultural biomass or stubble, farm yard manure usage, and aggressive tillage operations. Methane and nitrous oxide, the two other greenhouse gases, also cause global warming. Methane is produced through digestive activities of livestock, rice cultivation via flood irrigation, and heaps of farm yard manure. Nitrous oxide is produced from microbial activities and nitrogen fertilisers, especially when used in excess of requirement. Agriculture directly contributes 10-12 per cent of all greenhouse gases that are attributed to "human" activities.
Indirectly, these gases are produced via change in land use; for example, bringing forest land or wetlands under cultivation. The amount of gases thus produced is equal to that produced directly. Therefore, total agricultural contribution is about 24 per cent. A portion of the agriculturally generated carbon dioxide is used up in photosynthesis. At the global level, 74 per cent of all agriculturally generated greenhouse gases are contributed by low-income countries.
Food production
Research has shown that every 1°C increase in temperature would cause a 5 to 15 per cent yield reduction in maize in the US and Africa and in wheat in India. Shifts in geographic boundaries and frequency of crop insects, weeds, and pathogens are expected to occur. If atmospheric temperature were to increase by 5°C, food production in most countries would be expected to decrease and food grain prices expected to double. Increased temperatures could be beneficial for a few heat-loving crops such as melons, sweet potato and okra.
Effects of climate change on commercial forestry will be similar to those on crop production and natural forest ecosystems. Heat stress reduces milk yield, weight gain and reproductive activities. Production of meat and milk is projected to decline with increases of above 3°C.
Indian scenario
With the increasing population and climate change, demand for water will increase for agriculture, and other uses to meet food, fiber and energy-security needs of society. Sustainable supply of fresh water will likely to be adversely affected because of the rapid melting of major glaciers.
Research has shown that to maintain a good standard of living, renewable water resources capacity of 1000 m3 per capita per year is required for thriving economies. India's planners are using 250 m3 per capita per year to sustain its economy — half of what China plans.
In India, the heartland of Green Revolution (Punjab, Haryana and western UP) already face a serious ecological crisis because of exploitative and unsustainable use of natural resources, especially land and water. This agriculturally most productive area has been contributing almost 100 per cent of the wheat and around 67 per cent of the rice towards national food grain reserve in India. Punjab, merely 1.5 per cent in area of India, alone has been consistently contributing between 40 and 60 per cent wheat, and around 30 to 40 per cent rice to the national pool. Punjab (0.03 per cent global area) even figures prominently at the global level as it produces world's 3 per cent wheat, 2 per cent rice, and 2 per cent cotton.
The 'food bowl' states have paid a heavy ecological price in that they have severely depleted their underground water resources. Punjab alone has 13 lakh tubewells while China has 35 lakh and US 140 lakh for irrigation. In 2010, at the prodding of the Central Ground Water Authority, the Punjab Government had to ban tubewell connections for 300 villages in Sangrur, Moga and Ludhiana districts.
Scientific studies from Punjab Agricultural University have shown that combined availability of water from canals and rainfall and seepage is 3.13 million hectare metre per year, whereas water demand is 4.33 million hectare metre per year. The 1.20 million hectare metre per year deficit is met by overexploitation of water resources. Predictions for central Punjab are that mean water-table depth, which was 22.8 metres in 2006, will increase further to 34.2 m in 2016 and 42.5 m in 2023. Withdrawal of water from deeper layers requires increased amount of energy, which results in increased amounts of greenhouse gases and infrastructure.
A satellite study conducted by NASA during 2002-2008 estimated that underground water in Rajasthan, Punjab and Haryana was being depleted at a rate of 17.7±4.5 km3 per year. During the six-year study period, the total net reduction in water was 109 km3, which is twice the capacity of India's largest water reservoir on land.
In addition to receding water table in northwest India, soil health has been adversely impacted and air pollution has been rampant because of open burning of crop residue. Most of these problems can be attributed to a lack of suitable land-use and water-use policies.
A sophisticated WORLDCLIM-DIVA system has predicted Ludhiana's average annual rainfall to decrease by 75-100 mm (11 per cent) from the current rainfall of 600-800 mm between 2000 and 2050. Predicted change in average temperature of Punjab is more than 2.5°C between 2000 and 2050.
India's increasing population (166 crore in 2050) will put further stress on natural resources. To feed this population, India will need to increase its food grain production by 80 per cent from its current 253 million tonnes.
Adaptation strategies
The major options available to manage agricultural and livestock systems to reduce emissions are changes in feed and feeding practices, manure management and more efficient fertiliser application. Carbon footprint of agriculture can be reduced by sequestering soil carbon, shifting to crops with higher carbon storage potential, and reducing forest clearing for agricultural expansion. Conservation agriculture (e.g., zero tillage) and precision farming should reduce greenhouse gas emissions.
Efforts must be made to control population growth. Use of renewable energy (solar energy, wind energy and nuclear energy) must be incentivised. Much carbon can be sequestered by growing trees, along with crops, i.e., practicing agroforestry. Wetlands must be preserved as they can store three to five times more carbon than forest trees. Currently, Punjab only has a handful of natural (12) and man-made (eight) wetlands. Efficiency of water use must be enhanced by introducing innovative irrigation systems, such as drip irrigation.
Biochar (carbonisation of biomass) can be used to sequester carbon in terrestrial ecosystems. India could produce 309 million tonnes of biochar annually to offset 50 per cent carbon generated by the burning of fossil fuels.
Funds should be made available to strategically set up research centres of excellence for climate change to advance innovation and implement crop-adaptation strategies sustainably. Scientific grain storage is needed to prevent gas emissions from rotting grain.
Agricultural universities should focus on climate-resilient cultivars and crop-management systems. Adaptive traits with stress-resistance genes must be identified quickly through biotechnological techniques. Germplasm should be identified that can tolerate expected future biotic and abiotic stresses.
Most economists and policy analysts agree that putting a sufficiently high price on carbon dioxide emissions (carbon tax) would be the least costly remedy for significantly reducing emissions and the most effective incentive for bringing about innovation in technology.
— Former Vice-Chancellor, PAU, Ludhiana