Serve in govt hospitals for 5 yrs or pay fine, docs told
Chandigarh, July 12
For the first time, Punjab has handed over appointment letters to nearly 200 doctors who have completed their postgraduate courses recently, asking them to serve in state hospitals for five years or pay Rs 10 lakh fine for not honouring the admission bond.
Faridkot MP denied grant for not using development funds
Moga, July 12
The Union Government has for the time being stopped the release of fresh grant to Bibi Paramjit Kaur Gulshan, Lok Sabha member from the Faridkot constituency (reserve), under the Member of Parliament Local Area Development (MPLAD) scheme for 2013-14 for failing to submit 80 per cent utilisation certificates for the last financial year.


Ramoowalia meets Rajnath, raises concern over DU order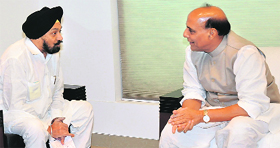 New Delhi, July 12
SAD leader BS Ramoowalia today called on BJP national president Rajnath Singh in New Delhi and demanded the withdrawal of a Delhi University order reducing the number of Delhi University (DU) colleges teaching Punjabi language. He said it amounted to 'linguistic discrimination'.

SAD leader BS Ramoowalia interacts with BJP president Rajnath Singh in New Delhi on Friday. A Tribune photo

Govt reluctant to implement food security scheme: Bajwa
Chandigarh, July 12
PPCC president Partap Singh Bajwa today alleged the SAD-BJP government in Punjab was running away from its responsibility to implement the food security scheme and playing mischief with the poor who would be benefited under the programme.
CM to honour those who did time with him
Muktsar, July 12
Chief Minister Parkash Singh Badal, who is scheduled to hold a three-day sangat darshan programme in Gidderbaha Assembly segment, is set to honour the families of those who had spent some time with him in jails.
Taipei delegation calls on CM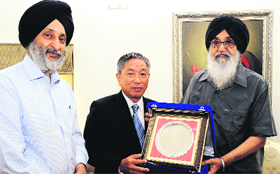 Chandigarh, July 12
A six-member high-level delegation led by CK Tien, Representative, Taipei Economic and Cultural Centre in Delhi, today called on Chief Minister Parkash Singh Badal and evinced keen interest in setting up joint ventures in the food processing and information technology (IT) sectors.

Chief Minister Parkash Singh Badal honours CK Tien, representative, Taipei Economic and Cultural Centre in Delhi, in Chandigarh on Friday. A Tribune photograph

Martyrs' memorial to come up in Amritsar
Rabbon Uchi (Ludhiana), July 12
The Punjab government will construct a memorial in Amritsar district to recognise the sacrifice of those Punjabi youths who died fighting the enemy from across the border.
Not looking for replacement for Amritsar LS seat: Kamal
Chandigarh, July 12
Kamal Sharma, state BJP president, today said the party was not looking for a replacement for the Amritsar Lok Sabha seat. He addressed a press conference after announcing a new team of the state Bhartiya Janata Yuva Morcha at the party headquarters here today.
State Cong executive list delayed
Chandigarh, July 12
There has been a long wait for the list of new office-bearers of the Punjab Pradesh Congress Committee (PPCC). It was expected that the Congress high command would release the list in the first week of this month.
Acid attack
Victim's counsel blames police
Moga, July 12
The counsel of acid attack victim Mandeep Kaur has blamed the Mohali police for ignoring her repeated pleas to register a case against her husband Harinder Singh, who allegedly threw acid on Mandeep on Thursday.
New plan for Patiala to ease traffic congestion
Patiala, July 12
Senior police officials today held a meeting with the Patiala Mayor to chalk out a plan to ease traffic congestion in the city.
Noted surgeon Dr Dhanwant Grewal passes away
Patiala, July 12
People from all walks of life today attended the cremation of Padma Shree awardee Dr Dhanwant Singh Grewal, here today.
May 6 violence cost us Rs 10 crore: SLIET
Longowal (Sangrur), July 12
The authorities at local Sant Longowal Institute of Engineering and Technology (SLIET) today said the losses suffered by the institute in the May 6 violence was around Rs 10 crore.
Kabaddi World Cup from Nov 9
Chandigarh, July 12
The fourth World Cup Kabaddi will be held from November 9 to 23. Deputy CM Sukhbir Badal said the inaugural function would be held at the multipurpose stadium in Bathinda while the teams would clash for the title at Guru Nanak Stadium, Ludhiana.


HC: Only court can penalise those evading octroi
Chandigarh, July 12
In a significant judgment, the Punjab and Haryana High Court has ruled only a criminal court can impose fine or penalty for articles brought within the municipal limits without the payment of octroi.


3 accused flee lock-up; 4 cops suspended
Kapurthala, July 12
Three accused facing robbery charges escaped from police custody by breaking through the ceiling of the Talwandi Chaudhriya police station early this morning.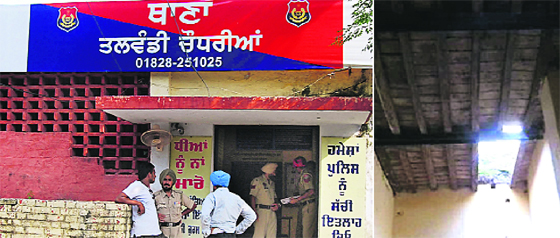 The Talwandi Chaudhriya police station from where three accused fled after breaking through the roof (right) of a lock-up in Kapurthala on Friday. Photos: Malkiat Singh
Cong activist held with 10-kg opium
Patiala, July 12
The Sangrur police claims to have arrested a Congress activist belonging to Patran for smuggling opium. The police said the accused had admitted to having procured the contraband from Madhya Pradesh and selling these to select clients at a liquor vend.