Night bus service to start after 30 years
Mohali, July 14
The Punjab Government will restart night bus service in the state after nearly 30 years. The service was discontinued during the period of militancy following the killing of bus passengers.
Tarn Taran linesman's family refuses to immerse ashes
Jalandhar/Tarn Taran, July 14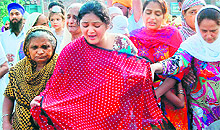 Punjab Pradesh Congress Committee (PPCC) president Partap Singh Bajwa today said the SAD-BJP Government was to be blamed for the suicide by an unemployed linesman.


Grieving wife of linesman Sarabjit Singh in Tarn Taran's Kazikot village on Saturday. A Tribune photograph





MLA skips Tota Singh's function
Moga, July 14
Rift appears to be wide open in the ruling SAD party in Moga district.This was evident when the Akali MLA from the Nihalsinghwala (reserve) constituency, Rajwinder Kaur, did not attend the ceremonial function for the newly elected sarpanches and panches of villages in her constituency held at Takhtupura village.




Mid-day meal scheme
Rollback move to train only literate workers: Cooks
Patiala, July 14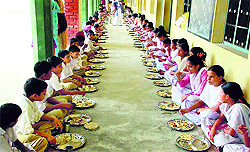 The Democratic Midday Meal Cook Front, Punjab, today criticised the decision of the Punjab Government to impart training only to those mid-day meal cooks, who have passed Class VIII, and demanded that the decision be rolled back immediately. Harjinder Kaur, state president of the front, said the overworked workers were paid a meagre salary of Rs 1,200 per month. She said the high inflation made it impossible for them to make both ends meet.

Use tensiometer to save water, farmers urged
Moga, July 14
In a bid to protect the depleting underground water table in the state, the Punjab Government has advised farmers to use underground water judiciously when irrigating paddy fields.

Thermal plants fail to meet central generation target
Jalandhar, July 14
All the three thermal plants in the state have failed to meet the power generation targets, set by the Central Electricity Authority (CEA), for the first quarter of the current financial year ended June 30.

State reeling under cuts
Jalandhar, July 14
Notwithstanding the tall claims by the state government, the power corporation has been imposing three-day weekly off on the general industry and rolling mills and four-day weekly off on arc/induction furnaces.

Post-graduation quota row
RMOs to boycott work from Aug 1
Patiala, July 14
The rural medical officers (RMOs) in state will boycott work from August 1 since the government has denied them postgraduate quota in all state medical colleges.

Prisoners continue to have access to mobile phones
Ferozepur, July 14
Despite measures taken to prevent smuggling of mobile phones inside jails, prisoners continue to gain access to these. As many as eight cases have been lodged against Central Jail inmates in the last few months for illegally possessing mobile phones. Around 15 handsets were seized in these cases.


Patiala, July 14
The cash-strapped Punjab Government has not paid wages to thousands of prisoners for the past eight months.The prisoners have threatened to start an agitation if their wages are not released forthwith. "Despite several reminders to the government, the prisoners are yet to get their wages. Some of them lodged in the Patiala and Ludhiana jails have threatened to go on an indefinite fast," said a senior jail official.

Wagah check post in for new look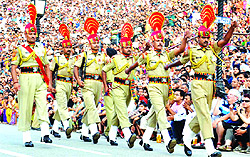 Amritsar, July 14
The Border Security Force (BSF) will soon acquire six acres of land at the Attari border to beautify the famous retreat ceremony spot at the Attari-Wagah check post that draws thousands of tourists from across the country every evening.



A view of the retreat ceremony at the Attari-Wagah border near Amritsar. Photo: Vishal Kumar

Police yet to trace missing Ludhiana man, his driver
Ludhiana, July 14
The Doraha police is yet to trace the whereabouts of local resident Manish Bharara (30) and his driver Hem Raj, who went missing from National Highway-I near Doraha last night.
'Udaan' set to be launched in 870 govt schools today
Sangrur, July 14
A project to increase the general knowledge of students in 870 government senior secondary, high and middle schools of the state will be launched tomorrow. This project named 'Udaan' will raise the awareness of students about current national and international affairs. This will further help them prepare for competitive examinations after passing Class X and Class XII.
Bassi Pathana residents object to selective road repair
Bassi Pathana, July 14
Local residents cried foul today as selective streets in the town were being remetalled.
Residents irked as fire tender returned to Fazilka
Abohar, July 14
Over 12 NGOs besides 1.75 lakh residents of the sub-divisional town felt cheated as the fire tender that was shifted from Fazilka to Abohar to "foil the protest by the joint action committee of the NGOs" was sent back to Fazilka this evening.
Citrus Council owes Rs 4 crore to farmers, HC told
Chandigarh, July 14
Accepting that it is to pay Rs 4.10 crore due to farmers as lease money, the Citrus Council has submitted an affidavit informing the Punjab and Haryana High Court that the Finance Department has been requested to release funds.
Despite HC order, police yet to upload FIRs
Mohali, July 14
Despite directions from the Punjab and Haryana High Court, the Punjab Police is yet to uploading FIRs (first information reports) on its website.
Woman, kids jump into canal
Muktsar, July 14
A woman along with her son and daughter allegedly jumped into the Malukpura minor to end lives near Alamwala village here today. The body of the woman, Sukhpreet Kaur (25) and her daughter Ekta (7), were fished out of the canal, but her son Arshdeep (5) was yet to be found.