'Inclusion in NCR will bring development to Bhiwani'
Bhiwani, July 14
Taking the credit game of the inclusion of Bhiwani and Mahendragarh in the National Capital Region (NCR) one step ahead, Haryana minister Kiran Choudhry yesterday advised all ministers and chief parliamentary secretaries from the two districts to demand the area's due share of development from the government.
Murder bid foiled, four arrested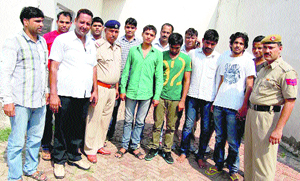 Rohtak, July 14
Timely intervention and alertness on the part of the police resulted in averting a shootout on the MDU campus yesterday. While four persons were arrested during the joint operation of the Rohtak and Delhi police, it resulted in recovery of four firearms and a large number of live cartridges from the accused.
The four persons arrested from the MDU campus in Rohtak on Saturday. Photo: Manoj Dhaka

Over 100 school students rounded up, let off
Gurgaon, July 14
The Gurgaon police today arrested the manager of a pub on the MG road here for hosting a cocktail and hookah party for school students. The 'Sex and Smoke' party had over 100 students from prominent schools consuming liquor and hookah. They were rounded up and allowed to go after their parents came to the pub.
Big projects to boost growth in Bawani Khera
Bhiwani, July 14
Chief Minister Bhupinder Singh Hooda laid the foundation stone of 23 projects and inaugurated four others during his visit to Bawani Khera in Bhiwani district yesterday. Fulfilling the longstanding demand of women's college in the area, Hooda laid the foundation stone of the college building to be constructed at a cost of Rs 11 crore. The stone, however, was laid at the college site, which was not among the 27 projects initiated from the meeting venue.
Brass objects found at village in Hisar
Hisar, July 14

The police has seized two brick-sized metal objects recovered while digging a pond at Gangwa village in the district yesterday. Village residents termed those as gold bricks, but the police said those had archaeological significance and handed those over to archaeological officials today. A group of women struck upon the metal objects while digging the water body under the Mahatma Gandhi National Rural Employment Guarantee Scheme.
Brass objects found at Gangwa village in Hisar district on Saturday. Photo: Manoj Dhaka

60% state population to get food security: Deepender
Sonepat, July 14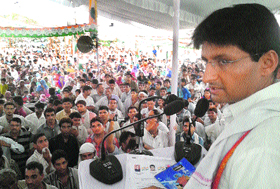 The Congress MP from Rohtak, Deepender Singh Hooda, today claimed that around 60 per cent of the state population will benefit from the food security programme that would be launched for the poor section of society from August 20. He was addressing a public meeting at Khewra village in the Rai assembly constituency.
MP Deepender Singh Hooda addresses a public meeting at Khewra village in Rai on Sunday. Photo by BS Malik

No certified wheat seed for farmers this year
Kurukshetra, July 14
Farmers in Haryana are not likely to get certified wheat seed for sowing this year. A decision to this effect was taken by the Haryana Seed Producers Association in its meeting under the chairmanship of Pal Singh Dhaliwal here.
Rs 12 crore sanctioned for horticulture, irrigation
Panipat, July 14
Horticulturists in Panipat district will get Rs 8.58 crore as subsidy for conservation horticulture, raising orchards and floriculture while Rs 3.54 crore will be spent on minor irrigation during 2013-14. The budget was approved at a meeting of the National Horticulture Mission and Minor Irrigation Committee held under chairmanship of RS Verma, Additional Deputy Commissioner (ADC), Panipat.
Man found dead under mysterious circumstances
Panipat, July 14
A 35-year-old man of Dahar village in the Israna area in Panipat was allegedly murdered and his body was found near the bypass yesterday morning. This was the third murder in Israna during the past fortnight.
1 held on rape charge
Rewari, July 14
The Khol police has arrested Ajit on the charge of raping a Dalit woman at Buroli village, about 15 km from here, in the third week of March. The 42-year-old accused was today produced before the Duty Magistrate, who remanded him in judicial custody.
PACS employees to get incentive
Chandigarh, July 14
Chief Minister Bhupinder Singh Hooda has granted approval to recovery-linked incentive to the employees of the Primary Agricultural Cooperative Societies (PACS), which will directly benefit about 4,409 employees.
Woman withdraws rape complaint
Hisar, July 14
Two days after she sat on dharna alleging rape by her husband and six other persons, including a policeman, a woman withdrew her complaint and tendered an apology for filing a wrong complaint with the police.
New Deputy Registrar
Rewari, July 14


With her appointment as Deputy Registrar (legal cell) of Jawahar Lal Nehru University, New Delhi, Dr Abha Yadav has brought laurels to the Kosli region and the Ahirwal region. She is the granddaughter of late Subedar Jai Karan Singh of Kosli, a Kirti Chakra winner. — OC