State, ESIC college yet to sign MoU over start of course
Mandi, July 14
The state government and the Employee Service Insurance Corporation (ESIC) has yet to sign an MoU over attaching of the 300-bed Mandi Zonal Hospital to the ESIC medical college to start the first batch in 2014. The ESIC has yet to apply to the Medical Council of India (MCI) to start its first batch in 2014.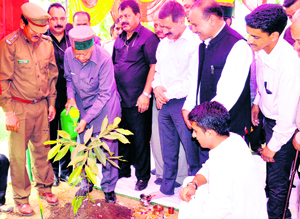 Virbhadra orders probe into sale of carton machinery for a song
Shimla, July 14
Chief Minister Virbhadra Singh today said he had ordered an inquiry into the sale of carton-making machinery from the Gumma factory for a mere Rs 2 crore, which had been re-assembled and was being used for making cartons being supplied to apple growers in Himachal.

Chief Minister Virbhadra Singh plants a sapling during a Van Mahotsav function at Shamlaghat near Ghanati in Shimla district on Sunday.

No consensus reached between CM, Sukhu
Shimla, July 14
The aspirants for the posts of chairman and vice-chairman of boards and corporations might have to wait for some more time as no final decision could be taken at a meeting that took place late night between Chief Minister Virbhadra Singh and state Congress chief Sukhwinder Singh Sukhu.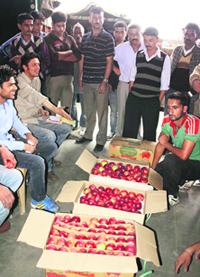 Orchardists sell their produce at a wholesale apple market in Shimla on Sunday.

Encroachments squeeze Palampur roads
Palampur, July 14
The increasing encroachments on state and national highways has become a matter of concern. The Pathankot-Mandi national highway passing through the town is being squeezed day by day because of large-scale encroachments, making it difficult to drive.
Drinking in public places on the rise in Palampur
Palampur, July 14
The illegal sale and consumption of liquor in public places has become a matter of serious concern. In the absence of any check from the state Excise Department, liquor is openly served in private hotels, dhabas and other restaurants.
IGMC may get 50 more seats in MBBS this year
Mandi, July 14
The state government has sought permission from the Central Government to add 50 seats to the MBBS programme at Indira Gandhi Medical College (IGMC), Shimla. The college now has 100 seats in the programme.
Pensioners seek DA instalment
Nurpur, July 14
The local unit of the Himachal Pradesh Government Pensioners Association convened its meeting here yesterday. It was presided over by its patron JC Kanwar. The association urged the state government to release the dearness allowance (DA) instalment to pensioners in the state due to them since January this year. The association, while thanking the government for fixing the monthly medical allowance at Rs 350, urged it to revise it to Rs 500 on the Punjab government pattern.
Pension revision sought from 2006
Bilaspur, July 14
The Bilaspur unit of the HP State Pensioners Welfare Association has resented the removal of pension anomaly by the government from April 1, 2013, instead of January 1, 2006, the date from which this anomaly was removed by Punjab.
Electricity board restores supply to 1,200 street lights
Bilaspur, July 14
The HP State Electricity Board restored power supply to some 1,200 street lights of Bilaspur town on Friday evening, after giving eight dark nights to thousands of residents here.
Heavy rain likely in 48 hours
Shimla, July 14
After some respite from rain during the last one week, the Meteorological Department has warned of heavy rainfall at isolated places in low and middle hills during the next 48 hours.
HC sets aside JBT teacher's transfer order
Shimla, July 14
The Himachal Pradesh High Court has set aside and quashed the politically recommended transfer order of Bhawana Sharma, Junior Basic Teacher, at Government Primary School, Mahadev (Mandi).
Mild tremor hits Kangra valley
Dharamsala, July 14
An earthquake of mild intensity struck Kangra district late last night. Sources said the earthquake of 4.5 intensity on the Richter scale had its epicentre in the Kangra valley. Though no damage was reported to life and property, it created panic among people.
Man dies in road mishap
Mandi, July 14
Munish Kumar, a resident of Kot, died while his two friends Dharmender and Ravi sustained injuries when the motorcycle they were riding was hit by a speeding truck at Nalsar last evening. The police has lodged an FIR against the unidentified truck driver under Sections 279, 337 and 304-A, IPC, and 187, the Motor Vehicle Act, at the Balh police station today. The police said Munish was declared brought dead at the Ratti hospital by doctors. The police was hunting for the truck driver, who had sped away from the spot after hitting the bike (HP31A-5359). — TNS
Leopard found dead
Bilaspur, July 14
Residents of Baroha village were surprised to find a dead leopard on the Bhagedh-Jhandutta road, under Gaaliyan gram panchayat, 40 km from here, yesterday. Reports said villagers informed Forest Range Officer Nand Lal, who arrived on the spot with other officials. They carried the corpse of the leopard to nearby Gehadwin Animal Husbandry Dispensary where the doctor performed a postmortem examination on it. Lal said the leopard was about one-and-a-half-year-old and had been killed by a gun fire shot. — OC
Girl stung by wild wasps
Bilaspur, July 14
Divya (20), daughter of Saai Chadog village, near Gambhar bridge, 35 km from here, was injured when a colony of wild wasps attacked her near her village yesterday. Reports said Divya was cutting grass in her fields when wasps attacked her. She was taken to the nearby Suharghat Primary Health Centre where her condition was said to be stable. — OC
Man, wife hurt in car accident
Chamba, July 14
A man and his wife were injured when a vehicle collided with their car in the town last evening, a police report said here today. The report said the injured Bhaskar Sehgal and his wife had been admitted to a local hospital. The police has registered a case under Sections 279 and 337 of the Indian Penal Code (IPC) at the Chamba police station. — OC
Man held with stolen material
Chamba, July 14
The police arrested one person along with construction material, while another fled the site of the government college building at Sultanpur in Chamba on Thursday. On a complaint of Madan Lal, a chowkidar of the college, a police party reached the college and nabbed a man identified as Rinku. On seeing the police, his accomplice Pappu fled. A case has been registered at the police station Chamba. — OC