The tribune DEBATE asli vs naqli chandigarh — part x

'Naqli will add to Asli Chandigarh's burden'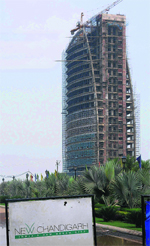 A high-rise building under construction in New Chandigarh. Tribune photo
With the Punjab Government announcing setting up of New Chandigarh — a new concrete reality dangerously close to the original city — questions are being raised about the cost involved both in terms of the impending loss to the eco-fragile Shivaliks as well as the burden that the new township will put on the City Beautiful.
But the Punjab Government is pressing ahead. The government says the new township will boast of world-class facilities such as a state-of-the-art medi-city, spa village, edu-city, golf course and other recreational facilities.
Punjab's controversial project has become a talking point among the general public, town planners and architects after The Tribune ran a debate on various aspects of the issue and how it posed a danger to Chandigarh's already strained infrastructure. In this, the last of the series, The Tribune presents arguments and concerns of prominent personalities of the region.
Rajan Kashyap, Punjab ex-Chief Secretary
T

he concept of 'New Chandigarh' is akin to an ambitious bird strutting in borrowed feathers. If the township was fundamentally sound and innovative in its vision, mission and design, it would not need the prop of brand name Chandigarh.
Worse, the design of the new township, as gathered from media reports, departs considerably from the rigorous discipline enjoined for the capital complex, not least in respect of authorised high-rise buildings. Thus the bird, even as it plagiarises the big name, might fly unfettered by strict controls applicable to City Beautiful. This might well spoil the skyline for even the citizens of the 'old' city.
According to Corbusier's grand design, which had legal authority, no urban construction was to be allowed within 16 km of the outer boundary of what is now the Union Territory of Chandigarh. Even while Mohali, Panchkula and Chandimandir are infringements of the original master plan, these three settlements bear their own names. They do not discolour the borrowed feathers as the township with the evocative name is likely to.

Justice Jawahar Lal Gupta (retd), Ex-Chief Justice of Kerala HC
By naming Mullanpur as New Chandigarh, the state will be making money but it has to be seen whether the people would get basic amenities like water and electricity properly. Already, there is shortage of water and electricity. The idea behind planning of Chandigarh will be totally lost. The ecology of the area is a matter of concern and account of all the concerns has to be taken.
Air Marshal RS Bedi (retd)

The Punjab Government's move to create New Chandigarh will damage Chandigarh's legacy and the unique status it enjoys. Why associate a new township with Chandigarh's name in the first place? New Chandigarh also envisions a totally different architecture with high-rises that would ruin Chandigarh's skyline.
Then, there also is a political and bureaucratic angle to the whole thing with deep vested interests involved in acquiring land and subsequent real-estate development. Further down the road, there are a host of socio-economic and infrastructural issues like road links, civic amenities and availability of jobs as well as environmental concerns.
One will also have to look if suitable educational institutes and employment opportunities will be available there or whether people will have to commute long distances. The new township is coming up in an ecologically fragile area in the foothills of the Shivaliks. It will further degrade the green cover.
Maj Gen Rajendra Nath (retd)

New Chandigarh would border the existing city of Chandigarh to its north and south, resulting in an enlargement of the urban sprawl. This is bound to have a serious impact on the overall administration of Chandigarh. Water, electricity and road connectivity are issues of prime concern.
The new township will add to the population which has to be looked after and its social and economic needs have to be addressed. This is an issue of prime concern. If there is no industry, people there will be dependent on Chandigarh for jobs. This will create additional burden on the already inadequate road infrastructure, causing heavy traffic snarls and consuming time and fuel. New Chandigarh will definitely affect the existing city of Chandigarh and add to its administrative complexities without giving anything in return.
Both Punjab and Chandigarh need to sit together and jointly work out the future modalities pertaining to provision of civic amenities, communication and industry so that the infrastructure and socio-economic structure of the urban complexes does not fall prey to adhocism and unplanned development.
MN Sharma, Ex-UT Chief Architect & Corbusier associate

The naming of Mullanpur as New Chandigarh is a move to cheat people. Already, Mohali and Panchkula have come up in violation of the New Capital Periphery Control Act. But by naming a place or extending a settlement does not make the difference. Compared to Mohali, the planning of Panchkula is much better.
Naming another city after Chandigarh is not a healthy sign when another government does it. Chandigarh Administration officials may consider taking up the matter with the Punjab Government. The city's master plan must take account of what is happening in the periphery.
This is not a coordinated development of the city under the regional master plan. It will put burden on the city. Ultimately, the city is going to bring more people to Chandigarh by way of public transport like metro. The government should appoint an independent team of architects to study the entire issue.
Pawan Kumar Bansal, MP, Chandigarh
In my opinion, a city so close to Chandigarh should not come up. City Beautiful has the credit of being the only planned city in the country. Bringing the new city close to Chandigarh will certainly put pressure on Chandigarh. The haphazard growth of Zirakpur is a classic example of planning going haywire.

The new city should be planned 40 km away from already urbanised centres and they should act as counter-magnet centres that attract people away from Chandigarh. The transportation network between such cities should be enough to handle passenger load.
Instead of Mullanpur, Punjab should have planned the new city at Anandpur Sahib, Morinda or at a distance from big towns in the state. The area where the city has been announced is an eco-sensitive zone.
The step to rename Mullanpur as New Chandigarh is certainly a step to give impetus to realtors and builders. As a result, buying a house in and around Chandigarh has gone out of reach of the middle class. Only building cities away from already urbanised areas will keep prices in check.
Jeet Malhotra, eminent architect & Corbusier associate

Chandigarh has to be saved at any cost. The move to name the new city New Chandigarh is ill-conceived. It is land mafia at work. The architects who tow the line of the land mafia become rich and others are left out of the race.
We should learn from the disaster in Uttarakhand as lack of planning can lead to tragedies. Chandigarh's master plan is complete as it has taken into account the issue of comprehensive development at the micro and macro level. We should make every effort to save Chandigarh at the national and international level.
Prof Jagjit Singh Ghuman, Ex-Chief Town Planner, Punjab

Cities cannot be static. These have to grow. In case of Chandigarh, it is just an area of 114 sq km and there is no scope for expansion. As a result, the adjoining states are exploiting the situation. Even the Central Government exploited the situation by setting up Chandimandir Western Command.
In a situation when land is limited, it makes sense to go vertical provided the government ensures regulated development. It is a normal phenomenon for developmental growth to slowly move out of the old or established cities...it is inevitable. As Chandigarh is developing into a metropolis, peripheral areas are prone to growth. But people or private developers should not be allowed to undertake haphazard development as has happened in Ziarkpur...the government must intervene.
Like Mohali, Mullanpur would be a polycentric growth centre. As New Chandigarh is contiguous with Chandigarh, it has all the inputs and ingredients for growth and infrastructure development. But again, the government has to regulate the growth and keep the eco-fragile characteristics of the area in mind. Adequate provision has to be made to ensure that the natural course of small and big seasonal rivulets in the area are maintained and adequate space along their banks be developed as green areas. Private builders should not be allowed to eat up such land.
Naming Mullanpur as New Chandigarh is a political decision. Naming a city is very important as it builds its character. It is good approach to call it New Chandigarh as it will give the place a fine character and make it liveable. The example of naming Mohali as Ajitgarh or SAS Nagar has created confusion in mind of the public, especially outsiders.
Kishanjit Singh, UT ex-Chief Engineer

As the population pressure has increased manifold, the need for wide roads, more houses, more power and electricity, higher capacity sewage treatment plants is being felt. At the same time, the ecological balance has to be maintained. In such circumstances, there is no harm in coming up with new townships. But it must be ensured that the heritage importance of the city is not disturbed.
In case of New Chandigarh, those moving to destinations like airport, railway station and the Inter-State Bus Terminus would use Madhya Marg and other roads, thus increasing the vehicular density on city's roads. This will result in more traffic jams. The Punjab Government must ensure that it provides more accesses, especially alternative roads, to airport, bus stand and railway station so that Chandigarh roads do not get congested. Punjab must ensure that the normal life of city residents should not disturbed.
The issue of increasing population density in the upcoming city will certainly have regional consequences.
Brig Harwant Singh (retd), President, All-India Defence Brotherhood

The Punjab Government's decision to create a new township at Mullanpur and naming it New Chandigarh is wrong. Many politicians, bureaucrats and other bigwigs, by mutual connivance, have converted their rural land, bought earlier, into prime urban property whose value will get enhanced hundreds of times. Naming it New Chandigarh amounts to intellectual dishonesty as it seems to be designed to lure more people into buying these properties.
The burden of the population of this new township will be borne by the infrastructure of Chandigarh, be it health, education, recreation and other facilities. The existing civic infrastructure of Chandigarh is already bursting at the seams as its population is many times more than what the city was planned for, not to mention vast slums created as 'vote banks' for vested interests. Rather than developing townships around Chandigarh, these should be evenly distributed in the entire state at places like Sunam, Mansa, Tarn Taran etc.
Manmohan Jit Singh, Punjab ex-Chief Engineer
New Chandigarh will not affect Chandigarh. Rather, it will be a better township as population pressure cannot stop the march of urbanisation. It will not put pressure of water and electricity on Chandigarh.
On the pattern of Punjab, Haryana is coming with townships in Panchkula extension and Pinjore. Himachal Pradesh has developed a town at Baddi. The new city will complement Chandigarh and the services will not be affected. Mass transportation systems like metrorail will boost the economy.
If Punjab moves its offices out of Chandigarh, there will be vacuum in the city. The city just has 144 sq km area whereas Punjab has a large area. On the pattern of National Capital Region, Chandigarh region is developing into a state capital region.
Ananta Singh Raghuvanshi, Director (Sales & Marketing), DLF Ltd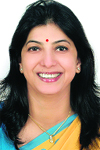 The planning and infrastructure of Chandigarh has inspired each one of us since the time of its inception. However, as land becomes scarce and the desire to own a home in the vicinity increases more than ever, there is an inspiration to take the legacy forward by creating its satellite town with similar infrastructure and a new vision. Just bordering Chandigarh is this new vision called 'New Chandigarh'.
Satellite towns are a natural progression in any big city's lifecycle. Gurgaon and Noida to Delhi, Navi Mumbai to Mumbai, Sikandarabad to Hyderabad are examples of how cities have expanded. Each of these satellite towns has an independent infrastructure.
New Chandigarh is being designed with a futuristic town-planning approach. The vision to make it self-containing will make it progressive and non-dependent on any other city. In fact, in the long run, it is poised to be one of the major contributors to the region's economy.
Hyde Park Estate, the DLF township, is designed keeping in mind low population density norms. It has acres upon acres of open and green areas. It is an environmentally conscious township with provision for rainwater harvesting, solar panels for street lighting and use of recycled water for irrigation purposes.
Asli vs Naqli, Open debate
The Tribune invites its readers to voice their opinion on the Punjab's Government's decision to develop Mullanpur as New Chandigarh. Selected letters would be published in the paper. Readers can send their concise views to: editorinchief@tribuneindia.com or Editor-in-Chief, The Tribune, Sector 29-C, Chandigarh 160030