Even though urban spaces breed disintegration at multiple levels, they attract a large number of migrants for their liberalism and the economic opportunities they offer

Maximum city — maximised people
Rajesh Gill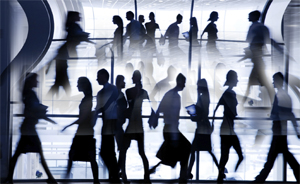 The largest of cities have continued to attract the rural as well as urban migrants, their unlivable conditions and congestion notwithstanding. 'City' for every one; a rural migrant, an academician, a policy maker — primarily means a big city, usually a million-plus or a mega city, with a huge population, skyscrapers, glamorous malls, institutions of higher education, expanded markets, seats of power and a rich infrastructure. When, for instance, a student in a remote village of India after completing education plans to try his luck for a job in a city, s/he thinks of Mumbai, Delhi, Bangalore, Calcutta, Chennai and not of Rohtak or Hoshangabad or Agra.
The academic fixation on the largest cities is similarly evident from the preoccupation of our policy makers with these cities. "…much of the current policy debate and media discussion on the problems of slums and deficiency of amenities is restricted to a few large cities. The fact that greater attention is paid to these cities in the policies and programmes for poverty alleviation and provision of amenities can possibly be explained in terms of strong vested interests in favour of larger cities. These cities have greater visibility and consequently get selected for slum improvement and poverty alleviation programmes by international and national agencies." Says a report by Amitabh Kundu and Sutinder Bhatia
Big cities mean big money
In the era of liberalisation, both private and public investments have further been concentrated in the large metros, leaving the small towns in a greater state of neglect. Given the fact that life opportunities are positively associated with the size of the city, it is but natural for such cities to experience a burgeoning growth in population. The substantially better financial status of the municipal bodies of metros is another important factor leading to a top heavy urban structure in India. Having established by numerous studies that the wages go on rising as one moves higher in urban hierarchy and further with the coming in of ICT revolution, there is a craze among youth, in search for well paid jobs, heading for the metro cities, if not across borders. It is the largest of the cities that continue to fancy everyone, i.e. the rich and poor, men and women, skilled and unskilled, educated and illiterate, rural and urban, and so on. Further, since these cities also happen to be the seats of power, in political, cultural and financial terms, they tend to grab a large chunk of State and Central government funds for infrastructural development.
Consequently, these cities land up with the best of roads, schools, colleges, universities, courts, markets, malls, cinemas, industries, banks, hotels etc., making them still more preferred. It is ironical that despite their enormous contribution to the environmental havoc created by heavy traffic, industrial pollution, heaps of garbage etc. the large metros happen to be the torchbearers for the international agenda of Green Cities.
Despite the persistent emphasis by urban planners upon the expansion of small and medium towns, rural migrants have continued to throng the largest cities, rendering the phenomenon of step-migration, so characteristic of initial phases of urbanization redundant.
Cities and cultural flavour
Toennies in his masterwork "Gemeinschaft and Gesellschaft" talked about the (large) city characterised by disunity, rampant individualism and selfishness in contrast to the village characterised by social cohesion and communitarianism. According to Toennies, within the Gesellschaft character of the modern city, there existed a rational and calculating attitude among inhabitants, primarily concerned with their own self interest, to "look out for Number One." Toennies' ideas of the modern city get very well reflected through a poem of Robert Crowley,
"And this is a city, in name but in deed
It is a pack of people that seek after meed (profit)
For officers and all, do seek their own gain
But for the wealth of the Commons, no one taketh pain
And hell without order, I may it well call
Where every man is for himself and no man for all."
In his remarkable work "The Metropolis and Mental Life" Georg Simmel describes the impact city life has on the mental temperament of the individual. He argued that due to the multiple stimuli offered by the city, there is an "intensification of nervous stimuli" with which the urban dweller learns to cope. Just like Toennies, Simmel too treats city life as more rational and calculating. Simmel wrote as early as in 1964:
"If all the clocks and watches in Berlin would suddenly go wrong in different ways, even if only by one hour, all economic life and communication of the city would be disrupted for a long time."
Due to the very large population and density, Simmel argued that urban dwellers developed an indifferent and apathetic attitude, conceptualised by him as "blasé" attitude, full of detachment. He felt that people in a city responded with their "head" as against their rural counterparts who acted with their "heart". He further wrote:
"….under certain circumstances one nowhere feels as lonely and lost as in the metropolitan crowd."
The urban divide
An enormous body of literature points out at the futility of using 'city' as an insulated category while in fact it is a highly differentiated space, contextual in character, offering different things to different people residing in it. For instance, the recent report on 'State of the World's Cities 2010/2011, Bridging the Urban Divide' by UN HABITAT (2008) forcefully underlines the phenomenon of 'urban divide', more visible in relatively less developed countries of the world. It says that the spatial divide in the cities of developing countries does not just reflect income inequalities among households; it is also a byproduct of inefficient and poor urban planning. It further states that the access to "urban advantage" is greatly determined by the socio-cultural factors apart from the formal land and labour markets.
The urban divide between the rich and the poor, between those who enjoy the 'shopping malls' and those who are penniless, has thus gradually led to social exclusion, by pushing the poor and marginalised to the periphery not just in terms of spatial city but even in terms of access to life opportunities offered by the city. Such an unequal access to the 'urban advantage' especially in developing countries has led to the challenging of the exclusionary urban development, asking for "right to the city". In some places, it has been used as a theoretical and political framework focusing on enforcement, empowerment, participation, self-fulfillment, self-determination and various forms of human rights protection at the city level.
A layman's perception of 'City'
Quite interestingly, a lay person's perception of a city in terms of 'large' or 'small' has no connection with the size or other formal census categorisations. For instance, Chandigarh, which is now a metropolitan city as per Census-2011 and is the most modern and planned Indian city, was treated as a small town till recently, not because of its size but primarily because it did not have the social and cultural flavour of a large city. For the youth it was and still is a dead city while for the professionally qualified it is no match for cities like Bangalore, Hyderabad, Delhi and Mumbai. At the same time however, Chandigarh remains an attractive destination for the rural youth of Punjab and Haryana, primarily from humble backgrounds, due to the glamour and 'fast' life that exists here.
To conclude, cities continue to be the preferred destinations for migrants primarily because of the relatively secular and anonymous ambience offered by them. As one scans through the popular conceptions of cities being a breeding ground for broken families, increasing divorces, gender violence, child abuse and social disparities, one is led to assume as if smaller urban settlements would be just the opposite, a heaven to live in. But empirical evidence does not substantiate this assumption and the fact remains that it is the same cities — full of crime, insecurity, apathy and social disorganization, that continue to pull migrants towards them, either for the better money offered here, or the relatively secular ambience where one can breathe more easily than in a village or a small town. Despite these cities being projected as a case of 'urban divide' or 'dual cities' for the huge disparities existing within them in terms of access to urban opportunities, these continue to be a haven for those struggling to get rid of their age-old social disabilities.
The writer is Professor, Department of Sociology, Panjab University, Chandigarh
City liberates
The ethnographic accounts of people in their reading of towns in cities are varied.
I love to be a part of this crowd!
For a group of women, married to men living and working in Mumbai, hailing from Punjabi families, mainly in and around Delhi, Mumbai is the place they love to be in. They hate the thought of going back permanently to Delhi and getting settled there due to its 'small town' culture. Since most of their kinsmen stay in and around Delhi, especially those of their husbands, they feel imprisoned once they land there, completely robbed off their liberty and freedom. While in Mumbai, they feel free. They could wear and eat anything they liked, remain out of home any time of the day or night, without any fear of being quizzed. They loved this freedom of a metro, which was absolutely absent in the small town culture of Delhi.
A Heaven called Chandigarh
For scores of young agile boys who have been born and brought up in remote villages of Punjab; who have been sweating out in the scorching sun while working in the fields, fascinated by the glittering urban world on television and cinema, Chandigarh is the destination. For them, living in Chandigarh means enjoying freedom from the shackles of village life, the toil and sweat; it also implies eating noodles, pizzas and burgers and wearing western attire and enjoying dating. For them, Chandigarh is an ideal city.
Creating new identities
It is only the largest of the cities where a migrant having been burdened through generations by the caste, income and occupational stigmatized identities can escape into a state of individual freedom. For thousands of men and women coming from remote villages and small towns of Uttar Pradesh, Bihar, Chhatisgarh or even Punjab and Haryana, having grown up under the clutches of caste ethnocentrism and poverty, a metro offers a space where it is possible for them to create a new identity. The Universities and Colleges of Indian metros are today brimming with thousands of such young boys and girls struggling hard to get out of their traditional social handicaps and write their own biographies.