The colour of travel, a global story
Due diligence at the time of issuing travel documents can prevent harassment on arrival
Meera Dewan
ELEVEN-year-old Saagari played with her red-ribboned plaits as the Judge waited for her response. Being with Daddy means living in the house with the swings, weekends swimming, long drives and pizza dinners. Mummy is stricter with both homework and play time; her car is only good for short city runs and it would be dal-roti-sabzi with Naani most days. Must she choose between living with one of them?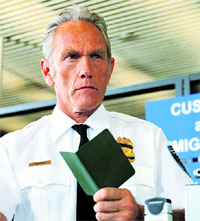 For many travellers to the West, being detained at the immigration counter can be a harrowing experience. Photo: Thinkstock
Years ago, Saagari was one of the protagonists of a film I made on single parenting. Today, I was to become her fellow traveller — of sorts. "I love Canada — its sense of organisation, wide-angled spaces and long silences. I love its oceans and lakesides, its Inuit art. Riding a Toronto subway is being a daily witness to the marvel of diversity among people on our planet.." I found myself mumbling to a Canadian Immigration Office, as if in an imagined confession box. She was unimposing and warm in a typically Canadian way. I was meeting her in order to give up my Canadian residency. Mine was an uncommon request, trading a permanent residence permit with a visitor's visa. Hugging close my Canadian memories I said sadly, over Canada's shoulder, "Now I will return to live in India." Like Saagari, I too am happiest with the birthing parent, choose if I must.


A.P.J. Abdul Kalam


Rituparna Sengupta

Kirti Azad
This senior officer, a trainer of those manning the gates of her country, was generous. Canada wants immigrants like me, she said, and was sorry I had made the choice to leave. She waited indulgently while I made minor adjustments on the waiver form, before signing it off. I struck out "I have failed to comply with" and replaced it with a handwritten "I did not comply with". Regaining confidence, I suggested one cannot assume it's an issue of non-compliance when certain residents opt for their poorer relations, their country of origin.
She assured me I will continue to receive the next best option for travel to Canada — a 10-year multiple entry visa. She threw in a cup of tea and a suggestion that in case I changed my mind, I could reapply for my residence status at any time.
These open doors resulted in mutual enrichment — a win-win for both countries. Over the years, Indian and Canadian professional colleagues and strangers were connected, productive partnerships formed, collaborative film ventures became possible.
October 2, 2012. The birthday of India's founding father, who had made non-violence and peace his unlikely anti-colonial weapon. As good a day as any to arrive at Lester Pearson Airport in Toronto, named after the Canadian Prime Minister who was awarded the Nobel Peace Prize in 1957.
"Step aside", said the young South Asian Immigration officer, handing me back my passport. I smiled at this look-alike of my son and followed the direction of his pointed arm. It led to a small hall, with a long-winding single file mostly of South and South-East Asians. There was diversity in their ages, though — elderly men clearly lost in the language of the English-speaking, harassed moms with tired young children in tow, young hopefuls masking the anxiety on their faces. "Why am I here? I have a valid multiple-entry visa", I ask the officer watching over us. His short answer: "Ask Ottawa."
This No Man's Land wasn't large enough to hold its startled visitors. There were 15 counters, though just two were manned. Time moved even slower. After their pan-Asian, trans-Atlantic journeys, children were cranky, perhaps hungry and thirsty. Elders were propping themselves up against the railing that kept us in the straight and narrow. I dared to squat on my haunches in a near-yogic posture. A water fountain and a couple of couches might have eased the unwelcome.
By now, the air was stale and claustrophobic, especially for heart attack survivors. The thumping organ had to be hardened, watching the family of Chinese origin right ahead being escorted into a chamber before the exit. Months later, on July 4, 2013, perhaps this was where the talented actor Rituparna Sengupta was to spend many hours Just days later, across the Atlantic, MP Kirti Azad was asked to strip at London airport, despite his diplomatic passport. The sentiment in newly independent India that led many patriots to adopt the name "Freedom", was lost on Britain.
Being on USA's list of the 500 most influential Muslims worldwide, did not deter Homeland Security from detaining a Khan, in 2009 and 2012. Former President Dr. APJ Abdul Kalam was frisked in USA on two occasions in 2009 and 2011, once after he was aboard, just before take-off. His shoes and jacket had to be removed as they needed to be re-examined again. A few years before, another President had discreetly dropped his middle name in that very country.
Back in Toronto, neither politician, nor star, I had made it to Counter 11. The only other "manned" counter was Number 3, but the girl behind it was bent over a pile of papers. Before the young man could open my stack of passports, his questions flew at me: "Why have I come to Canada? How long will I stay? What are my plans over the three weeks in Canada?" My answers darted back, peppered with barely controlled angry questions of my own: "Why am I in no-man's zone? Does a valid travel document issued by your own overseas office carry no weight? Why is there no air circulation in this room? How about a few chairs for the elders?"
I presented my Canada-worthy credentials — the voluntarily returned residency, the invitations, Canadian media coverage of my work — all to my own disgust. As if to say, I have a life back home. He remained deep into the recesses of his computer-generated information on insignificant me, but bore up patiently with my defence statements.
In my last-ditch effort to convince the officer, I was neither an illegal, nor was I planning to disappear into the picturesque landscapes of his country, I reduced myself to flashing an invitation from a Canadian of eminence, waving it at him as one might a national flag. He gave in.
I passed towards the exit, stopping briefly to peek into the chamber with the Chinese-origin family. More arms waving, more officers, more panic — no audio, only fuzzy video, through the frosted glass. There was still no water fountain in sight. That didn't deter me from swallowing a whole pill of Carca, strength 3.125 mg. It stabilises erratic heartbeats.
It's not that I'm naïve about illegal immigration from the Eastern world to the West. I owe it to my years in Canada that introduced me to this whole new world. Living there, making a film with these, My people, for a Canadian organisation, I learnt my own mother tongue, Punjabi. Their desperation, hard work and daredevilry in exploring unique ways to find a new life abroad was one of the reasons that intrigued me back to India, to learn about their roots in Punjab and locate new stories for my films.
I had been at a loss for emotions, when parents in rural Punjab expressed their willingness (and "wanting-ness") to sell that last acre of farmland to pay agents help smuggle their sons to Europe, Russia and Canada. "Even Japan will do", said an aged unlettered mother, with the confidence of an informed traveller. Two young men spoke before the camera of their experiences of Christmas day, 1996. On that holy night, they survived the Malta Boat tragedy, where 283 South Asians who paid to traffic themselves to Italy, were drowned in an overcrowded boat off the shores of Malta. They were deported back home, after serving prison sentences in Greece and Italy. Neither the harrowing memories nor the wasted lakhs of rupees deterred them from attempting to escape once again to a life hard and hidden labour. I thanked my stars that I was in a position to send my son legally to a University in the West. As long as their cheap labour is valued in the West, there will continue to be illegal travellers to the West. There are legal ones as well.
Five months after my first brush with Canadian immigration, an invitation tempted me back to Canada for a fortnight. I reassured myself an unpleasant entry would not greet me this time, given the outliers way of probability calculations. I have had many pleasant landings in the West, smiling past the winning posts of immigration.
Still, as the trans-Atlantic flight took off from Zurich in March 2013, my stomach was in knots and it wasn't air sickness. A similar exclusion awaited me at Toronto airport. This time round, I was armed with the benefit of experience. I informed the Immigration officer on Counter 7 of No Man's Land, "I have passed through this route just months ago and I think I can save your time and tell you why I've been dispatched here. I surrendered my Canadian residency. Is that so unrealistic an act that it borders on criminality?" Her sympathetic reply: "Write to Ottawa", waving me off, but not before checking out a shorter version of me on her database.
I felt the familiar anguish return when I read of the talented actress Rituparna Sengupta being denied entry into Toronto, despite her valid visa. There was minor confusion over a second visa, erroneously applied for — understandable for a frequent traveller.
It is not the West I have known and experienced since the 1970s that would threaten to deport Rituparna, deny her the right to speak with family or lawyer, (an illegal act in itself), intimidate her with a possible stay in a mental home on reducing her to tears, confiscate her cell phone, quiz her on why she is carrying her Indian chequebook. She was Canada's honoured guest, invited by the North American Bengali Association Conference. She was there to support Canada celebrate its diversity, with a premiere of her film, ironically titled Mukti.
Luckily for her, the Indian Ministry of External Affairs intervened and issued a demarche. Lesser travellers such as I might follow through on the advice of the Counter 7 officer. "Tell Ottawa". Tell London. Tell Washington.
Honourably forfeiting an adoptive country's residence is not an incredulous act. It does not transform a friend into a foe. All that is asked for is discretion, not discrimination. Recognise your enemies and remember your friends.
The writer is an internationally awarded filmmaker, who has made a series of films on migration in India and Canada