Time running out for '71 POWs
Indian soldiers are believed to be languishing in Pakistan jails for 40 years now. Their families feel betrayed and are convinced the Government of India has not done enough to bring the men back from captivity.
The writer is the daughter of Major SPS Waraich, whose name figures first on the list of the original 40 soldiers and officers declared 'missing' in the Lok Sabha in 1979. She is a member of the Missing Defence Personnel Relatives Association and has been closely following the matter. Her views are personal and based on research and data collected by her.
By Simmi Waraich
India is helping other countries trace its missing soldiers from World War II in the Northeast, but our country has not shown the will to trace its own men even after a Major wrote a letter in 1974 saying he was alive along with 20 other officers.
On October 17, 2012, the Department of Defence POW at the Missing Personnel Office of the US announced that the remains of two airmen missing in action from the Vietnam War had been identified and would be buried with full military honours. In an investigation conducted over 17 years to identify the remains, scientists from the Joint POW/MIA Accounting Command (JPAC) used circumstantial evidence and forensic identification tools.
India, too, is cooperating with the US to find its missing personnel in the Northeast. As per the BBC News (June 24, 2008): "A US team is visiting the remote state of Arunachal Pradesh in north-east India to search for the remains of US pilots who crashed during the WW-II." India has also promised to help Bangladesh find its soldiers believed to have been killed in the 1971 war and buried in West Bengal, through a DNA analysis of the remains.


Army records
But consider India's record in regard to its own missing defence personnel. Records of 15 Punjab say two officers, two JCOs and 72 other ranks went missing while 9 Jat notes one officer as missing. Records of Pakistan's 28 Cavalry states an officer of 9 Jat was captured. Did the Indian Government take cognisance of these reports when it sent back 93,000 Pakistani prisoners of war (POW) and got back ours? Should the Air force and Army not have made sure that those listed as missing were accounted for?
In war, mistakes happen. In the mayhem of the battle, 5 Assam Regiment noted Major Ashok Suri as killed in action and sent a helmet to his parents with two bullet holes and bearing someone else's name. His body was not found. Should the Army not have made a separate category for those whose bodies were not recovered? Those who were seen being captured should be recorded as POW. Major Suri's status changed when his father Dr RS Suri received a handwritten note from him dated December 7, 1974. The letter contained a slip in which his son had written, "I am okay here." The covering note read: "Sahib, Valaikumsalam. I cannot meet you in person. Your son is alive and is in Pakistan. I could only bring his slip, which I am sending you. Now going back to Pakistan." It was signed "M. Abdul Hamid".
Letter fails to move
In August 1975, he received another missive dated "June 14/15/16, 1975, Karachi". The letter said: "Dear Daddy, Ashok touches thy feet to get your benediction. I am quite okay here. Please try to contact the Indian Army or the Government of India about us. We are 20 officers here. Don't worry about me. Pay my regards to everybody at home, specially to mummy, grandfather — the Indian Government can contact Pakistan government for our freedom". The then Defence Secretary had the handwriting confirmed as Ashok's and changed the official statement from "killed in action" to "missing in action".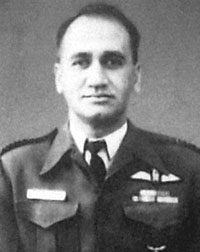 Wg Cdr HS Gill, who went missing in the 1971 war, was reportedly spotted at Attock jail in Pakistan. A former Indian spy wrote about it in his book.
Major Suri's faith in the Indian Government was to be belied as it shifted the file of "missing in action" from the old Secretary to new ones; old ministers to new ones, with no coherent policy. He continues to be "killed in action" in the Army records.
In 1996, Riaz Khokhar, foreign minister of Pakistan in India, said in an interview to a news channel that they knew of no Indian Armymen in their jails. He said if they were there, they may be under assumed names. A strange explanation, which could mean the names of the prisoners were changed, like Kashmir Singh became Ghulam Mohammed, or — as we saw in the jail records of 10 Pakistani prisons in 2007 when our government sent us to look for its soldiers without having done any groundwork — that a Kamal became Qamal. So many names could be changed accidentally or deliberately.
Fourteen of us visited the jails in Pakistan even though we had asked our government that we wanted to see records of the Army and visit Attock, which is a military jail, and not civilian jails. We had also told the government that it was not our job to look for these men as they were the nation's soldiers, and as civilians, there was little we could do.
In 1979, Samarendra Kundu, Minister of State in the Ministry of External Affairs, submitted a list of 40 defence personnel thought to be in Pakistani jails, in the Lok Sabha in response to a question by Amarsinh Pathawa and said: "The Indian Government is making all efforts and is in constant touch with the Pakistani government through their embassy for their release."
Why was it that it did not stir any politician or defence chief to take up the issue on top priority? Dr RS Suri's persistence turned the apathy into some action but the fact remains that till the will is not transmitted by the head of the government of a state to the other that the country is determined to get to the bottom of the case and would not rest until they get their soldiers back, there was and is little likelihood that anything would happen.
Lack of will
The Prime Minister expresses his helplessness: "What can we do when they do not agree?" Are these the words of the Prime Minister of the world's largest democracy? The current President said: "Do you think they would be alive now?" Shocking insensitivity! And who does it hurt? The nation that does not care for its own men. Contrast this with the Israelis who traded 3,000 Palestinians for one Israeli soldier.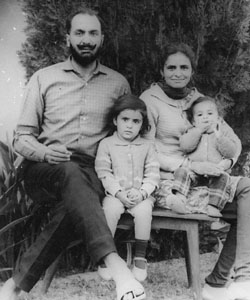 Major SPS Waraich with his family. His name figures first on the list of the original 40 soldiers and officers declared "missing" in the Lok Sabha in 1979.
The Army and Air Force have been equally insensitive — asking for signatures on pieces of paper which changed the categories from "missing" to "presumed killed in action" so pensions could be released.
Two Indian jawans, Jagseer Singh and Mohd Arif, were captured in September 1999. When Pakistan president Parvez Musharraf visited India in 2001 for the Agra Summit, he denied Indian soldiers were in Pakistan jails. At that time, these two jawans were there. They were brought to Adiala jail in Rawalpindi from an undisclosed location, where they had been kept for five years in 2004. Jagseer Singh wrote to his mother, following which the Indian Government sought their release.
However, in response to Major Suri's letter, the Ministry of Defence and Ministry of External Affairs told the distraught families to keep quiet as the soldiers may be killed. The government sat even more quietly for the next 41 years doing nothing more than periodically asking Pakistan politely to return its soldiers.
Mohan Lal Bhaskar, a former spy who was repatriated in 1974 after six years, met Major Ayaaz Ahmed Sipra and Col Asif Shafi of Pakistan's 2 Punjab in Kot Lakhpat jail, Lahore. They told him they met a certain Gill of the IAF and a Capt Singh of the Indian Army at the Fort of Attock. Bhaskar wrote this in his book "I Spied for India". Ayaaz Ahmed and Shafi later moved to the US, where Shafi was traced by the son-in-law of Sqn Ldr Jain, another officer missing and believed to be in a Pakistani jail since the 1971 war. Shafi confirmed he had met Wg Cdr Gill in Attock. Several Pakistan defence officers were arrested in 1973 on charges of conspiring to overthrow Zulfiqar Ali Bhutto's government and were jailed in Attock.
Last year Jaspal Singh, a jawan of 15 Punjab who had gone missing, but whose name is not on the list, met a carpenter in Oman and spoke to him in Punjabi. He was dressed like a Muslim. When the carpenter told him he was from Durgi, Jaspal said his father-in-law was from there. He enquired about his wife and son but told the carpenter not to tell his family. The carpenter returned and confirmed the story. However, neither did the government nor the Army follow the lead. Jaspal's family lives in a limbo, with no reason to disbelieve the carpenter and no way to rejoice in the news that he is alive.
On our persistence, the government set up the Committee for Monitoring Missing Defence Personnel (CMMDP) some years ago. Currently, its chairman is Vice-Admiral Pattanaik. The committee has not contacted the affected families so far. Its members meet once in six months. It has not even summoned old war diary records from units or bothered to ask Major Suri's brother for his letter. Why enact a farce of helping the Americans or Bangladeshis find their dead soldiers when we are not even willing to search for our living?
Apart from making annual statements in the Lok Sabha, Preneet Kaur, MoS for External Affairs, made a statement similar to Samarendu Kundu's last year. Had the government shown any tenacity, it would not have suffered the ignominy of letting its officers die in a foreign land even as their families know no peace.
The government can redeem itself a little if it takes a cue from countries which have set up similar committees that make all-out efforts, follow each lead, and respect a man who has fought for his country and deserves better than to be left to languish in a foreign land. The US has a POW medal of honour. Defence Minister AK Antony promised us when we returned from the emotionally gruelling trip in 2007 that India would not stop till it gets to the truth.
Some of these men may still be alive. Stranger things have happened.
Questions, no answers
* Over time, some civilians and Indian spies returned from jails in Pakistan. They were debriefed by the Indian Government before being allowed to return to the mainstream. Some of these men spoke of meeting and seeing missing Indian Army personnel in Pakistani jails. Are these claims false?
* Have similar stories been concocted by emotionally distraught relatives?
* How does one explain the evidence and the acknowledgement of the government, which was the first to make a statement in the Lok Sabha in 1979 that 40 defence personnel were believed to be in Pakistani jails?