Mid-Day Meal Scheme: Days after more than 20 schoolchildren died in Bihar, The Tribune examines the working of the food plan in Punjab
No lesson learnt, insect-infested rice supplied to schools for mid-day meal
Ropar, July 19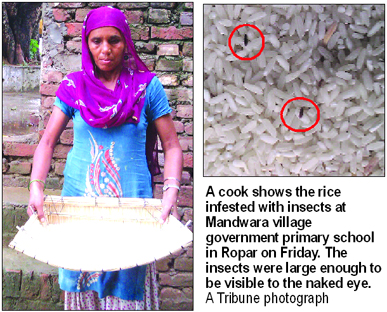 The authorities in Ropar have failed to learn any lesson from the Bihar incident where 23 students died after consuming mid-day meal. Wheat and rice infested with insects were supplied to several government schools in the district under the scheme. A visit by The Tribune team to three schools at Bindrakh, Mandwara and Burjwala villages found that the wheat and rice supplied to these were infested with weevil ('sursari'). Finding it unfit for consumption, the staff at the Government Primary School in Mandwara village objected when the supply was being delivered.
Complaints of ration siphoning go unheard
Jalandhar, July 19
The ration being supplied under the Mid-day Meal Scheme to schools in Jalandhar has been, in some cases, finding its way allegedly to grocery stores. But more worrisome is the fact that despite complaints, no action has been initiated against the guilty. Documents, in the possession of The Tribune, show several instances where complaints went unheeded.
Other problems
'Poor quality' veggies
Children at some schools in Gurdaspur have complained that poor quality seasonal vegetables were being served to them. "The quality of rice and wheat is alright but the vegetable being served to us is not up to the mark. Sometimes, rotten vegetables are served. We complain to our teachers, but requests to the supervisory staff to improve the quality often go unheard," a student of a school in the border belt said.
Health Dept collects food samples
Chandigarh, July 19
Following the death of schoolchildren in Bihar, the Punjab Government has begun checking the quality of food being served to more than 21 lakh students in the state under the mid-day meal scheme.
Sidhu to assist Gadkari in Delhi elections
Amritsar, July 19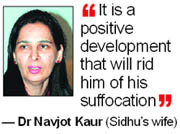 A sulking Navjot Singh Sidhu, MP, may have distanced himself from his party in the past few months, but the BJP continues to place faith in him. He will assist former BJP president Nitin Gadkari in the Delhi assembly elections. Though Sidhu could not be contacted for comment, his wife, Chief Parliamentary Secretary Dr Navjot Kaur Sidhu, talking on the phone from Delhi said: "It is a positive development that will rid him of his suffocation."
Dismiss Maluka, demands Bajwa
Chandigarh, July 19
Punjab Pradesh Congress president Partap Singh Bajwa today demanded that Chief Minister Parkash Singh Badal should dismiss Education Minister Sikandar Singh Maluka immediately following his indictment in an inquiry conducted by the Central Government into the purchase of library books and science kits.
PPCC to start mass contact from July 22
New Delhi, July 19
Congress vice-president Rahul Gandhi today finalised the schedule for a mass contact programme that will be launched by the Punjab Congress on July 22. The programme, to be spearheaded by Punjab Congress chief Partap Singh Bajwa, will focus on covering every assembly constituency by December-end to counter the SAD's "development propaganda and educate the people on the UPA's welfare schemes, specially the food security ordinance".


Red card facility for ZP members
Chandigarh, July 19
As many as 3,062 members of the zila parishad and panchayat samitis sworn in by the Deputy CM at Ludhiana today, have been given a red card each, entitling them to unrestricted access to the state civil secretariat, a facility which was available to only heads of departments and boards and corporation heads so far.
Rajpura village school remains waterlogged, students stay out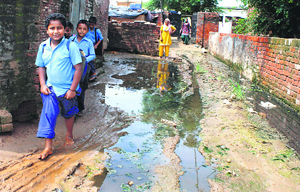 Patiala, July 19
The authorities have failed to address the problem of waterlogging at Government Primary School at Padao village in Rajpura on account of which the students have to face a lot of inconvenience. There are puddles and sludge on the entire school premises because of which the teachers have to take classes outside the school.

Students cross a puddle on their way to school at Padao village in Rajpura on Friday. Tribune photo : JS Virdi


DSP murder case
Two accused denied bail
Chandigarh, July 19
Two accused in Deputy Superintendent of Police (DSP) Balraj Gill double murder case were today denied regular bail by Justice Sabina of the Punjab and Haryana High Court. The two, Ravinder Singh and Hassanjeet Singh, had moved the High Court after their bail plea was rejected by a Ludhiana court on February 11.