Poor rains push up input costs, farmers worried
Chandigarh, July 18
Against the average rainfall of 189 mm, the state has received only 53.7 mm rainfall in July, as per the Department of Agriculture. As a result, the input costs for farmers have risen since they have had to use more disel to run generator sets to irrigate their fields.
Illegal colonies: BJP wants development fee slashed
Chandigarh, July 18
Not happy with the policy framed for regularing illegal housing colonies, the BJP has suggested a drastic cut in development fee and land use charges fixed for various cities and towns.
Ready to contest LS poll from Bathinda: Manpreet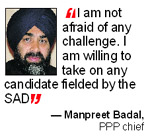 Patiala, July 18
Expressing faith in the electorate of the Bathinda parliamentary seat, People's Party of Punjab (PPP) president Manpreet Singh Badal today said he was willing to contest from Bathinda in the upcoming Lok Sabha elections. Manpreet was in Patiala to attend a public meeting. He said he was not afraid of any challenge and was willing to take on anyone fielded by the SAD. "The rest depends on the decision taken by our party's executive committee," he stated.
Splinter Akali groups plan united front to take on SAD
Amritsar, July 18
Even as the ruling SAD-BJP alliance has grown from strength to strength over the last two years, winning one election after another, splinter Akali groups are now making efforts to unite on a single platform so as to pose a potent challenge before the ruling combine in the forthcoming Lok Sabha elections.
Sukhbir indulging in self-glorification, says Congress
Chandigarh, July 18
The Punjab Congress today said the title "foka Jarnail" was most appropriate for Deputy Chief Minister Sukhbir Singh Badal instead of the title "jetu Jarnail" as conferred on him by SAD leaders in Ludiana yesterday.
PPP backs New Chandigarh move
Ropar, July 18
Welcoming the New Chandigarh move, the People's Party of Punjab (PPP) president, Manpreet Singh Badal, called it a "laudable" step. Addressing a public meeting at Chhoti Haveli village, he said the state government should develop more cities on the pattern of Chandigarh. At the same time, the government should plan development in cities like Ludhiana, Patiala, Amritsar and Jalandhar, he said.
Protest after youth dies of medical 'negligence'
Gurdaspur, July 18
Irate residents of Kahnuwan today blocked the busy Gurdaspur-Sri Hargobindpur highway for more than six hours after a youth, injured in a road accident, allegedly died due to lack of medical aid at the local government hospital.
Keen to invest, Tata group discusses modalities
Chandigarh, July 18

Deputy Chief Minister Sukhbir Singh Badal's strategy to reach out to industrial houses today saw nine heads of the Tata group gathering here to discuss modalities for investing in the state.
Deputy CM Sukhbir Badal with Ravikant (centre), vice-chairman, Tata Motors, and Madhu Kanan, business head, in Chandigarh on Thursday. A Tribune photograph

Proposal to hike VAT on diesel put on hold
Chandigarh, July 18
Slow revenue growth in the first quarter of this financial year and the state's precarious fiscal health has forced the state government to think of ways and means to generate additional resources.
School bus crushes two bikers to death; 2 hurt
Patiala, July 18
Two persons were killed and two others injured when a school bus coming from the opposite direction overturned on their motorcycles on Sular Road here. The injured were admitted to the Government Rajindra Hospital, Patiala, where their condition was stated to be stable.
Body released without postmortem, cops bring it back to hospital
Patiala, July 18
In a suspected case of poisoning, doctors at the Government Rajindra Hospital today allegedly released the body of a 29-year-old married woman without conducting a post-mortem.
Wards in Ropar increased to 21
Ropar, July 18
The number of wards in the local Municipal Council has been increased from 17 to 21 for the forthcoming local bodies elections, said a notification issued by the Punjab State Local Bodies Department.
Sangrur MC faces financial crisis
Sangrur, July 18
The local municipal council is facing a severe financial crisis nowadays as it has no money even pay the salaries to over 100 safai sewaks for the month of June.
Poland keen to partner with Punjab in food processing
Chandigarh, July 18
Poland is keen on strategic partnership with Punjab by way of investments in food processing. Piotr Ktodkowski, Ambassador, Embassy of Republic of Poland, said here today that there was a lot of scope for trade and investment with Punjab and Haryana.