Mounting defence against China
By Ajay Banerjee
Mindful of Chinese threat, India has announced the raising of a mountain strike corps in the East at a cost Rs 64,000 crore over seven years. Till that comes about, it must rapidly develop infrastructure along its borders, particularly the Ladakh sector, to stall any immediate aggression.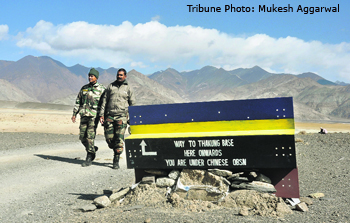 A file photo of Indian soldiers near the LAC in Ladakh. China has developed infrastructure right on its borders, but India is woefully short of roads, tracks and airstrips along its frontiers.

An announcement by New Delhi to set up a specialised mountain strike corps has triggered a debate in strategic circles while raising hopes of India finally catching up with its competing Asian neighbour. However, China remains better equipped, has more troops, missiles, armoury and artillery; and is aggressively adding more besides fine-tuning its rapid deployment capabilities. India's situation can be best described by borrowing a terminology from athletics; the time has come to sprint, not just run, to catch up with China.
The capability of the new strike corps, aimed at striking deep within China in a conflict, will depend upon the pace at which India goes about its task. Ideally, a scenario where the planners and policy executors are untangled from the self-created hurdles when building roads, laying tracks and airstrips, or the inherent time-delays in buying or ordering new military equipment. Bureaucratic wranglings on who should be responsible for the frontier with China is another issue between the armed forces and the Home Ministry's Indo-Tibetan Border Police (ITBP).
Marching ahead
China's rapid moves have startled Indian planners. The military thrust is one part. The pace of infrastructure building is what India needs to match. In the past five-seven years, China has built a track on the icy-barren Tibetan Plateau. It now has seven airstrips in Tibet and 19 in Xinjiang — both bordering India. Besides this, all-weather roads enable thousands of troops to move rapidly across the plateau and carry out patrol duties in vehicles.
It may be a coincidence, but on July 20, just three days after India announced the new strike corps, the People's Liberation Army Air Force (PLAAF) conducted an exercise to practice night landing by its fighter jets and transport planes on airstrips on the plateau. Indian intelligence agencies reported the occurrence to the mandarins in South Block and North Block in New Delhi.
In contrast, the Indian Air Force (IAF) planes have conducted landings at Leh in Ladakh on moonlit nights. In other areas of the Himalayas such a risky landing is not possible. The valleys in the mountains on the Indian side are too narrow. Even during the day, pilots do not get a second chance to correct a wrong angle of descent while landing. On the Chinese side, the Tibetan Plateau, despite its altitude being over 12,000 feet, is a flat tree-less expanse.
The announcement of the mountain strike corps had come even as high-level delegations from India and China talked about ways to maintain peace along the disputed boundary that runs along the Himalayas. The indication, or signal, to China was — peace talks notwithstanding, India would prepare for all scenarios. External Affairs Minister Salman Khurshid explained this saying: "Whatever needs to be done in the national interest, will be done."
Since the Cabinet Committee on Security (CCS) cleared the mountain strike corps on July 17 and allocated Rs 64,000 crore over the next seven years, there have been questions. Is it enough? The strike corps will be dedicated to the East, so what about Ladakh, Himachal and Uttarakhand?
Dr Rajeshwari Rajgopalan, senior research fellow at the Observer Research Foundation, a New Delhi-based think tank, says: "Speed will matter. Even the CCS-mandated seven years is a long period. By the time it happens, it will be too late in the day. And yes, there can be one more mountain strike corps."
A senior serving officer, who closely watches China, says: "Possibly, we need another such specialised corps in the Ladakh sector. But having one in the East may be enough." His presumption is backed by the premise that the "middle sector" (comprising Himachal and Uttarakhand) does not have disputes along the Line of Actual Control (LAC) — the de facto boundary between the two countries. India and China had exchanged maps in the middle sector in 2001, but there is no boundary demarcation to date.
Lagging behind
In the Himalayas Indian troops largely occupy the dominating heights while the PLA has stationed its small units in fully built-up shelters a few kilometres away from the LAC on its side. Regular patrols are conducted using the road network, but India lacks roads. An internal assessment by the armed forces says: "Chinese infrastructure is right at the borders while ours is some 50-70 km short of it." This means the Indian military thrust will be slower and supplies will take time.
As an immediate measure, India needs roads, railways and airstrips. Some 73 roads classified as the India-China border roads (ICBRs) are running years behind schedule. Plans to have Himalayan railways have been on paper for the past few years, and night landing facilities on ALGs in Arunachal Pradesh and Ladakh are not even on the drawing board. It has taken more than eight years of work to pave three ALGs in Arunachal while work on the others is still on. In contrast, China has ringed J&K with new airfields in a few years. The Ngari Gunsa airbase has come up just 200 km east of Demchok in India. North of J&K, the airbases at Hotan and Qeimo in Xinjiang can be used to launch an attack while at Qazil Jilga on Aksai Chin, an airstrip has come up. Both India and China stake claim to Aksai Chin.
Core strength
Out of a total of 13 corps in the Indian Army, four corps (each 45,000-men strong) face China. Each of these has a complement of artillery guns, specialised equipment, radars and UAVs. These are backed by long-range missiles which are handled by the Strategic Forces Command. These are 14 Corps at Leh, 33 Corps at Sukna (near Darjeeling), 4 Corps at Tezpur and 3 Corps at Dimapur (Nagaland). Out of these, 33 Corps and 4 Corps are entirely dedicated to China. The other two are dual-tasked. While 14 Corps handles the Line of Control with Pakistan in the Drass-Kargil-Batalik sector, besides duties in the tense eastern Ladakh frontier, 3 Corps handles the eastern border with Myanmar (Burma) alongside its task on eastern Arunachal — an area where India suffered most in the 1962 conflict with China. In case of an aggression, 3 Corps can swing all forces to face China. In Uttarakand, a brigade is stationed at Joshimath, completing India's China-specific forces.
China's capability
The PLA has seven military area commands (MAC), out of which two — Lanzhou and Chengdu — are dedicated to India. The Lanzhou MAC is tasked for J&K, Himachal Pradesh and Uttarakhand while the Chengdu MAC is for Chinese frontiers facing Nepal, Sikkim and Arunachal Pradesh. Both India-specific commands have been allocated two group armies, each comprising between 75,000 and 1 lakh troops with equipment like tanks, mobile missile launchers, artillery and helicopters. The group armies at Chengdu are numbered 47 and 21 while those at Lanzhou are numbered 13 and 14. This means anything between three lakh and four lakh troops being dedicated for India.


Eye on India

The PLA has seven military area commands (MAC), out of which two are dedicated to India.

Lanzhou MAC is meant for J&K, Himachal and Uttarakhand while Chengdu is for Sikkim and Arunachal Pradesh.

The commands have two group armies comprising 75,000 to 1 lakh troops each, tanks, mobile missile launchers, artillery and helicopters.

Three lakh to four lakh troops dedicated for India.

Two fighter aircraft divisions in each command.

Airborne bomber division at Lanzhou; transport plane division at Chengdu.

China has ringed J&K with new airfields.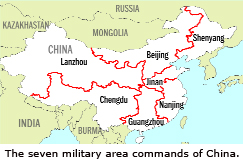 Besides this, the PLAAF has two divisions of fighter aircraft in each of the area commands. Lanzhou has an airborne bomber division of the PLAAF while Chengdu has a division of transport planes. These planes can land at any of the 26 airstrips in Tibet and Xinjiang to drop troops and equipment, or be based when the airstrips are to be used as forwards bases.
Troops in both commands are trained in complex terrain warfare in mountains while Lanzhou also has a mobile force. An Indian assessment of the group armies says: "The composition of group armies varies according to their location, mission, and readiness level, but generally include two-five combat divisions or brigades (infantry and armoured), as well as a number of combat-support and combat-service support units. Some group armies have also been assigned with helicopter and special forces units."
China's rapidly changing military tactics could be India's biggest worry. The latest report of the US Department of Defence titled "Military and Security Developments Involving the People's Republic of China 2013" describes the country's military capability. It reads: "The PLA is investing heavily in modernising its ground force, emphasising the ability to deploy campaign-level forces across long distances quickly. This modernisation is playing out with wide-scale restructuring of PLA ground forces that includes a more rapid, flexible special operations force equipped with advanced technology and improved army aviation units utilising ultra-low altitude mobility helicopters armed with precision-guided munitions."
In March 2013, the State Council of China published a white paper titled "The Diversified Employment of China's Armed Forces" which talked about these rapid movements. It claimed the PLA extensively practised the move to concentrate troops. "Trans-military area command movements have been carried out. In 2012, the Chengdu MAC and Lanzhou MAC carried out the exercise."