Indian kidlit: More than child's play
Indian children's literature practically had no identity of its own till recently. It is, however, now gearing up and is set to play a major role in personality building of an individual starting from childhood
Vibha Sharma
Till the 1990s, the only printed children's stories that ever existed were confined to the stipulated textbooks. Extra reading, reading for fun, love for reading were alien concepts. It began to change around two decades back, but even then the books were primarily mythology or history-inspired anthologies, folktales, tales of Panchtantras and Jataka. Moreover, children's writing never got the encouragement through any recognitions, awards or felicitations.
---
ARTS
Discovering Tagore,the artist
In a span of 13 years, Rabindranath Tagore painted nearly 2,000 works of art. His brush definitely brought life to the lines
Surekha Kadapa-Bose
You will be surprised to hear that I am sitting with a sketchbook drawing. Needless to say, the pictures are not intended for any salon in Paris, they cause me not the least suspicion that the national gallery of any country will suddenly decide to raise taxes to acquire them. But, just as any mother lavishes most affection on her ugliest son, so I feel secretly drawn to the very skill that comes to me least easily."
Silver splendour
The exhibits at world's first-ever silver museum reflect the finest of silver smithies, besides showcasing indigenous artisan techniques
Swati Rai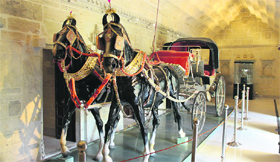 shriji Arvind Singh Mewar of Udaipur, scion and the 76th custodian of the House of Mewar, recently unveiled the world's first-ever silver museum filled with family heirlooms dating back to 743 AD at Udaipur.


The 1939 custom-made buggy, which formed part of dowry of Shriji Arvind Singh Mewar's late mother

---
FITNESS
Fruits of rain
Certain fruits are available only in the rainy season and provide innumerable health benefits and offer protection against season-specific ailments
Monsoons, the most anticipated time of the year is back! After the scorching season of heat, rains are bliss! Though most of us enjoy the rains and look forward to hot samosas and bhajjiyas just after getting drenched in the rains, we often forget the consequences that it brings along.
---
Society
After the wedding bells, face the music
There is no management course in wedding management but a marriage is the biggest game-changer for a bride. Once she enters a new household and is surrounded by new relations, it is tough for her to find her bearings
Seerat Toor Grewal
The D-day is over and so are the high notes of elation, jubilations and ceremonies. The first year of wedded life is actually the honeymoon period for the couple, but not for the wife individually. The icing on the cake are umpteen customs and social etiquette which you are bound to follow. Life takes a new pace as the first few days are packed with activity at home and socially.

Soul Talk
---
TRAVEL
On trail of tranquility
The small, unspoilt hill station of Binsar in Uttarakhand offers a sanctuary of solitude, amid beautiful surroundings of forests, hills and clouds for the urban-weary looking for some peace
Sudha Mahalingam
gollu Devta is the patron saint of justice in Kumaoni pantheon. When you visit the temple, you literally pick your way through clusters of brass bells slung about everywhere — not just the pillars and beams, but even the stately pine, oak and birch trees. The bells are packed so tightly together that every gust of wind produces a collective tinkle. The ambient hills and valleys reverberate with Gollu Devta's message.
Tips to travel safe
People should know their rights as consumers while travelling
Sheetal Kapoor
To make our travel enjoyable one should not only be careful about small things but also know our rights as consumers. Section 2(1) (o) of the Consumer Protection Act includes in its scope the provision of facilities related to travel and transport. Here are some cases and the judgment of the consumer courts.
---
ENTERTAINMENT
When directors become actors
In the recent years, many successful directors are jumping onto the acting bandwagon, and doing so with reasonable success, the most recent being Bhaag Milkha Bhaag
Shoma A. Chatterji
Bhaag Milkha Bhaag puts the icing on a new cake in Indian cinema — directors turning into brilliant actors with out-of-the-box performances coming out as if from a magician's hat.
'Mountain Man is an incredible story of hope'
Award-winning director, Ketan Mehta, has an enviable oeuvre that ranges from films like Bhavni Bhavai to Rang Rasiya to Mountain Man
Nonika Singh
His films are profound, incisive laced with a cutting edge that more often than not hits home. Yes, indeed Ketan Mehta, the award-winning director, is very much a thinking man's answer to cinema.
---