The heat is on...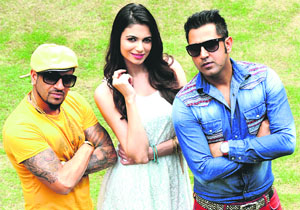 Controversy…we thought the word did not exist as far as to the Punjabi film industry was concerned. But as the star cast of the film Best Of Luck, Jazzy B, Gippy Grewal and Simran Mundi take their seat on the podium, they get to feel the heat of the controversy. The film marks the debut of singer Jazzy B and Miss India Universe 2008 winner Simran Mundi. The cast tries their best to paddle through the turbulent scene and you bet they do a pretty good job of it. Decked up in his own maharaja style, Jazzy B is confident about his debut role.
Getting Lucky: (L-R) Jazzy B, Simran Mundi & Gippy Grewal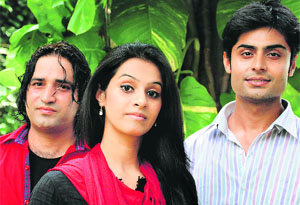 A sensitive attempt
A rape victim treated like an outcast for no fault of hers, another who underwent as many as 12 abortions trying to bear a male child - these are just two out of many women who bear the unjust behaviour meted out to them by society.



The cast of the film Women A Curse? Photos: Parvesh Chauhan

star track
When ramp meets dance floor...
Rohit Bal's impromptu gig on the ramp with his showstopper Sonam Kapoor, on Bollywood classic Aa Jaane Jaa, added to the high-octane show the designer presented on the day four of India Bridal Fashion Week.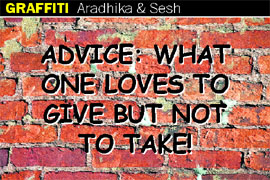 Keeping tabs on the newcomers!


Slow and steady


Caught on the camera


In a feisty avatar


Priyanka shakes it right!
chatter box
Imam gets mean
Imam Siddique of Bigg Boss fame is back with MTV's show, Time Out. In the name of cleansing all the bad karma, the first episode saw Imam playing a trick on his worst enemy from a reality show, Niketan Madhok. Niketan is furious and hell bent on taking a revenge for this one. Niketan challenges Imam on Youtube to survive 48 hours with four people who are clones of Imam - they have the same traits as him; irritating and self obsessed.



Turning point


What an act!


A spiritual journey


Step up and dance


Fun on the Express lane