LIFE+STYLE

CHANDIGARH

LUDHIANA

BATHINDA

JALANDHAR

AMRITSAR TRIBUNE

JALANDHAR TRIBUNE

BATHINDA TRIBUNE

JAMMU TRIBUNE

KASHMIR TRIBUNE

DELHI

DEHRADUN

DEHRADUN PLUS

Polls a year away, Hooda turns on rural water sops
Chandigarh, July 27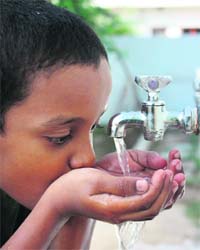 With parliamentary and state Assembly elections due next year, the Hooda Government has decided to provide free water connection to all rural households. The decision to waive the water connection fee of Rs 500 till March 31, 2014, comes a few days ahead of the government's decision to launch UPA's flagship food security ordinance covering nearly 1.31 crore beneficiaries (more than half of Haryana's population) from August 20.
Out to claim credit, Cong leaders want food plan named after Rajiv
New Delhi, July 27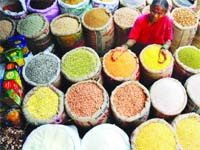 Worried over the possibility of the food security programme being hijacked by ruling regimes in non-Congress states, party leaders want the scheme to be named after former Prime Minister Rajiv Gandhi. The demand came from Bhupinder Singh, Congress Legislature Party (CLP) leader from Chhattisgarh — a BJP ruled state—at a meeting of state Congress chiefs with party vice president Rahul Gandhi.
OTHER PAGES

PUNJAB: Excise dept makes fresh bid to plug loopholes in tax collection


J&K: Curfew in Budgam


HIMACHAL: Hotel row: IAS officers get 10 days to file reply


CHANDIGARH: Freeze expansion of Rock Garden: Panel


LUDHIANA: MC losing out on advt funds


DELHI: BJP to protest power tariff hike


Business:

Maruti Suzuki not to exit Manesar

OPINIONS: The Begum, her voice, and 'Akhtari ka deewana'

SPORTS: India hope to seal series today

WORLD: 120 shot dead by Egyptian security forces


Lahore Log

The tribune guide to best colleges

Budget
2013-14

INDIA CHINA WAR 50 YEAR LATER

YEAREND SPECIAL: 2012

Year of survival

The tribune 130 years
a witness to history
book released by prime minister manmohan singh

Guide to best colleges

Results of Punjab Assembly Polls 2012

HIMACHAL VOTES 2012

EARLIER FEATURES

Punjab has lowest poverty ratio in rural areas
Chandigarh, July 27
Even while Punjab's GDP is growing at a slow pace compared to certain other big states and its agriculture sector, which is the lifeline of its economy, has been registering sluggish growth for the past few years, the state has got the distinction of having the lowest poverty ratio in its rural areas. As far as the lowest poverty ratio in the urban areas of the big states is concerned, Punjab figures above Haryana, Kerala, Tamil Nadu, Assam and Himachal Pradesh in the list released by the Planning Commission of India recently.
120 shot dead by Egyptian security forces
Cairo, July 27
Egyptian security forces shot dead scores of supporters of ousted Islamist President Mohamed Mursi on Saturday, witnesses said, days after the army chief called for a popular mandate to wipe out "violence and terrorism". Men in helmets and black police fatigues fired on crowds gathered before dawn on the fringes of a round-the-clock sit-in near a mosque in northeast Cairo, Mursi's Muslim Brotherhood said. (Details on World page)


Pak pounds Poonch posts with grenades
Jammu, July 27
Pakistan violated ceasefire for the fifth time this month, with its troops pounding Indian forward posts along the Line of Control (LoC) in Poonch with rocket propelled grenades (RPGs), mortars and heavy machine gun fire on Saturday. The Army said it gave a "calibrated" response to Pakistan's unprovoked act and both sides traded heavy fire for over five hours. "There has been a ceasefire violation by the Pakistani troops along the LoC in the Doda Battalion area of the Poonch Sector, without any provocation from the Indian side today," said Jammu-based officiating Defence PRO, SN Acharya.
Takht directs DSGMC ex-chief Sarna to do religious service
July 27, 2013
Court: Batla encounter not fake; IM operative convicted
July 26, 2013
Compensate Railways for loss in 2011 stir, SC tells Haryana
July 25, 2013
India, US keen to take civil N-deal forward
July 24, 2013
US Vice-Prez arrives to discuss trade, defence ties
July 23, 2013
Uncertainty over sale of power to Pakistan
July 22, 2013
100 Yamunanagar villages flooded
July 21, 2013
PM admits growth rate may fall below target
July 20, 2013
4 dead, 42 injured as mob raids BSF post in J&K
July 19, 2013
Bihar mid-day meal tragedy toll 22; 50 more kids fall ill
July 18, 2013