M A I N N E W S
India, US keen to take civil N-deal forward
Biden meets PM, pushes for stronger economic ties
Ashok Tuteja/TNS
New Delhi, July 23
US Vice-President Joe Biden today emphatically declared that enhanced economic engagement between India and the US was in their mutual interest as the two countries reaffirmed their commitment to implement the historic civil nuclear deal.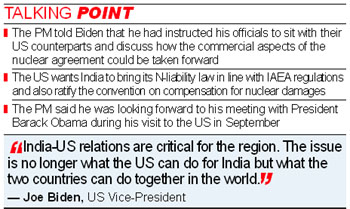 The visiting US leader also shared with New Delhi his country's perspective of the situation likely to unfold in Afghanistan after the drawdown by NATO troops in 2014. He appreciated the role being played by India in the embattled nation.
Biden outlined President Obama's and his own commitment and interest in the expansion of India-US relations. Biden, who held a series of meetings with Indian leaders during the course of the day, also spoke highly about India's 'Look East' policy.
"India-US relations are critical not just for the two countries but for the entire region. The issue is no longer what the US can do for India but what the two countries can do together in the world. No other two countries have so much at stake or in common in the emerging scenario,'' the US leader said at a meeting with President Pranab Mukhejee.
The most significant of Biden's engagements was his 75-minute meeting with Prime Minister Manmohan Singh during which the two leaders discussed a whole range of bilateral issues as well as global developments.
The PM is understood to have assured Biden that he had instructed his officials to sit with their US counterparts and discuss how the commercial aspects of the nuclear agreement could be taken forward.
The US wants India to bring its nuclear liability law in line with IAEA regulations and also ratify at the earliest the convention on supplementary compensation (CSC) for nuclear damages.
There were discussions on energy, innovation as well as regional issues such as Afghanistan and the neighbourhood, official sources said.