LIFE+STYLE

CHANDIGARH

LUDHIANA

BATHINDA

JALANDHAR

AMRITSAR TRIBUNE

JALANDHAR TRIBUNE

BATHINDA TRIBUNE

JAMMU TRIBUNE

KASHMIR TRIBUNE

DELHI

DEHRADUN

DEHRADUN PLUS
The tribune DEBATE asli vs naqli chandigarh — part Viii


Chandigarh belongs to Punjab, asserts Sukhbir
Chandigarh, July 23
"Chandigarh is the capital of Punjab. No other state can claim a right over the city as its capital. Historically, whenever a new state is carved out of a large state, the capital always remains with the original state," says Deputy Chief Minister of Punjab, Sukhbir Singh Badal.

Iron pills again: Hundreds of kids fall ill in Haryana
Chandigarh, July 23
Hundreds of children have fallen ill after consuming iron and folic acid tablet given to them under the Weekly Iron and Folic Acid Supplementation (WIFS) Programme that was re-launched in the state after summer vacations yesterday. Reports from across the state indicated that around 400 students complained of nausea and other ailments after the supplement was administered to them on the direction of the Haryana Health Department.

CJM wife's murder

Geetanjali was upset over Garg's 'closeness' to cousin

Family meets Hooda

Haryana to refer case to CBI

Third bullet found
Chandigarh/Gurgaon, July 23
The Haryana Government today decided to refer the Geetanjali murder case to the Central Bureau of Investigation (CBI) even as the Gurgaon police probed the role of one of Chief Judicial Magistrate (CJM) Ravneet Garg's cousins in the killing.
OTHER PAGES

PUNJAB: Bajwa: Heathcare dismal in Malwa


HARYANA:Wants 50% hike in divisible pool to have more funds for development


HIMACHAL: State to move apex court for more BBMB arrears


CHANDIGARH: 2 students among 3 killed in accident


LUDHIANA: Civic body fails to carry out fogging at regular intervals


DELHI: Provide land to DMRC at concessional rates, DUSIB told


Business:

Sensex gains 143 points, closes at 30-month high

OPINIONS: Managing media

SPORTS: Showtime for India's second-string side

WORLD: Britain cheers as Kate gives birth to its future king


Lahore Log

The tribune guide to best colleges

Budget
2013-14

INDIA CHINA WAR 50 YEAR LATER

YEAREND SPECIAL: 2012

Year of survival

The tribune 130 years
a witness to history
book released by prime minister manmohan singh

Guide to best colleges

Results of Punjab Assembly Polls 2012

HIMACHAL VOTES 2012

EARLIER FEATURES
IAF gets its second C-17
New Delhi, July 23
The Indian Air Force (IAF) on Tuesday took the delivery of the second Boeing C-17 Globemaster III. This is a month after the first C-17 arrived at the Hindon air base and was immediately pressed into operations.
India, China discuss steps to ensure peace along LAC
New Delhi, July 23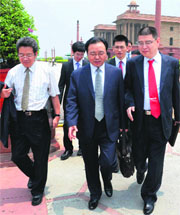 Concerned over fresh incursions by China's PLA troops in Ladakh's Chumar sector, India today emphasised that there was need to adhere to bilateral agreements for maintaining peace and tranquillity along the Line of Actual Control (LAC) pending a final settlement of the boundary dispute.
A Chinese delegation comes out of South Block in New Delhi on Tuesday. — PTI

Shotgun triggers another Modi row within BJP
New Delhi, July 23
The new elevated centre-stage place for Gujarat Chief Minister Narendra Modi seems to be leading his party from one ticklish situation to another -- almost on a daily basis now. A day after Madhya Pradesh Chief Minister Shivraj Singh Chauhan praised LK Advani as saffron party's tallest leader, actor-turned-politician Shatrughan Sinha today seconded the opinion, calling the party patriarch the "most seasoned and mature leader" and someone who should be at the "helm of affairs".
US Vice-Prez arrives to discuss trade, defence ties
July 23, 2013
Uncertainty over sale of power to Pakistan
July 22, 2013
100 Yamunanagar villages flooded
July 21, 2013
PM admits growth rate may fall below target
July 20, 2013
4 dead, 42 injured as mob raids BSF post in J&K
July 19, 2013
Bihar mid-day meal tragedy toll 22; 50 more kids fall ill
July 18, 2013
Govt revises FDI cap, allows 100% in telecom, 49% in insurance
July 17, 2013
One month on, 5,748 still missing in Uttarakhand
July 16, 2013
New Bhutan govt keen to boost ties with India
July 15, 2013
Roll out food scheme quickly: Sonia to CMs
July 14, 2013
2002 riots: Modi says did no wrong
July 13, 2013
Allahabad HC puts on hold caste-based rallies in UP
July 12, 2013