Spanish coaches hold football camp at Doon school
Jotirmay Thapliyal
Tribune News Service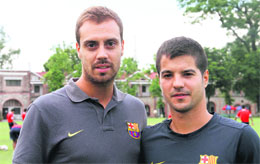 Spanish coaches from FC Barcelona Antoni Cleveria (left) and Jordi Arasa. Tribune photo: Vinod Pundir
Dehradun, July 27
Spanish Football coaches from the famous FC Barcelona, Antoni Cleveria and Jordi Arasa, strongly believe that India's obsession with cricket was the main reason behind its poor performance in football at international level.
Antoni and Jordi are conducting a five-day football coaching camp at The Doon School.
Talking to The Tribune, Jordi said cricket continues to be the main sport in India while Spain was all for football. "This makes the difference. You focus more on cricket and we focus more on football. This is the reason why India's performance in football is not at par with the western countries," Jordi pointed out.
He said the game of football was still growing in India and required adequate promotion.
Seven years into coaching, Jordi Arasa disclosed that they were in India for a year as part of the FC Barcelona Scholars Project.
Jordi said he along with Antoni have been holding coaching camps all across the country and imparting football skills to the youngsters.
"We have already conducted camps in Mumbai, Goa, Bangalore, Pune and Vadodara," Jordi said.
He said their camps serve as a major stepping stone for the school-level football players, who wish to have a serious training.
Antoni, on the other hand, disclosed that a total of 66 students from as many as eight schools from Dehradun and adjoining areas are attending the five-day camp in Dehradun which will conclude on July 31.
He said their training programme was divided into three segments that included introduction, pre-training and training for children under the age group of 6 to 17 years.
He said football skills were imparted to the youngsters with special emphasis on dribbling, running with ball, ball contact, shooting and other aspects like sports science and nutrition.
"At the youngster level, it is more of football skills that matter rather than endurance. At the later stages physical fitness also assumes significance," he added.
Jordi said he came to Dehradun for the first time and was quite pleased to know that Dehradun has a rich history in football.
"I would certainly like to know more about the glorious history of football in Dehradun," he observed.